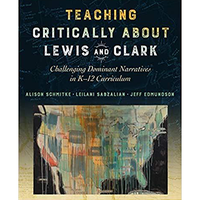 Teaching Critically About Lewis and Clark
Challenging Dominant Narratives in K–12 Curriculum
By Alison Schmitke, Leilani Sabzalian, Jeff Edmundson
Teachers College Press
Shifting the framework for understanding the Corps of Discovery expedition is the goal of this guide, which brings Indigenous perspectives and contemporary issues to the task of reshaping how teachers approach the expedition's history and legacy.
Co-author Leilani Sabzalian, who is Alutiiq, served as a Volunteer in Paraguay 2004–06. At the University of Oregon she is assistant professor of Indigenous Studies in Education and co-directs the Sapsik'wałá Program, which addresses the critical need for American Indian and Alaska Native teachers. Her 2019 book, Indigenous Children's Survivance in Public Schools, received the American Education Research Association's Outstanding Book Award.
This review appears in the speacil 2022 Books Edition of WorldView magazine. Story updated April 30, 2022.
---