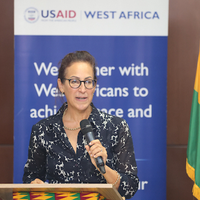 Jo Lesser-Oltheten now heads work for the agency in the region. It was the Peace Corps that first took her there three decades ago.
By NPCA Staff
Jo Lesser-Oltheten assumed responsibilities as mission director for USAID/West Africa beginning in October 2022. That includes work in 21 countries with more than 150 staff—providing crucial leadership for the region at a crucial time.
It was the Peace Corps that first took her to West Africa; she taught high school in Guinea 1991–93 after earning her master's at Columbia and teaching middle school for four years. It was also the Peace Corps that introduced her to the work of USAID. She earned a doctorate in educational policy and took her first assignment in Mali. She has served in posts including Bangladesh, Pakistan, and Indonesia; most recently she served as mission director in Niger.
At the swearing-in ceremony, USAID Administrator Samantha Power said, "In Jo, we have both a regional expert and an inspiring leader." Which is key, since the challenges facing the region are significant.
"Amidst widespread poverty, violent conflict has ricocheted across borders and led to several forced seizures of power, upending institutions, imperiling citizens, and displacing millions," Power said. "A mix of conflict, drought, and spiraling food and fertilizer prices is also causing widespread food insecurity in the Sahel. And in such a challenging environment, suppressing the pandemic and attending to other global health needs is a tall order."
---
This updated appears in the Winter 2023 edition of WorldView magazine.
---