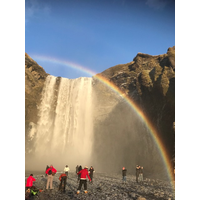 Five days dipping into Iceland's hot and cold spots
BY: Elizabeth Genter (RPCV Kenya 2010-12)
Our magical night out in Iceland's capital Reykjavik started off with a walk from our cozy hotel room to the Harpa Concert Hall, one of the city's distinguished landmarks. My husband and I had dinner reservations with the other 10 members of our Next Step Travel group at this waterfront concert hall covered with individual glass frames that resemble fish scales that shimmer both day and night, mimicking the movement of the northern lights.
After steak, wine, dessert, and great conversation we all hiked to the city's Old Harbour, where we hopped on a boat that took us to the Imagine Peace Tower erected by Yoko Ono in memory of John Lennon. As we sailed to the tower and away from city lights, we began to notice a faint green light slithering across the sky, the beginning of a display of northern lights we'd been lucky enough to see each of the last two nights. As we got off the boat, at Viðey Island, a sudden and magnificent display of nature lit up the night sky. It was the most magnificent sighting yet: a greenish purple hue shooting up out of the horizon. We all erupted in laughter as we watched the northern lights brilliantly dancing across the sky. Someone started singing John Lennon's "Imagine" and we all joined in. I cannot even begin to describe the immense feeling of pure joy we shared. As a group of Returned Peace Corps Volunteers, this was perhaps the most moving moment of the trip as we all stood in darkness around a bright tower of light pointing to the sky, imagining peace together.
Not just a pretty light show
I went to Iceland expecting the northern lights to be the highlight of my trip, but there'd so much more to Iceland. It is a majestic and magical country. Simply put, it's a country and landscape like no other in the world. Iceland is a land of majestic natural beauty, mystery, and undiscovered gems. Aside from the northern lights, I was not sure what to expect from "the land of fire and ice," even though I helped organize the trip as an International Programs Fellow at the NPCA.
I also discovered it's an easy trip to take. I had just started a new job with PricewaterhouseCoopers a few months before the trip and was a little hesitant to take time off. But I only missed two days of work because this adventure to Reykjavik was a short overnight flight on a holiday weekend.
I figured traveling with a few RPCVs would be a fun adventure. It ended up being not only a wonderful trip but also a reunion-like journey with like-minded Americans with a shared past—RPCVs exploring the world together.
Sunrise among Vikings
As soon as we landed in Reykjavik, we headed to the Vikingaheima museum, where we enjoyed a local Icelandic breakfast and explored an authentic Viking ship. I was so enthralled with the ship and other interesting artifacts, that I almost missed the sun rise over the ocean. After the museum, we hopped into our spacious, warm vehicle for the next stop—a seaside cliff with a dreamlike view of huge black mountainous formations in the middle of the Atlantic Ocean formed by volcanic lava. The magnificent force of those Atlantic waves ferociously crashing on the shore created powerful yet serene vibes for me. That morning, the sun rose amid a snowy backdrop, hence, the land of fire and ice.
For lunch, we stopped by a small, local restaurant in a fishing village for a delicious bowl of homemade lobster soup and hearty slices of bread fresh out of the oven. What made this lunch stop so special though was meeting the long-time owner and fisherman who led us upstairs to see local fishermen repairing their nets. He added a private demonstration of macramé—knot-making on a grand, commercial scale.
Our local tour guide, Steiner, took us to the famous Blue Lagoon to point out the Continental Divide in Leif and the Lucky Bridge. Snow was falling on the gully that was covered in black lava sand.
On the way back to the hotel, Steiner stopped our van on the side of the road.
He turned to his passengers and yelled out, "I think we are in luck. I see some lights forming!"
He shut off the head lights. The road ahead of us was empty and the sky was black. Among the small glittering stars, we saw the northern lights, an exceptional display of beautiful green streaks dancing across the night sky, which exceeded all of my expectations.
Hot spots on fire and ice
For two days Steiner shuttled us to a number of local hot spots and well-known sights, including the Golden Circle, a popular driving route. You would think after you've seen one waterfall you've seen them all, but not in Iceland. The view of Skogafoss was picture perfect, the finest of many I took on the trip.
My favorite moment was watching the eruption of Stokkur Geyser. The sound from the pool of icy, blue water rumbled for a few seconds and then, without warning, a blueish green orb burst up in a perfect circle and exploded several feet into the air. It only took a second for the geyser to erupt, but the experience will stay with me for a lifetime.
After hiking along the rim of Kerio Crater, we had lunch at a thermal bakery overlooking the emerald waters of the lake and took a well-deserved soak in a neighboring geothermal pool. A couple of folks were brave enough to take a dip in the icy waters of Laugavatn Lake, while the rest of us chose the steam room.
My Iceland trip was exceptional. The itinerary was exciting and well-planned, and the meals were delicious, including the lobster dinner before we left.
We toured black sandy beaches covered in snow and visited sod houses, glaciers, waterfalls, geothermal pools, and rugged seaside cliffs—everything so different yet consistently beautiful. It was an experience of a lifetime that I was able to share with a group of amazing people. I enjoyed Iceland with some new friends from the National Peace Corps Association.
As we had sung it, "You may say I'm a dreamer, but I'm not the only one."
---
Last chance to join this year's Iceland trip departing December 7.
---
Elizabeth Genter served as a health volunteer in Western Kenya from 2010-2012. She is a member of the NPCA Board of Directors, representing the Europe, North and East Africa Division.
---