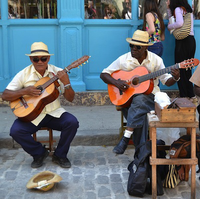 Imagine yourself in Old Havana with an adventurous group of returned Peace Corps volunteers, enjoying rooftop views, listening to jazz and rumba, and reflecting on Cuba's remarkable history and fascinating future. Join NPCA's Next Step Travel program on a weekend adventure to Cuba for an intimate, in-depth experience on the historic island.
But why go to Cuba? We leave that in the words of Diane Gallagher, who traveled with NPCA Next Step Travel on an earlier trip. In her words:
She entices the traveler with her inaccessibility.

She enchants the traveler with one special gem after another.

She leaves the traveler with unique memories of her people, her magic, her soul.

The name of the country, CUBA!!

Whenever we would pass a door, there was music blaring out. The Buena Vista Social Club was started in Habana. The last night we were in Cuba, the BVSC was playing in the White House. From the streets of old Habana to the White House. Talent will show. The music made all of us smile!

As one writer said, Havana is the world's largest outdoor vintage auto show. The cars are sleek, polished, stunning. We were told, if one of them is coming down a hill fast, quickly get out of the way, the brakes don't work. They can be rented for a ride around the city.

We got a sense of the poor vs the rich. Every week, the poor, the highest number of the population, receive vouchers. They are bused out to the interior where they receive beans and rice.

It is not to be missed. It will change all too soon and become the land of Starbucks, McDonalds, ATM's. Now, there are none.

When Fidel Castro lowered the curtain on Cuba in 1959, Cuba stopped. When you step on Cuban soil, you feel you are in a time warp.
Register online for this unique trip from December 7 - 11, 2017. (Deadline: October 6)
Note: We continue to monitor the situation in Cuba following hurricane Irma. We will keep in touch with registrants with any changes necessitated by the storm.

---