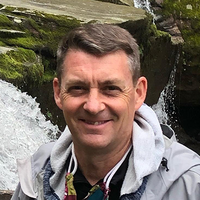 After his life was ended far too soon, his wife has carried forward that commitment.
Photo courtesy the family of Jeremy Black
By NPCA Staff
Promoting understanding between peoples was Jerry Black's life's work. He served as a Volunteer in the Comoros Islands 1992–94 before completing a degree at the Columbia University School of International and Public Affairs, where he met his wife, Cathy Feingold. They worked together at the Ford Foundation before moving to Washington, D.C., where Jerry worked at the Aspen Institute as the director of MicroTest, a program that gave grants to microenterprise development organizations across the U.S.
Black and his family lived in the Dominican Republic for several years before returning to D.C. He went to work in the Peace Corps Office of the Inspector General, seeking to ensure that the Peace Corps stays true to its mission. He played guitar and trumpet, was a triathlete and a skier; he took up karate with his two sons.
On June 29, Jerry and Cathy had dinner together with another couple in the Logan Circle area of Washington, D.C. After their meal, they went for a walk. Minutes later, they heard popping sounds: gunfire, bullets spraying on a crowded street. One shot hit Jerry, killing him. He was 53 years old and committed to nonviolence. To carry forward that commitment, Cathy Feingold created the Jeremy Black Memorial Fund at the TraRon Center, to support local programs for children affected by gun violence in the D.C. area.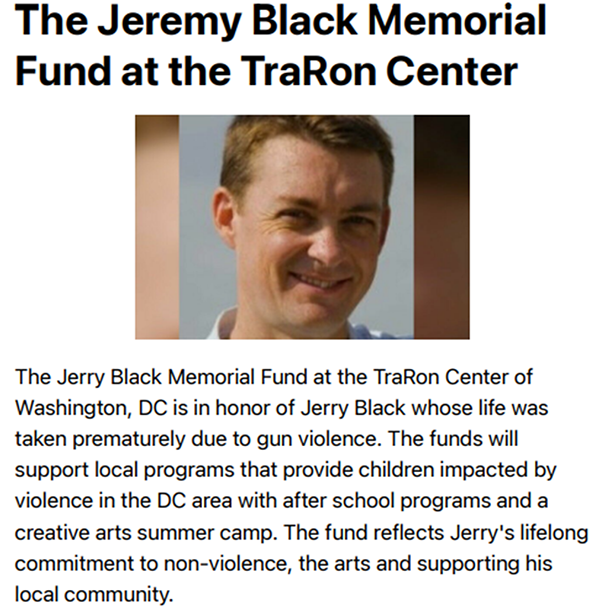 ---