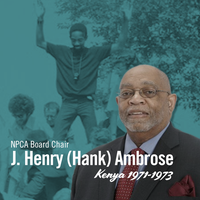 In celebration of Black History Month, we asked NPCA Board of Directors Chair, J. Henry "Hank" Ambrose, to reflect on his Peace Corps journey.
Hank entered Emory University in the fall of 1965, after graduating from a segregated high school in Memphis, Tennessee. The first in his family to attend university, Hank expected it to be a different world, but not in the ways he encountered. Active in high school, he was eager to get involved on campus. However, he immediately faced resistance. He was blackballed, as were other men of color, from "rushing" a fraternity.
Not thwarted, he pursued other leadership opportunities. He was selected and inducted into Eta Sigma Psi, a leadership honor society for first-year college and university students. He was elected Junior Class Vice President, helped found the Black Student Alliance (BSA), and served as BSA president. BSA was instrumental in fighting against discrimination at Emory and creating a more inclusive environment on campus. As BSA's second president, Hank led demonstrations and submitted the Black Manifesto, which requested Emory's president to provide more support for Black students, including starting a Black studies program, increasing the number of Black faculty, and adding books written by or about Black Americans to the library.
Despite his success outside of the classroom, his academic performance began to suffer. He decided to take a break for a semester and return home to Memphis. While at home, Dr. Martin Luther King, Jr. was assassinated at the Lorraine Hotel in Memphis. Hank shared, "I was supposed to be at the march that day, but my parents forbid me from going. They didn't think it would be safe. I listened to the news on the radio in disbelief. If they will kill a great leader like Dr. King, then are any of us safe?"
Hank returned back to Emory, but he was disillusioned. Nothing had changed on campus, but he had. He felt disconnected. He knew he had to do something to change the world he was living in. He wanted to do something that mattered—and Peace Corps was the answer.
He transferred into the Peace Corps college degree program at the State University of New York at Brockport, a 15-month program where sophomores and juniors majoring in mathematics and science completed their degree and Peace Corps training.
"I was the only African American in the program," Hank reflected. "I completed the program and was all set to teach mathematics in Peru. Peace Corps called with an opportunity to go to Kenya. I actually said no the first time, but when the second call came, I said yes. Maybe it was naiveté on my part. I just knew I would not be the only one in that training program. You guessed it, I was. However, I was greeted at the Nairobi airport by a few "brothers" who were part of the previous training program."
Hank was part of the first in-country training program in Kenya. As a graduate of the Brockport program, he was assigned to Kenyatta College as a lecturer in mathematics. He served 27 months in Kenya before heading back to the U.S. and pursuing graduate school.
Today, after two graduate degrees and 36 years in the telecommunications industry, Hank is now proudly serving as NPCA Board Chair. Hank's personal goals are to "increase the number of Black Americans in Peace Corps and expand Black American involvement and engagement in NPCA. Serving in Peace Corps seemed unrealistic to many Black Americans in my era. I am excited to see how diverse Peace Corps and NPCA have become over the years. I want to make sure this is reflected not just in the numbers, but also at NPCA events, especially Peace Corps Connect."
---