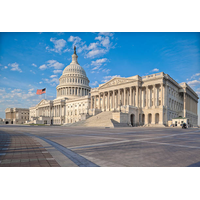 Everyone get ready! It's high stakes time in Congress for the Peace Corps, as we're on the cusp of achieving the Peace Corps community's three major advocacy goals.
With only days before this session of Congress ends and a new House majority takes over in January, we have the chance to achieve dramatic wins for the Peace Corps that haven't been achieved in decades.
- First, the Peace Corps Reauthorization Act is being considered by the Senate after having already passed the House. If this bill becomes law, it will be the first full reauthorization of the agency since 1999, ushering in significant reforms to how the agency operates while also creating a more robust benefits package for volunteers so that the agency's work will be modernized to meet the needs of 2023 and beyond.
- Second, Carol Spahn is on the cusp of being confirmed as the next Peace Corps Director, having been approved unanimously last week by the Senate Foreign Relations Committee and now on the verge of being considered for full confirmation on the Senate floor.
- Third, the Peace Corps budget is set to have its first increase in seven years, from the flat $410.5 million it's received over the past six years to a long overdue bump up to $430.5 million.
Yet while we are close to success, we're not there yet. That's because success depends upon multiple factors falling into place over the next week to 10 days, as Congress will likely adjourn no later than Friday December 23rd. These factors include a big picture success dependent upon Congressional Leadership, specifically the pending Fiscal Year 2023 Omnibus Appropriations bill moving forward into law. If it does, the agency funding increase will likely happen and the authorization legislation may have a potential vehicle to carry it over the line into law. This also means that a Senator needs to offer Ms. Spahn's nomination on the floor so that it can be considered by the full Senate.
To achieve these successes requires close coordination between us at NPCA, our grassroots advocates like you, and key Members of Congress and their Staff. We are leaving no stone unturned, having received tremendous support from the community, including past Peace Corps Directors from both parties, to get us to this point. Because of your support, we're sprinting through the finish line, engaging Congressional Leadership, the White House, and the Peace Corps agency directly to make sure that they know how important these potential wins are to both our country, and to you, the Peace Corps community, that we are so honored to represent in Washington.
Please stay tuned as we provide more updates about the status of our advocacy efforts in the closing days of the 117th Congress. If we get this done, we'll all have a lot to celebrate this holiday season!
Joel Rubin
NPCA's Vice President for Global Policy and Public Affairs
RPCV Costa Rica (1994 - 1996)
---