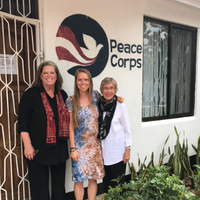 Author: Braeden Waddell
Family is one of the most impactful aspects in shaping who a person will become. For Courtney Herbolsheimer, who very recently returned from her Peace Corps service in Tanzania, growing up in a household that valued public service both at home and internationally inspired her to get involved and make a difference.
"My family has always instilled service and helping others as a huge value growing up in my life," Courtney says. Her father currently works for Meals on Wheels, and her family has an active history of public service both in the U.S. and abroad. Courtney's mom, Nancy Herbolsheimer, recalls that she herself had always wanted to serve in the Peace Corps as a young adult.
When Courtney got accepted into the Peace Corps, Nancy told us that the whole family was very excited and incredibly proud.
Courtney's family would go above and beyond pride and support when Nancy and her 88-year-old mother decided to visit Courtney in Tanzania for an entire month. Courtney was able to show them the way that the values she had been taught had manifested in her Peace Corps service through the work she was doing and the commitment she had for her community.
This visit would reshape Nancy's professional trajectory and make an enormous impact on Courtney's grandmother, as they both got to see how her service and commitment was really affecting the residents of Itaja, Tanzania.
"This was on her bucket list," Nancy says of Courtney's grandma, "she had to go see Courtney."
Their visit came at the perfect time, Courtney was in the middle of several projects into which she had put months of effort; from preparing a nutritional training workshop for the other Peace Corps Volunteers and working with Save the Children's nutrition initiative to finishing up a project that put grant money into building bathrooms in a young women's dorm.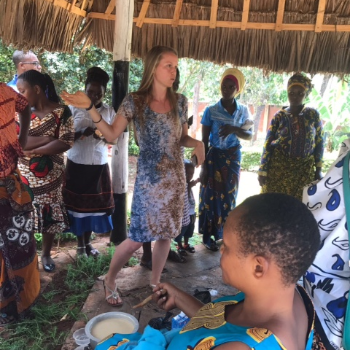 Almost as soon as they arrived, Nancy and her mother were watching Courtney lead a workshop prepared over 5 months and presented to over 30 people that focused on nutrition information and health basics.
"It was great for them to see my village life, my Save the Children life, my Peace Corps life. . . all the different facets kind of came together, that they were able to see in the short time that they were there. When they came to Tanzania that got to see me in my element."
Seeing and experiencing the way Courtney had adapted to a completely new way of life, from living without running water or electricity to speaking Swahili all the time, really helped Nancy and her mother to understand the value of Peace Corps service in a way that just isn't possible over the phone.
"We did whatever Courtney did," Nancy says, "we stayed where she stayed, we took buses, bijajis." Although the experience was taxing for Courtney's 88-year-old grandmother, Nancy informed us that "she was a real trooper" and that she was happy to see the role Courtney played in her community.
When asked what it was like for Nancy and her mother to see Courtney at such a pivotal moment in her Peace Corps experience, Nancy said:
"Of course we were so proud, and I think my mom was just blown away by everything Courtney had done. We were both really proud of her.
Peace Corps life had become normal to Courtney after more than a year of service, but when her family visited she was able to feel the pride and impact of her work in a whole new way. "It reminded me that what I was doing was really cool and unique. . . it made me feel really proud for them to be able to see what I was doing."
Furthermore, Courtney says that having her family visit has helped her with her transition back to life in the States, as she was able to share the experience and give a greater understanding of her work to them. "I think it would have been a lot harder to be back home and transitioning back into life in the U.S. without them having that understanding of what I had just been doing."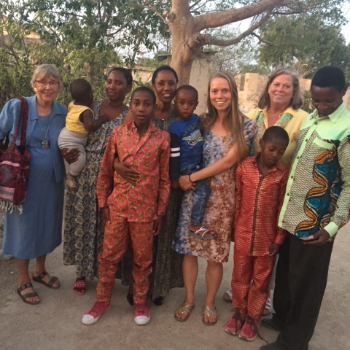 For Nancy, seeing her daughter's experience was transformative in its own right, and in fact, within three months of the visit, she was working at the Peace Corps Office in Washington, DC.
"I was just so impressed with Peace Corps, all the volunteers and what they were doing, and the impact they have. I came away thinking, if I can somehow be involved in this mission I would love to do that."
In January of this year, Nancy began her work at Peace Corps as Director of the Office of Congressional Relations. Her work includes: advocating for Peace Corps priorities on Capitol Hill; meeting with Members of Congress and staff to negotiate legislation; maintaining an open and responsive relationship with Congressional oversight committees; and responding to questions and concerns of the different offices of Peace Corps that are affected by policies and decisions on the Hill.
"To be at an agency that I'm so passionate about has really been a privilege for me."
Nancy also said that it is especially important for Members of Congress and staff to actually go visit with and discuss policies with PCVs, saying that "if they can be there and see what the volunteers are doing first hand, it makes all the difference in what their perspective is on Peace Corps."
When asked if Courtney has any advice for parents of PCVs and people about to leave for their service, Courtney says it is important to "ask a lot of questions" and to be active and engaged in the Peace Corps process; the key for Courtney was to "maintain an open dialogue" between the volunteer and the parent.
"Of course every Peace Corps Volunteer is going to have ups and downs, but it is important to keep an open dialogue while still being supportive, figuring out ways together to get over the low points."
The experience Courtney and her family shared had a profound impact on Nancy, who said the trip had a huge influence on the way she engages with her work at Peace Corps.
"It feels like a lot of the issues I deal with I know firsthand and in a different kind of way, as a mom," Nancy says. "When we go up to brief Hill staff on Peace Corps issues, I think it adds something to know that someone has a daughter serving in the Peace Corps."
When asked what Nancy would suggest for a Peace Corps 4th goal related to family involvement, Courtney laughed and chimed in "Go visit!"
Nancy wholeheartedly agreed.
"It's hard to understand what your children are doing until you actually go and see firsthand, and really my mother and I were just blown away."
---
About the Author:
Braeden Waddell is a journalism major entering his second year at American University. Although not an RPCV (yet), he participated in a year-long service experience in Argentina after leaving high school. He currently works as a communications intern at NPCA.
---