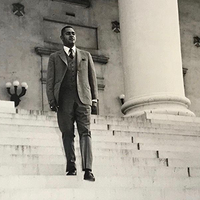 William Robertson (1933–2021) was the first Black American to serve as an aide to a Virginia governor. He went on to serve five U.S. presidents and lead Peace Corps posts.
By Catherine Gardner
Photo of William Robertson courtesy University of Virginia Press
The first Black American to serve as an aide to a Virginia governor, William Robertson sought ways to enact change and transform systems. After earning degrees in education at Bluefield State College in West Virginia, he helped integrate a white school in Roanoke as a teacher, and was the first African American member of the Roanoke Jaycees civic organization.
When Linwood Holton, a Republican, was running for governor, he convinced Robertson, a well-known civic leader — and Democrat — to run for the House of Delegates. Holton's goal, as The Roanoke Times recounted, was "take down the segregationist Byrd machine." Holton won, Robertson lost. Then Holton called and asked Robertson to be part of his administration.
From state government, Robertson went on to serve five U.S. presidents in a variety of positions, from presidential committees to director of the Peace Corps in Kenya and the Seychelles. He also served as deputy assistant secretary of state for African affairs. When he retired, he returned to teaching in Tampa, Florida, at an inner-city school. "You've done all these things, you've traveled all these places," he said, "why not share it?"
He was at work on a memoir, Lifting Every Voice: My Journey from Segregated Roanoke to the Corridors of Power, when he died in June 2021 at age 88. It recounts challenges and hard-won victories over a lifetime. University of Virginia Press published the memoir earlier this year.
This remembrance appears in the Spring-Summer edition of WorldView magazine.
---
Catherine Gardner is an intern with WorldView. She is a student at Lafayette College.
---