Dennis Grubb left college at age 19 to serve in the Peace Corps in Colombia. And for many in the 1960s, he literally became the face of the Peace Corps.
Students in Colombia with Dennis Grubb, who joined the first group of Peace Corps Volunteers serving communities there. Photo courtesy family of Dennis Grubb
By NPCA Staff
One of the youngest and first Peace Corps Volunteers, Dennis Grubb began serving in Colombia at age 19 in 1961. He was a sophomore at Penn State when President John F. Kennedy mentioned the idea of a Peace Corps; Grubb left school and became part of the first group of Volunteers. It changed his life.
He trained several hundred future Volunteers, and he literally became the Peace Corps poster boy, his face appearing on a flyer displayed in post offices across the U.S. He served as an aide to Sargent Shriver, who esteemed him "one of the first and one of the best" Volunteers. He was a great advocate for Peace Corps on Capitol Hill.
Equipped with degrees from the Southern Illinois University School of Law and American University, he went to Tunisia on a Fulbright. His international experience translated to work with the World Bank, the International Monetary Fund, and USAID, introducing reforms in major markets across the world, particularly India.
He worked in 23 countries and visited 60, promoting peace and understanding. At the center were Peace Corps ideals; he served the community as treasurer of the board of National Peace Corps Association.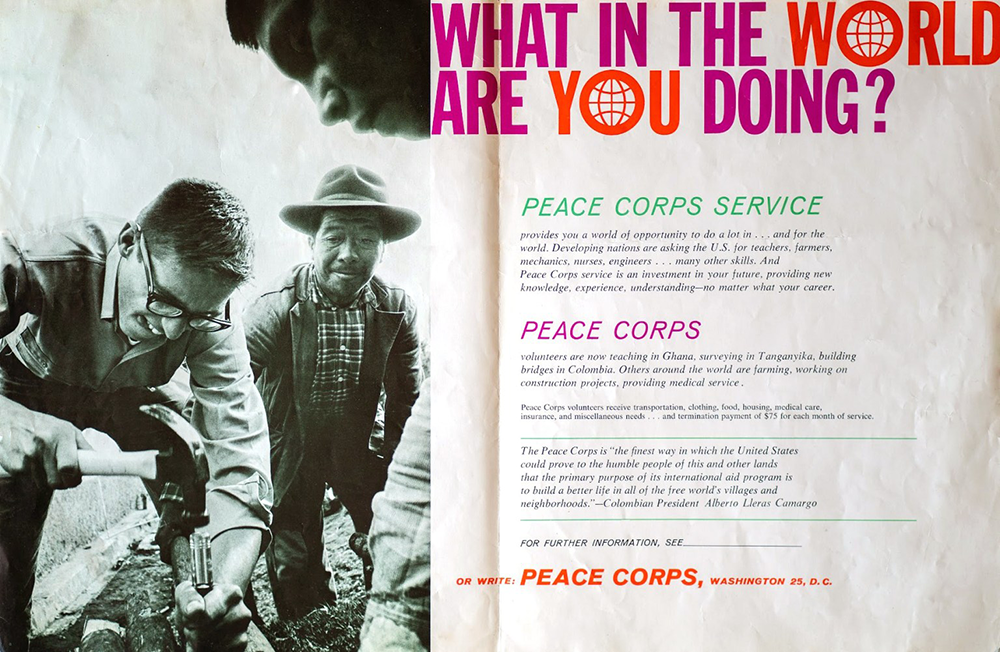 If I had a hammer: An early Peace Corps poster featuring Dennis Grubb at work in Colombia. Image courtesy Peace Corps
Dennis Grubb died on October 25. A memorial service was held on November 16 at National Cathedral in Washington, D.C. Read more about Dennis Grubb here.
Contributions in his memory may be made to National Peace Corps Association.
---