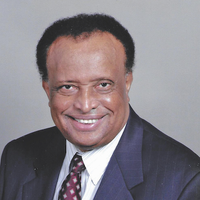 He led Peace Corps programs, served as a top diplomat, and achieved important milestones in civil rights.
By Jonathan Pearson
One of the first country directors appointed by Sargent Shriver in 1961, Walter C. Carrington led Peace Corps programs in Tunisia, Senegal, and Sierra Leone in the 1960s before serving as Regional Director for Africa. But that was just one facet of a remarkable life.
Prior to that, at Harvard he founded the chapter of the NAACP. He was the youngest-ever member of the Massachusetts Commission Against Discrimination, and in the late 1950s his commission work included leading an investigation into the racist practices of the Boston Red Sox — the last team in the majors to break the color barrier on its roster.
He was a diplomat: Under President Jimmy Carter, Carrington served as U.S. ambassador to Senegal, and under President Bill Clinton as ambassador to Nigeria. That service came at a critical time; Carrington spoke for human rights and democracy and against the dictatorial rule of Sani Abacha.
He stood down a confrontation when armed police interrupted a reception near the end of his appointment. Nigerian leaders praised Carrington for his contributions leading to that country's return to democratic rule.
He taught at many institutions of higher learning, including the Massachusetts Institute of Technology, Simmons University, Marquette University and Howard University, where he directed the international affairs department. He died August 11, just a few weeks after celebrating his 90th birthday.
Each month we share news of members of the Peace Corps community whom we have lost: peacecorpsconnect.org
---
This story appears in the Fall 2020 edition of WorldView magazine. Read the entire magazine for free now in the WorldView app. Here's how:
STEP 1 - Create an account: Click here and create a login name and password. Use the code DIGITAL2020 to get it free.
STEP 2 - Get the app: For viewing the magazine on a phone or tablet, go to the App Store/Google Play and search for "WorldView magazine" and download the app. Or view the magazine on a laptop/desktop here.
---