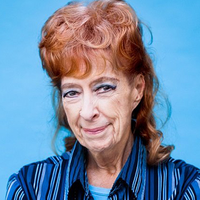 As we mourn the loss of members of the Peace Corps community, we celebrate the lives they led with a commitment to service.
By Molly O'Brien and Caitlin Nemeth
Photo: Jan Knippers Black — scholar and activist whose work influenced generations of students. Photo courtesy Middlebury Institute of International Studies at Monterey.
Our tributes include a prominent scholar and a foreign correspondent. An award-winning research ecologist and a lifelong educator. A former medical director of Peace Corps and a dedicated physician who delivered over one thousand babies. A notable chemist and a civil rights lawyer. Several civil servants and many teachers.

We honor the wide range of contributions made by members of the Peace Corps community who recently passed away.
Jan Knippers Black, Ph.D. (1940–2021), professor emerita, world traveler, most beloved role model and mentor to thousands of students, singer and songwriter, advocate and ally: these are just some of the many terms one could use to describe Black, a prominent scholar and human rights activist. She wrote the definitive book on U.S. interference in post-colonial Brazil—some years after she was invited to play piano in Elvis Presley's band. Black was well known for her expertise on political dynamics within Latin America, specifically about the intersection of American affairs in the region and the relationships between America and several of the Latin American countries. Black's first degree was a B.A. in art and Spanish from the University of Tennessee. She then served among the first group of Peace Corps Volunteers in Chile in 1961. When she returned stateside, Black earned her M.A. in Latin American studies from American University's School of International Service, as well as her Ph.D. in international studies. Black's career took her all over the United States, as she went on to work as a public administration research professor at the University of New Mexico, an editor for American University's Foreign Area Studies division, and as part of the faculty for University of Pittsburgh's Semester-at-Sea Program. In addition to her research and teaching, Black held many grants and fellowships, including Fulbright and Mellon, which led her to visit and hold honorary faculty positions in countries within the Caribbean and Latin America, as well as India and England. In 1991, Black became a professor of the Monterey Institute of International Studies (now known as the Middlebury Institute of International Studies at Monterey), and she would continue to teach and mentor students at MIIS until she retired in 2018. Black was well known for organizing and facilitating immersive overseas programs for her students all over, including Cuba, Chile, Bhutan, Iran, and the Balkans. Upon her retirement at the school, Black established the Jan Knippers Black Fund for Human Rights in order to financially support student work and speakers within the human rights field. In addition to Black's work in education, she was elected to the National Board of Directors of Amnesty International USA in 2011, one of over 20 advisory and governing positions she took on throughout her life. She carried on her father's commitment to politics; she served on the Monterey County Democratic Central Committee and as an elected member of the executive board of the California Democratic Party for over 20 years. Black had an incredible life that touched many people; her wit and wisdom will be missed.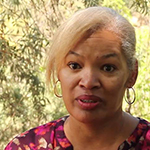 Paulette L. Ford, Ph.D. (1965–2021) was an award-winning research ecologist, humanitarian, and lifelong volunteer. Ford attended the University of New Mexico for her undergraduate degrees in biology and psychology; there she discovered her interest in field biology, and would go on to seize every opportunity to work on mammalogy and marine biology field trips, including the notable all-female field crew in charge of trapping mammals for the Museum of Southwestern Biology in Bolivia. In 1989, Ford served in Peace Corps Paraguay before returning to stateside for her master's in biology. Ford briefly worked with the Partners in Flight exchange program before she began her nearly 30-year long career with the U.S. Forest Service within the cooperative education program at Rocky Mountain Research Station. In addition to her work with the the forest service, she co-led the Southern Plains USDA Climate Hub, served on the Natural Inquirer Board of Directors and The Wildlife Society's Technical Review, edited the journals BioScience and Rangeland Ecology and Management, and mentored students for the National Science Foundation's Research Experience for Undergraduates program at the University of New Mexico. Ford's volunteer work included assisting with Hurricane Katrina recovery efforts; working with local sponsors to host conservation events and provide educational supplies to underserved communities; volunteering for Habitat for Humanity; and participating in long-distance cycling fundraisers for the Leukemia and Lymphoma Society. After completing her doctorate in 2000 at the University of Arizona, Ford became a full-time research ecologist focused on climate and climate variability. Ford's dedication to mentoring students went beyond her official position; she hosted and mentored dozens of undergraduate students from numerous Historically Black Colleges and Universities and Hispanic Colleges and Universities, including the Southwestern Indian Polytechnic Institute and Universidad Nacional Autónoma de México, as well as graduate students from the University of New Mexico, Highlands University, New Mexico State University, and Northern Arizona University. Other notable moments from Ford's illustrious career include her 25 awards for merit, achievement, and civil rights from the Rocky Mountain Research Station; two accolades for her work on grasslands and drought for the forest service; and her undergraduate research on eight new species of parasites – one of which was named in her honor, Eimeria paulettefordae.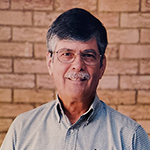 Richard B. Vierling, Ph.D. (1945–2021) had an adventurous and active spirit. As a young man, he worked in a hardware store and was a drummer in a band before deciding to pursue a teaching degree from California State University, Fullerton. After a few years of teaching, Vierling decided to join the Peace Corps and served in St. Kitts, Eastern Caribbean 1969–71. As a Volunteer, Vierling wrote original plays for his students to act out and built the first library on the island. Upon his return to the U.S., he taught grades four through 12 in California and Arizona. Vierling earned his doctorate in education from Arizona State University, driving long distances to attend school while teaching. A passionate educator, Vierling strongly believed in education for everyone. One of his greatest achievements was spearheading the creation of the Globe Alternative School for at-risk students in Globe, Arizona. Vierling's career in education included being principal of Globe High School and assistant superintendent for the Globe Unified School District. Even in retirement, Vierling was active in education. He was a consultant to the Gila County School Superintendent's Office as associate superintendent and director of Juvenile Detention and Jail Education. Vierling was a remarkable educator who will be remembered by his many students.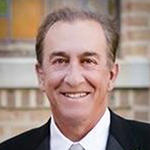 Steven M. Weinberg, M.D. (1942–2021) had a knack for learning from a young age and was considered to be a renaissance man with various interests and talents. Weinberg began his studies at the University of Oklahoma, then earned his M.D. from the University of Iowa. He trained at UT Southwestern Medical center and practiced as a general surgeon for several years. Later, Weinberg began a second career as an attorney, studying at Oxford and earning his law degree from SMU. His interests were varied, and Weinberg spent time teaching at Tarrant County College; working in real estate development, oil and gas, ranching, and private equity. He was the Associate Director and Medical Director of Peace Corps, the Chief of Surgical Services at Ramey AFB in the U.S. Air Force, and was part of the TX Alcohol and Beverage Commission. Outside of work, Weinberg was a long-time church member, making several mission trips. He also was a Rotarian and served as the President of the Hurst, Euless, and Bedford Rotary Club. When not working or volunteering, Weinberg loved spending time with his family, being active through activities like golfing, hunting and fishing, skiing, piloting, and getting behind a microphone.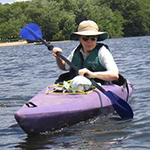 Judith A. Hofrichter, M.D. (1946–2021) was a phenomenal physician who delivered over 1,000 babies over the course of her career. Hofrichter grew up in North Madison, Connecticut where she was the valedictorian of Daniel Hand High School class of '64. She continued her education at Pembroke College at Brown University and earned her degree in English. After graduating, Hofrichter became a Peace Corps Volunteer in Turkey 1968–69. After her return to the U.S., she assisted in the birth of a friend's son and realized that she wanted to be a physician. To be able to enroll in medical school, Hofrichter had to take all of the pre-med courses she hadn't taken in college, but that did not deter her. In 1985, she enrolled in Wesleyan University's graduate liberal studies program, completing her required courses. Then she joined the University of Connecticut Medical School as the oldest person to be accepted at that time. After graduation, she completed her residency in OB-GYN at SUNY Health Science Center in Syracuse, New York. Hofrichter became board certified and joined the Women's Health Group of Manchester, where she would work until she retired in 2016. In retirement, she enjoyed producing award-winning country wines and spending time with her husband.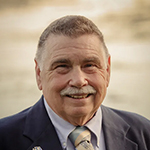 Ronald C. Burger (1948–2021) led a team from the Centers for Disease Control and Prevention into ground zero at the World Trade Center on the afternoon of Sept. 11, 2001. He spent 88 days working in the remains of the towers, watching first responders for signs of secondary diseases that may have come from the dust and smoke of the wreckage. Burger's career in public health was inspired by his Peace Corps service in Ghana. After obtaining a teaching certificate in biology from Millersville University, Burger taught science for two years as a Peace Corps Volunteer. At the end of his service, there was a severe outbreak of a gastrointestinal disease. This crisis prompted Burger to become a field leader for the Ghanian Ministry of Health team that was trying to contain the outbreak. Upon his return from service, Burger took on a variety of roles at the New York City Department of Health, the Florida Department of Health, the Department of Homeland Security, and the CDC. His work saw him traveling to work in large-scale disasters, including the smallpox outbreak in Southeast Asia in the 1970s, Deepwater Horizon, the Flint water crisis, and several hurricanes. Burger's dedication to serving his country will not be forgotten by the many he helped.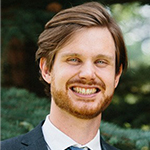 Matthew J. Briggs (1989–2021) was an engaging teacher, prolific poet, loving husband, playful uncle, and caring friend. Briggs graduated from East Longmeadow High School, and he received both his B.A. in English literature and his M.A. in education with a concentration in urban education from the University of Massachusetts Amherst. While Briggs loved literature, his true passion was connecting with his students and helping them understand the material, learning from them just as much as they learned from him. His path to becoming a teacher began when he was student teaching at Chestnut Middle School in Massachusetts, eventually working full time at various schools including the Commonwealth Academy in Virginia and Archbishop Carroll High School in D.C. In 2011, Briggs met his future wife Victoria during their college tenure. After they married in 2015, they went on to serve in Peace Corps Uganda for the next two years within the education sector. Just a few years after their return stateside, Briggs was diagnosed with a rare and aggressive cancer. Until his death, he kept making connections and learning from others, sharing and accepting love and strength from so many people around him. Briggs leaves behind a legacy of radical acceptance and humility.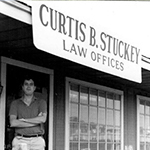 Curtis B. Stuckey (1946–2021) was a civil rights lawyer, a supportive family man, and a loyal and accepting person. He graduated from Indiana University Bloomington in 1967, and then served in Peace Corps Venezuela 1967–69. Following his return to the U.S., Stuckey went to law school at his alma mater in Bloomington. He would go on to teach at the University of Tennessee College of Law, where in 1975 he met his wife Brenda. Stuckey led a notable career as a civil rights lawyer, winning several major cases, including the first jury trial victory related to the Fair Housing Act in East Texas and Kendall v. True, the class action suit in Kentucky that struck down involuntary commitment of individuals to mental hospitals without proof of dangerous intent. In 1982, Stuckey founded the civil rights firm now called Stuckey & Garrigan Law Offices, PPC, representing community members who were discriminated against because of their race; individuals whose rights had been violated by police; and people who suffered under cruel conditions within the prison system. Stuckey retired in 2014 which allowed more time for him to enjoy watching ball games and old movies, as well as spending time with his family.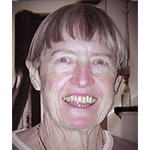 Virginia "Ginger" C. Greene, Ph.D. (1934–2021) graduated from Sweet Briar College in 1955 with high honors in chemistry. She continued her education in chemistry, earning a M.S. from Tulane University in 1957 and Ph.D. from the University of Virginia in 1963. Greene began a career in chemistry, supervising a clinical laboratory at the University of Virginia and teaching at Longwood College. In 1969, she accepted a position as a research chemist with the FBI laboratory in Washington, D.C. She was the first member of their newly-established research department and was instrumental in organizing and overseeing the unit. Greene finished out her illustrious career as an intelligence analyst with the Foreign Science and Technology Center (now the National Ground Intelligence Center) before retiring in 1994. However, she remained active in retirement, bringing her expertise in chemistry to her Peace Corps service in South Africa. From 2007–09, she served as a high school teacher where she organized and supervised a chemistry lab and trained teachers how to perform and teach laboratory experiments. Greene was involved in her community throughout retirement, volunteering in many places, including at Charlottesville Area Riding Therapy stable.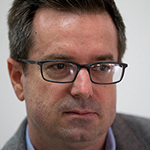 Scott Smith (1971–2021) was a dedicated journalist, even working until he passed away, planning for future jobs while still sick in the hospital. After graduating from California State University Chico with a master's in literature, Smith volunteered for the Peace Corps and served in Uzbekistan 1996–98. He taught English and facilitated a training for Uzbek journalists on gathering information and news without government interference. Smith returned to the U.S. and spent over 10 years at The Record in Stockton, California. His reporting was instrumental in uncovering facts about the "Speed Freak" serial killer. In 2014, Smith joined the Associated Press and began reporting from Fresno, California on farmers and neighbors battling drought and its impact on local communities. In 2017, Smith moved to Caracas as a foreign correspondent for AP. His curiosity and drive won over Venezuelan government supporters and opponents alike. Smith's dedication to hearing from many different people led to his coverage of fishermen working in a polluted lake, street gangsters hurting from rising bullet prices, and families of the victims of a prison fire. Smith's humor, bravery, and devotion will be sorely missed.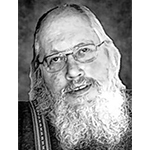 Edwon G. Yedlik (1945–2021) was a man with many skills and passions. Yedlik pursued a degree in radio technology from Brown Institute in Minneapolis. He began a career as a radio announcer, engineer, newsman, and program consultant for various radio stations in Colorado. In 1972, Yedlik joined Peace Corps and served as a Volunteer in Afghanistan. After his service, he returned to Colorado and worked for the U.S. Postal Service and also served as a director and actor for the Leadville Civic Theater and Crystal Comedy Theater. Later, Yedlik returned to Iowa and continued working as an actor and director in the local theater. He also spent time as an organic agriculture and environmental design consultant. Yedlik loved working with students as a substitute teacher, encouraging them to become "addicted to learning" much like he was. Yedlik didn't pause his pursuit of learning over the course of his life, earning several more degrees from the Chinese Academy of Agricultural Science; Permaculture Institute in Australia; and Iowa State University. Outside of his active career, Yedlik was a master gardener, clerk of Maplewood Cemetery, and a member of the Iowa Pyrotechnics Association.
PEACE CORPS STAFF
Marilyn R. (Medley) Long (Founding staff member of Peace Corps), 8/11/21
Steven M. Weinberg (Associate Director and Medical Director of Peace Corps), 8/20/21
George Zeidenstein (Nepal Country Director from 1965–68), 8/21/21
MULTIPLE COUNTRIES
Timothy A. Burr (Nigeria 1962–64, U.S. Staff 1965), 9/8/21
Willie M. Donovan (Samoa 1978–80, Yemen 1982–84), 8/19/21
Laurence E. Eubank (India 1970–72, Russia), 9/1/21
Homer M. Hayes III (Ethiopia 1966–69, U.S. Staff, Volunteer Placement Officer, Ethiopia/Uganda Desk Officer 1969–75), 9/12/21
Joshua L. Johnson (Romania 2007–09, Ukraine 2011–12), 6/21/21
John M. Schwartzbauer (Azerbaijan 2005–09, Moldova 2010–14), 8/21/21
AFGHANISTAN
Barbara "Barb" B. Hammes (1972), 8/12/21
Edwon G. Yedlik (1972–74), 8/27/21
BRAZIL
Adele L. (Maechling) Alsop (1968–70), 9/2/21
CAMEROON
Thomas M. Donnellan (1962–64), 9/3/21
Gerard "Jerry" Gorman (1969–71), 8/12/21
CHILE
Jan C. (Knippers) Black, Ph.D. (1962–64), 8/15/21
COLOMBIA
Leila G. (Goldfinch) Bass (1964–66), 9/9/21
Steve L. Burgess (1964–66), 8/10/21
COTE D'IVOIRE
John W. Ainsworth (1963–64), 8/30/12
Terrence "Terry" M. McGovern (1970–72), 8/24/21
DOMINICAN REPUBLIC
Luther Wilson (1966), 8/5/21
EASTERN CARIBBEAN
Thomas W. Hobbs (1978–79), 8/17/21
Robert "Rob" D. Skelley II (1974), 7/4/21
Richard B. Vierling, Ph.D. (1969–71), 8/4/21
ECUADOR
Joseph "Jay" H. Casey (1971–75), 8/13/21
ETHIOPIA
David L. Withers (1972), 8/21/21
GHANA
Ronald C. Burger (1970–71), 8/21/21
Newell Flather (1961–63), 8/30/21
Jeanne G. Wisner (1977), 8/28/21
HONDURAS
Jeff M. Benik (1975–77), 8/26/21
HUNGARY
Carol A. Baker (1993–95), 8/2021
INDIA
Mary "Fran" F. Kennedy (1966–68), 8/31/21
IRAN
Donna J. (Zimmerman) Patterson (1968–69), 8/28/21
LESOTHO
Luke Pfeiffer (2020 Invitee), 8/25/21
MALAWI
Laird A. Scott Jr. (1965–68), 8/29/21
MALAYSIA
Marcella A. (Fallon) Jenkins (1974–75), 8/30/21
NAMIBIA
Marie P. Shockley (2002–04), 5/10/21
NIGER
Theodore W. Clarke (1974–79), 8/29/21
PARAGUAY
Paulette L. Ford, Ph.D. (1989), 8/28/21
PHILIPPINES
Steven T. Queen (1973–75), 8/26/21
POLAND
Jeanne M. (Ford) Poliachik Cross (1999–2001), 8/16/21
SIERRA LEONE
Joy E. Marburger (1969–72), 7/19/21
SOUTH AFRICA
Virginia "Ginger" C. Greene (2007–09), 8/12/21
SOUTH KOREA
Ross N. Wiggins (1967–69), 7/31/21
THAILAND
Jean "Dee" B. (Ficken) Smith (1965–67), 8/25/21
TURKEY
Judith A. Hofrichter, Ph.D. (1969–70), 8/23/21
James W. Pritchard (1962–64), 8/6/21
UGANDA
Matthew J. Briggs (2015–17), 8/25/21
UZBEKISTAN
Scott Smith (1996–98), 8/19/21
VENEZUELA
Gerald "Jerry" R. Shaye (1966–70), 8/22/21
Curtis B. Stuckey (1967–69), 8/10/21
COUNTRY OF SERVICE NOT SPECIFIED
Lenore M. Frey, 8/24/21

If you have information you would like to share for our monthly In Memoriam post, please reach out to us at obituary@peacecorpsconnect.org.
---