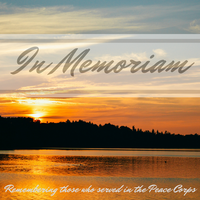 Over the decades, the Peace Corps has been blessed with many highly accomplished individuals who have served their nation not as volunteers, but as Peace Corps staff. Among those who recently passed away were a number of individuals whose work with the Peace Corps in the agency's formative years was just a part of their many contributions to our country and our world.
William Granville Sykes (1936 - 2017) became Deputy Director of the Peace Corps during the Carter administration, serving under former Peace Corps Director Richard Celeste. After graduating from Hampton Institute, receiving Master's in Social Work from Howard University and a doctorate of laws from Central State University, William's public service began with a number of positions with the city of Baltimore and the state of Maryland. These positions included Chief Social Worker for the Baltimore City Health Department, Director of the (Baltimore) Mayor's Office of Human Services, and Deputy Secretary of the Maryland State Department of Human Resources. William also served on the Maryland State Board of Education and became the first African-American to serve as board president. Following his service with the Peace Corps, William would later join then Ohio Governor Celeste, who appointed him that state's Director of the Ohio Department of Administrative Services. His commitment to education and other causes included nearly thirty years of service on the Hampton University Board of Trustees, leading fundraisers for the United Negro College Fund, and serving (with his wife of nearly sixty years) as inaugural members of the President's Committee for the Morgan State University choir.
His work in agriculture began during the Great Depression. After attending Lincoln University in Kansas City and graduate school at the University of Chicago and American University's Washington College of Law, Reuben Simmons (1914 - 2017) was hired by the U.S. Department of Agriculture as project director of an experimental development program for Depression-era farmers in rural communities. This would lead to an international career lasting more than a quarter-century, in which Reuben served as an advisor to foreign governments on agriculture and banking issues. He conducted this work at varying times as a representative of the U.S. Government, Ford Foundation and the World Bank. This work took Reuben to Libya, Kenya, Vietnam and Bangladesh. It also caught the attention of Sargent Shriver, who recruited Reuben to help launch new Peace Corps programs in Tunisia and Morocco.
His varied professional career began with his work as one of the youngest reporters working for a major New York City newspaper. It was the mid-1940's when Arthur Schiff (1925 - 2017) was hired by the New York Post. Arthur worked as a general assignment reporter, feature writer and rewrite man. His next venture was co-founding a picture framing business on Madison Avenue, consulting with museums, art galleries and fine art collectors. In 1961, Arthur opened "Tote-A-Treat", a sandwich/deli restaurant with several New York locations. It was in 1963 when Arthur began his work with Peace Corps. Starting first as a consultant in Washington, Arthur would eventually serve as staff in Liberia and Ethiopia, providing logistical and financial management support for more than one thousand volunteers. His work with Africa continued when he became an administrative officer with the Ford Foundation. Arthur and his family eventually moved to Australia, where for seventeen years he ran a wholesale distribution business specializing in welding supplies.
After service in the Navy during the Korean War, Lawrence O'Brien (1930 - 2017) became an early staff member with the Peace Corps. He served as a Country Director in western Africa and later served as a Director of Evaluation. Following his service, Lawrence helped fund and organize several non-profits, including the National Urban Coalition and Americans for Indian Opportunity. Much of his work focused on making sure disadvantaged Americans receive quality health care. He led efforts to provide community-based non-profit prepaid group health plans in Sacramento and Philadelphia. President Clinton appointed Lawrence to serve on a panel devoted to addressing rural health care. Lawrence authored two books, one of which - Bad Medicine (written in 1999) - examined various problems with the U.S. healthcare system.
Her commitment to health care for those in need led to her being one of the five inaugural recipients of the National Peace Corps Association's Sargent Shriver Award for outstanding community service. Colombia RPCV Katrina Clark (1945 - 2017) was honored for founding the Connecticut-based Fair Haven Community Health Center, where she served as Executive Director for forty years. The small volunteer clinic for underserved populations has grown to a multi-campus healthcare organization which serves as an integral part of the New Haven health care network. Katrina was a lecturer in the Department of Epidemiology and Public Health at Yale University and received the Yale School of Public Health Distinguished Alumni Award in 2013. She served as chair of the New Haven Board of Public Health and was a board member for the Community Health Network and Community Health Center Association of Connecticut.
Children and learning were passions of May Schmidt (1946 - 2017). But first came service in the Peace Corps. After graduating from the University of Texas, May and her husband Jim volunteered in El Salvador in the late 1960's. After service, they returned to Texas, where May began many years of work with the Austin public library system and the Texas Archaeological Research Laboratory. May served as an archeological steward for the Texas Historical Commission. May was very involved in local schools, local politics and the PTA. This included service on the county child welfare board. Because of her advocacy for the necessary funding, a gymnasium at the historic Pease Elementary School in Austin is named in May's honor.
Below is our In Memoriam list for members of the Peace Corps community who recently passed away:
STAFF
Margaret Martin, 8/10/17
Lawrence O'Brien, 8/7/17
John O'Neill, 9/1/17
Arthur Schiff, 8/6/17
Reuben Simmons, 8/13/17
William Granville Sykes, posted 8/5/17
MULTIPLE COUNTRIES
Connie Behr - Tanzania/Micronesia, 8/9/17
COLOMBIA
Katrina Clark (1967-69), 8/25/17
COSTA RICA
Walter Gray (1975-78), 6/4/17
HONDURAS
Diana L. Karr (1962-64), 8/8/17
INDIA
Don K. Schmidt (1965-67), 8/8/17
JAMAICA
Megan M. Jordan, 7/29/17
KENYA
Palmer Samuel "Sam" Kauffman, 8/21/17
David Lange Stover, 7/30/17
KOREA
Naeda Robinson (1970-72), 7/26/17
Edward "Ash" Ruggiero, posted 7/18/17
LIBERIA
Bill Duprey (1968-71), 8/20/17
Kenneth Jenkins, 8/2/17
MICRONESIA
Dorothy Dana Burns, posted 8/3/17
John Sharp, 7/12/17
Manes Vernon Sobolik, 3/18/17
PHILIPPINES
Constance Forster (1962-64), 4/21/17
Lorraine Shedlick, 8/25/17
Ann Elizabeth Smith, 8/14/17
POLAND
Margaret "Peggy" Raggio (1991-92), 8/15/17
THAILAND
Christine Taylor (1971-73), 8/25/17
TUNISIA
Gregory Sikorski, 8/15/17
TURKEY
Frank Miller, 8/22/17
VANUATU
Imogene A. Popnik (1990-91), 7/25/17
WEST INDIES
David Richard Robinson (1983-85), 8/6/17
COUNTRY OF SERVICE NOT SPECIFIED
Donald Eugene Warman, 7/23/17
---