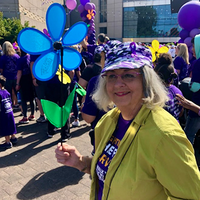 As we mourn the loss of members of the Peace Corps community, we celebrate the lives they led with a commitment to service.
By Molly O'Brien and Caitlin Nemeth
Photo: Anne Hughes — activist and arts patron whose dedication and service led to the city of Portland establishing Anne Hughes Day in recognition of her civic contributions.

Our tributes include a spirited arts champion and a power lawyer. A former Peace Corps India staff member and a public servant. A physician who dedicated his life to others and a leader in the Florida Peace Corps community. Several teachers and professors. We honor the wide range of contributions made by members of the Peace Corps community who recently passed away.
Aruna (Nayyar) Michie (1944–2021), born in Bombay, grew up with a deep social conscience instilled in her by her parents, who were deeply involved with the Indian Nationalist movement and firmly believed in independence for India. When Michie turned three, independence finally came for her country. In 1966, she graduated from Smith College in Massachusetts with a degree in international relations before returning to India where she was hired by the Peace Corps. As an associate director of the Northern Regional office she oversaw programs and volunteers in the state of Rajasthan. Additionally, she met her husband Barry Michie, a Volunteer serving in Rajasthan at the time, and they were married in 1968 before moving back to the United States to pursue Ph.D. degrees from Michigan State University. Despite obtaining her Ph.D. in political science and living in the U.S. for 53 years, Michie never voted in an election, chosing to remain a green card holder to honor her Indian heritage. Michie had an incredible career at Kansas State University, where she taught and mentored students for many years. Over the years, she received recognition for excellence in teaching, served two terms as the Faculty Senate President, and was an ombudsperson mediating disputes between faculty and administration. Michie, along with her husband, spent over five decades participating in projects in India, particularly in the rural area she had come to know while working for the Peace Corps.
Marguerite "Anne" A. Hughes (1945–2021) was well known for her legendary coffee room, lifelong activism, and art patronage. During her studies at Portland State University, Hughes volunteered for the Valley Migrant League, an organization that was dedicated to connecting seasonal migrant workers in Oregon with community programs and social services. In 1976, Hughes opened her first art gallery, followed by her second in 1979; during this time she was also active in curating art for other gallery owners. One of her memorable contributions to the art world involved curating a gallery showcasing Judy Chicago's highly controversial feminist work at a local art museum. Hughes ensured the artwork remained open to the public, despite protests from the museum director. Despite Hughes' art galleries closings in the late 1970s, she remained an important anchor within Portland's creative community. In 1985, Hughes proposed converting an unused room within Powell's City of Books into the bookstore's coffee space; that room marked the beginning of the famous Anne Hughes Coffee Room — a space for shoppers to gather, discuss books, and listen to readings. The Hughes Coffee Room shuttered in 2003, after nearly 20 years, when she allowed Powell's union workers to organize within the space. Hughes' dedication to service and her community led to her Peace Corps service in Jordan from 2010–11. On September 21, 2021, — Hughes' birthday — the city of Portland recognized Hughes for her civic contributions to the community by making Anne Hughes Day an annual day of rememberance. Her sons remember Hughes for her dedication to ensuring an inclusive and connective creative community within Portland, a space where people who would not normally interact together are free and encouraged to do so.
Emily "Cathy" C. Day (1942–2021) was dedicated to teaching and training students and teachers alike. In 1963, after obtaining her B.A. in english from the College of William & Mary, she served in Peace Corps for two years in Lambayeque, Peru. Following this period, Day taught Spanish to incoming Volunteers for a few years. She returned to the United States to complete her M.A. in applied linguistics from the Teachers College at Columbia University. Afterwards, Day started teaching English in Ponce, Puerto Rico for five years before pursuing her Ph.D. in education at the University of Illinois. In 1982, Day was hired on as an ESL teacher at Eastern Michigan University (EMU), training teachers in the same field. Day's commitment to mentoring and teaching the next generation of teachers led to her advancement of the university's undergraduate and graduate programs in TESOL, or Teachers of English to Speakers of Other Languages. In addition to Day's professional duties, she served as the president to EMU's chapt;er of the American Association of University Professors, frequently presented and spoke at Michigan TESOL conferences over the years; she volunteered for the board of Ypsilanti's Meals on Wheels chapter for almost a decade; and she was an officer of the Ypsilanti Ladies' Literary Club. After her retirement, Day remained active on campus by enjoying EMU Emeritus functions and the University Musical Society performances. In her free time, she practiced tai chi, walked her beloved dog, Cherry, and listened to EMU's radio station.
Elizabeth "Betty" (Frazier) Karplus (1925–2021), a devoted teacher and volunteer, spent her childhood, traveling around the western U.S. with her family as her father visited various communities and congregations during the Great Depression. During World War II, Karplus worked for Yale & Towne as a welder to pay for her education at Oberlin College, where she obtained a B.S. in physics, before moving on to Wellesley College for her M.S. in physics. She married Robert Karplus in 1948, and they moved to Princeton where he began working with J. Robert Oppenheimer while she ran the radiochemistry lab. She also assisted John von Neumann with testing his early computer programs' mathematical capabilities. In 1954, they moved to California, and Karplus' husband joined UC Berkeley's physics department. She earned her master's in special education after giving birth to her seventh child, who was born with a disability. Afterwards, Karplus worked as a high school resource specialist for special-needs students and their parents. Karplus retired from teaching in 1986, but kept busy in other ways, including leading a science teaching program, serving in Peace Corps Jamaica, teaching English in China, volunteering with AmeriCorps, supporting undergraduate researchers, and conducting hands-on science lessons for elementary school students. For her exceptional contributions over the years to science education, Karplus was elected a fellow of the American Association for the Advancement of Science.
Thomas M. Donnellan (1940–2021) was an engaged and dedicated citizen of Flint, Michigan, living and working there for most of his life with his family. Before moving to Flint, he graduated from Queens College and served in Peace Corps Cameroon. After completing his Volunteer service, he earned a law degree from Fordham Law School and kickstarted his law career in 1968 in the Flint, where he started working as a principal drafter of the City of Flint Charter, which later would be adopted by Flint voters. He also worked with the Michigan Municipal League to train other cities on involving citizens with revising municipal charters. In the mid-1980s, Donnellan was appointed to the Flint District Court; eventually he served as an elected judge until 1992 before holding the position of chief judge from 1984 to 1987. When he left the bench, Donnellan became a criminal defense lawyer and was well-known as a "super lawyer" throughout the 35 years he practiced criminal law, during which time he worked as Flint City attorney and district judge. One of Donnellan's most memorable contributions involved assisting Nathel Burtley, Flint Community Schools' first Black Superintendent, launch the Committee to Save the Flint Public Library. Donnellan believed libraries act as "equalizers" within communities, and he wanted to ensure others could have free access to books and knowledge, just as he did growing up.
Timothy V. Craine (1943–2021) was a dedicated teacher throughout his career and into his retirement. When he wasn't in the classroom, he played music, loved to hike and travel, and participated in civil activism. Craine graduated from Oberlin College in 1965 and served for two years in Peace Corps Ghana. When he returned to the States, he taught in public high schools in Detroit and New Haven. In 1984, he earned his doctorate in math education from Wayne State University; that same year, he was awarded the Presidential Award for Excellence in Science and Mathematics Teaching. Craine transitioned to the math department at Central Connecticut State University in 1993, where he became chair seven years later, until his retirement in 2009. Despite his retirement, Craine continued teaching on a part-time basis through 2020, and he co-authored several textbooks and academic articles. Craine was an active supporter of the Socialist Workers Party for over 50 years, serving as the party's candidate for governor of Michigan in 1982. As a leader of the Greater Hartford Coalition on Cuba, he protested what he saw as the U.S. government's economic war on the island. Craine also participated in a delegation demanding the closure of the U.S. bombing range in Vieques, Puerto Rico.
John A. Frantz (1923–2021), a dedicated physician who spent his life in service to others, attended Haverford College followed by the University of Rochester School of Medicine, graduating in 1944. Frantz finished medical school as a U.S. Air Force officer and completed his internship at the Henry Ford Hospital in Detroit. He continued his military career, researching the survival of downed airmen under conditions of extreme cold. In 1946, Frantz married Mary Hodge, a fellow medical student, and they practiced together for several years in Colorado and Missouri, before settling in Wisconsin for the remainder of their careers as internists 1956–2007, when they both retired. Fueled by his service-minded attitude, he served in Peace Corps with his wife 1968–70, teaching medicine in Afghanistan. His passion for keeping his patients healthy motivated him to write many informational articles and a book to help educate his patients — and society in general — about common diseases over the course of his career.
Joan M. (MacDonald) O'Brien (1941–2021) grew up in Lowell, Massachusetts, choosing to attend Lowell State College. In 1962, she earned a B.S. in education and became the second person from Lowell State to join the Peace Corps. O'Brien served in the Philippines 1962–64 as a teacher and health advisor. She began a teaching career in the Lexington Public Schools upon her return to the U.S. and participated in a Harvard University project to improve early education. She married in 1967, teaching for several more years until her first child was born in 1971. However, she remained active in the education world. In the early 1980s, O'Brien served two terms on the Westford School Committee and was appointed to serve on the Nashoba Tech committee, an appointment she held for 20 years. O'Brien also bought and operated three Sylvan Learning Centers, where she provided tutoring and educational support for students. Throughout her career, O'Brien received several awards for her commitment to education and the lives of her students.
Maria "Betty" Bruquetas (1954–2021) was a Peace Corps Volunteer in Solomon Islands 1993–95. She served as the president of the RPCVs of Gulf Coast Florida affiliate group for many years. Bruquetas became well-known for her strong sense of responsibility for all the work she did in various organizations, including the RPCV group. During her term as president, she was considered fondly as the group's center from which spun ideas, projects, campaigns, celebrations, national and international communications, history-making events. She exuded a sincere interest in each person and cause that came across her path and took an active role with the Gulf Coast group's Celebration of Service Award, given to community projects in the Sarasota/Manatee area that deal with literacy for immigrants, drug abuse, housing and poverty issues, especially within the local African American community. RPCVs of Gulf Coast Florida have created the Betty Bruquetas Fund in her honor for the next Celebration of Service Award, to be awarded in spring 2022.
Marc B. Hanson (1975–2021) was a committed public servant who championed for the Peace Corps as the lead foreign policy staff for RPCV Congressman Sam Farr 2007–10. During this period, Hanson helped lead efforts to increase Peace Corps funding by nearly $70 million and introduce legislation to expand and improve the Peace Corps. Hanson also worked for Representatives Norma Torres and Gil Cisneros between 2016 and 2019. Beyond his service to the U.S. Congress, Hanson's commitment to justice and human rights included work with the SEIU labor union, Refugees International, and the Washington Office on Latin America. Hanson graduated from Santa Clara University and earned a master's degree in urban planning from the University of California in Los Angeles. In 2003, Hanson served two years as a city planning volunteer in La Ceiba, Honduras.
PEACE CORPS STAFF
Kenneth J. Coffey (Peace Corps Office of Public Affairs in Washington, D.C.), 9/27/21
Marylinda E. (Wilson) Hishmeh (Peace Corps staff in Tunisia from 1973—74 and Gabon in 1976), 9/11/21
Aruna (Nayyar) Michie (Peace Corps staff in India in mid-1960s), 9/5/21
AFGHANISTAN
John A. Frantz (1968–70), 8/31/21
BANGLADESH
Melinda A. Heins (2004–06), 8/13/21
BOLIVIA
Janice M. Harste (1964–66), 9/22/21
Connie J. (Marquiss) Hendrix (1968), 9/27/21
Allen D. Jedlicka (1965–67), 9/11/21
Karen M. Taylor (1966–67), 10/4/21
CAMEROON
Thomas M. Donnellan (1962–64), 9/3/21
Gregory G. Jones (1988), 9/14/21
CHILE
Thomas F. Hendricks (1964–66), 9/1/21
COLOMBIA
Frederick Z. Jaspersen (1961–63), 8/17/21
DOMINICAN REPUBLIC
Dorothy T. Millirons (1999–2001), 9/25/21
EASTERN CARIBBEAN
Michael R. Davis (1967–69), 8/23/21
ECUADOR
Norman C. Anders (1969–71), 9/25/21
George Iselin (1969–71), 9/7/21
GABON
Charles "Chuck" F. Brenner (1967–68), 9/24/21
GHANA
Timothy V. Craine (1965–67), 9/25/21
GUATEMALA
Michael McLeod (1967–70), 9/8/21
Kenneth R. Wyrick (1965–68), 9/5/21
HONDURAS
Arnold J. Cote (1987–88), 2/23/21
Marc B. Hanson (2003–04), 8/25/21
INDIA
Kevin E. Riordan (1966–67), 9/25/21
John Wahl (1968–70), 4/21/21
IRAN
Laila (Jensen) Finnen (1968), 9/5/21
JAMAICA
Elizabeth "Betty" (Frazier) Karplus (1991–93), 9/22/21
JORDAN
Marguerite "Anne" A. Hughes (2010–11), 8/26/21
LESOTHO
James T. Tashima (1969–70), 9/3/21
LIBERIA
Joseph D. Short (1966–68), 9/7/21
Nancy A. Waters (1964–66), 9/21/21
MALAYSIA
Albert W. Briggs, Jr. (1964–66), 10/9/21
MALI
Jane M. Pollard (1995–97), 9/19/21
MARSHALL ISLANDS
James M. Barto (1972), 9/18/21
NEPAL
Salvatore D. Paradise (1971–73), 9/29/21
NIGERIA
Robert P. Burchard, Ph.D. (1964–66), 9/28/21
Peggy N. Simmonds (1961–63), 9/9/21
PAPUA NEW GUINEA
Jerome B. Moles (1981–83), 8/25/21
PARAGUAY
James D. Iler (1966–68), 9/30/21
PERU
Emily "Cathy" C. Day (1963–65), 10/1/21
James R. Rigney (1969–72), 8/24/21
Richard "Dick" S. Swift (1964–66), 9/19/21
PHILIPPINES
Beth (Gillian) Craig (1969), 10/8/21
Norman E. Kowal M.D., Ph.D. (1963–65), 9/13/21
Joan M. (McDonald) O'Brien (1962–64), 9/23/21
William R. Stevens (1984–86), 8/8/21
SIERRA LEONE
John C. Sartorius (1969–70), 9/3/21
SOLOMON ISLANDS
Maria "Betty" Bruquetas (1993–95), 8/12/21
SOUTH KOREA
Theodore "Ted" K. Urton (1973–75), 9/17/21
TANZANIA
Patsy J. Mason (1962–64), 9/3/21
THAILAND
John F. Moriarty III (1968), 9/10/21
TONGA
Betha "Bert" T. Spector (1982–83), 8/30/21
TUNISIA
Francis J. Egan (1966–67), 9/7/21

If you have information you would like to share for our monthly In Memoriam post, please reach out to us at obituary@peacecorpsconnect.org.
---