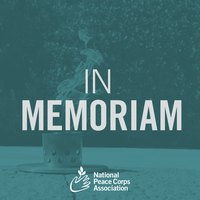 It's not necessarily surprising that some of the Returned Peace Corps Volunteers (RPCVs) we recently lost continued their public service and left their mark with the Environmental Protection Agency, the (former) Department of Health, Education and Welfare, and VISTA. But there are other achievements as well. For example, the look and feel of many of our nation's iconic theme parks are the result of an RPCV. And a well-known psychologist who frequently appeared with Larry King, Phil Donahue and Oprah? You guessed it - an RPCV.
Many of our NPCA affiliate groups are represented by long-serving, outstanding leaders. Members of the Friends of Thailand (FOT) are mourning the loss of Carolyn Nickels-Cox (1947-2018), who co-founded the group in 2001 and served as its president. Carolyn joined the Peace Corps in 1971 and was assigned to Annukulnaree Girls' School in Kalasin Province. She continued her service between 1973 and 1975, working with Thailand's Ministry of Education in Bangkok. For many years, Carolyn would make annual visits to her country-of-service and home site. During these visits, she would meet with Peace Corps staff and U.S. Embassy personnel, help with planning of the 40th, 45th and 50th anniversary celebrations of Peace Corps service in the country, and visit projects supported by FOT. Under Carolyn's stewardship, FOT members donated more than $125,000 since 2002 to support 125 community projects. This included funds for volunteer-counterpart and returned volunteer projects, and critically-needed aid in response to the 2004 Indian Ocean tsunami. FOT's tsunami aid included funding for the Burmese population living in southern Thailand.
Peter J. Maki (1948-2018) was born and raised on a farm in Wisconsin. He grew up raising cattle, milking them for his family's own dairy. When he finished high school, Maki continued his education at the University of Wisconsin, where he studied mathematics and met his wife. After college, he decided to join the Peace Corps, serving two years in Bolivia with a dairy project. When he returned home, he and his wife decided to serve again, this time together as a Peace Corps team in El Salvador. Following his Peace Corps service, Peter pursued some of his many interests. He became a dairy farmer in Missouri for a period of time, but would later become a park ranger in Maui. He also went back to school at the University of Wisconsin and became a USDA loan officer. While living in Oroville California, Peter was a member of the city planning commission. He also organized farmer's markets and helped create a Veterans Memorial. During his years of retirement in Missouri he focused his energy on behalf of environmental stewardship groups such as the Missouri Stream Team and Fuels for Schools.
Fred F. Guyton Jr. (1938-2018) graduated from the University of Illinois with a degree in architecture. He received a fellowship from the Center of Inter American Housing and Planning which allowed him to go to Bogota, Colombia with the Peace Corps. He would continue serving his nation when he was inducted into the United States Army in the combat Engineer Battalion as a helicopter pilot. When he was discharged, he began his career as an architect. His most notable position was when he was Chairman at Peckham Guyton Albers & Viets Inc. Under his leadership, the firm earned both regional and national awards for outstanding designs. He helped lead projects all over North America, Europe, South America and Asia, including Busch Gardens, many SeaWorld Adventure Parks, Universal Studios Theme Parks and the Space Command Headquarters at Peterson Air Force Base in Colorado. Guyton also participated in many different architectural boards, civic groups as well as fundraising organizations. He was a trustee for the St. Louis Science Center, the President and Board member of the Cystic Fibrosis Foundation and was also appointed to a variety of positions by numerous St. Louis mayors.
Carl Elliott Meacham (1941-2018) is just one of the many people who dedicated their whole life to their work. Meacham graduated from Howard University and then joined the Peace Corps, serving as a volunteer in Liberia. He continued his service as an educator in the Virgin Islands for many years. When he got back to the states, Carl was hired as the director of Cooperative Education at Mary Holmes College in Mississippi. He next accepted positions to work on the staff of New York Governor Nelson Rockefeller, and then joined the US Department of Health, Education and Welfare under the Carter administration. After his many careers, he went back to school and got his PhD in political science. He was a professor at the University of New York - Oneonta, and also taught at the University of New York - Albany and Cornell University. Carl had many pieces of his work published in prestigious journals. His research focused mostly on Latin American demographic shifts in public policies.
Coming out of high school, Dr. Dwight D. Roper (1937-2018) enlisted in the Army and was stationed in Berlin, Germany. When he came home, he went to college in Arkansas and then joined the Peace Corps, serving on a small island in the Philippines as an elementary school teacher. Upon his return, he decided to go back to school again and started working for the federal government and with the Volunteers in Service to America (VISTA) and other programs. This allowed him to travel around the country. Eventually he settled down and started a family, all the while pursuing his PhD at Stanford University. He had extensive knowledge on history, literature and theology and much of his work was published in academic journals and magazines.
After two years of Peace Corps service in Somalia in the late 1960's, Karen Shanor (1943-2018) was hired by the agency to work as a consultant psychologist. It is said Peace Corps was a critical touch point for her career, as she became a champion for understanding diverse perspectives. In the early 1970's, Karen completed her Ph.D in psychology from the United States International University in San Diego. After moving to Washington DC, Karen began a private practice and received much attention and acclaim for her 1978 book, "The Shanor Study." For five years, she hosted a program on WRC radio. That would lead to television from the early 1980's through the 1990's. She hosted a regular psychology show on the ABC/Hearst Cable Network, and became a regular guest on programs hosted by Oprah Winfrey, Charlie Rose and Phil Donahue. She was a member of the Georgetown University Department of Psychology from the early 2000's through 2015. She also served as a White House consultant and served on several prestigious professional boards and associations.
Below is our In Memoriam list for members of the Peace Corps community who recently passed away:
PEACE CORPS STAFF
Liduvina "Lido" Caserta, 9/23/18
MULTIPLE COUNTRIES
Florence Sumire Griffen (Ecuador; Thailand), 9/4/18
Philip Matheson Janes (India 1963-1965; Southeast Asia 1965-1967), 9/22/18
Peter J. Maki (Bolivia 1969-1971; El Salvador 1971-1973), 9/9/18
Rev. Lafayette Seymour (Pakistan Vol. 1962-64; Nigeria staff 1966-68 and India staff 1968-71) 8/18/18
AFGHANISTAN
David Moskowitz (1964-1966), 9/8/18
BANGLADESH
Charles A. Herron, 9/28/18
BELIZE
Sara L. Wittenberg, 8/25/18
BRAZIL
Richard John Axelson, 10/11/18
COLOMBIA
Fred F. Guyton Jr. (1961-1962), 9/28/18
Charles Gordon Perry III, 10/4/18
COSTA RICA
Terry Lee LeMahieu (1986-1988), 9/30/18
FIJI
Roger S. Whitley (1984-1986), 10/4/18
GHANA
Marcia Spink, 9/28/18
IRAN
Mary Janice Davis, (1966-1968) 10/8/18
JAMAICA
Bertil Merland "Bert" Dahlman, 10/4/18
LIBERIA
Ruth Jacobson (1971-1974), 9/17/18
Carl Elliott Meacham, 9/2/18
NAMIBIA
Teresa Ann Heger, 10/8/18
NEPAL
William "Bill" Durdan (1964-1966), 10/5/18
PANAMA
Kevin Lewis Webb, 9/22/18
PHILIPPINES
Barbara A. Crumbaker Teves (1961), 10/2018
Dwight D. Roper (1962-1964), 10/3/18
SAIPAN
Sara "Sally" Porter (1966-1968), 9/15/18
SAMOA
Larry Jude Lopes (2006-2007), 9/26/18
SOMALIA
Karen Shanor (1967-69), 7/27/18
SWAZILAND
James Stephen Hank (1968-1970), 10/5/18
Michael W. Mertz (1969-1970), 9/20/18
THAILAND
Carolyn Nickels-Cox (1971-75), 9/25/18
THE GAMBIA
Gavin Gladding (1998-2000), 9/16/18
VIETNAM
Dennis P. Nash, 10/1/18
COUNTRY OF SERVICE NOT SPECIFIED
Samuel Walter Denton, 8/8/18
Norman Howard, 9/17/18

---