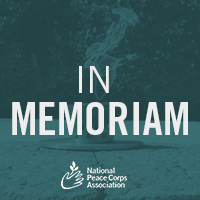 Returned Peace Corps Volunteers and former Peace Corps staff do more than bring the world home to fellow citizens in the United States. More often than not, they come home to become community leaders. At times, they stay or return overseas to share their talents. Either way, the many industrious members of our community who recently passed away are examples of an ongoing commitment to serving others, in a wide variety of ways.
Government and politics. Writing, the arts and education. Those are some of the highlights and achievements central to the life of Barry Martin Bergh (1944 – 2017). A graduate of Kenyon College and the University of Michigan graduate school, Barry's professional career began as an aide to former Michigan Governor George Romney during his presidential campaign. That was followed by a position as deputy assistant to New York City Mayor John Lindsay. Barry served in Washington with the Director of Peace Corps as a speech writer, and later as an assistant to the Director of the Environmental Protection Agency. In 1978, he joined the faculty of the Haverford School. He taught English at the school for the next twenty-two years. Along with teaching, he was advisor to the school newspaper, Chairman of the Curriculum Committee and President of the Cum Laude Society. Barry also enjoyed performing on the stage, participating in productions of the operas of Gilbert and Sullivan and playing the role of Willy Loman in Arthur Miller's advisor to the school newspaper, Chairman of the Curriculum Committee and President of the Cum Laude Society. Barry also enjoyed performing on the stage, participating in productions of the operas of Gilbert and Sullivan and playing the role of Willy Loman in Arthur Miller's Death of a Salesman.
Along with being a Peace Corps Volunteer, teaching high school biology in Kenya from 1974 – 78, Frances Steadman (1920 – 2017) was a committed activist for a number of causes. That commitment led to the Marin (CA) Human Rights Commission to bestow upon Frances its Community Service Award in 1996. Two years later, she was inducted into the Marin Women's Hall of Fame. Before her induction, she was quoted as saying "I'm almost embarrassed at being nominated, but I accept because I like to have the causes I work for be validated". Frances worked on issues such as nuclear disarmament, civil rights, immigrant rights and sanctuary for individuals fleeing Central American death squads. She was active with the Marin Interfaith Task Force on the Americas, the Gray Panthers and the Marin Coalition for Immigrant Rights.
Thomas Duane Mandeville (1942 – 2017) was an early Peace Corps Volunteer, serving in Afghanistan shortly after graduating from the University of Illinois in 1964. Upon returning to the U.S., Tom attended the University of Michigan, graduating with a Master's degree in social work. He worked as a community social worker in Flint for two years, then worked the following three years as a social worker in the Rockford, Illinois school system. It was in 1972 that Tom, his wife Donna (who he met during Peace Corps service) and their children moved to Sendai, Japan as pioneers for the Bahai' faith. He established New Day School for teaching English as a second language. Tom, along with Donna were highly regarded within the Bahai' community of northern Japan. Over 45 years he and staff at his school taught English to hundreds of students. He also co-authored a workbook used to teach English.
Like many who served in the Peace Corps, Elinor Abdulla (1940 – 2017) had a love of language. Throughout her life, she studied up to ten languages and at different times taught four (French, Spanish, Greek and Latin). Following graduation in 1962 from Hiram College, Elinor moved to Washington DC, working for the government as a budget analyst by day, while attending graduate school by night at George Washington University. In 1966, Elinor joined the Peace Corps, serving as a history teacher in Tanzania. She married and remained in the country for twenty-one years, raising a family and working as a bank manager, management analyst and marketing manager for Pepsi-Cola. Elinor returned to the U.S. in the 1990's, primarily teaching English as a Second Language first in Albany New York, and later in McAllen Texas. Another of Elinor's longstanding contributions was service as a church organist/pianist in the communities where she lived, from age twelve until the end of her life.
Between graduation from DePauw University, a graduate degree at the University of Notre Dame and a law degree from Indiana University, Frederick F. Thornburg (1940 – 2017) served as a Peace Corps teacher and coach in Colombia. Frederick was appointed as the Law Clerk to the late John S. Hastings, Chief Judge of the United States Court of Appeals in Chicago. He next entered the world of business, serving as Executive Vice President and Chief Administrative Officer of the Wackenhut Corporation. The last phase of Frederick's multi-faceted career came when he served as Vice President of Institutional Advancement and General Counsel for St. Thomas University. During his retirement, Frederick served fifteen years with the Miami-Dade County School System. This work included chairing the budget and finance committee and ethics committee. He also served on the Board for the South Florida-based Public Broadcasting Service radio and television stations.
Volunteerism and community service were paramount in the life of Richard Wayne Bowers (1942 – 2017) who served in the Peace Corps in Sierra Leone from 1964 to 1966. A graduate of Catawba College, Richard returned to North Carolina following his service and obtained a graduate degree in School Administration from East Carolina University. This led to a thirty-year career as a teacher and principal. For several years following his retirement, Richard worked for Craven Community College teaching GED courses at the Craven County Correctional Facility in Vanceboro. Richard served on the Vanceboro Board of Aldermen since 1982. He was Secretary/Treasurer of the Vanceboro Rotary Club for 41 years. An active member of Holly Hill Pentecostal Holiness Church, Richard served a variety of needs including Sunday School teacher and Superintendent, deacon and member of the church administrative council. Other civic roles included stints on the Board of Directors of the Vanceboro Rural Volunteer Fire Department, the Vanceboro Library and the Vanceboro Medical Center.
Below is our In Memoriam list for members of the Peace Corps community who recently passed away:
STAFF
William Healey, 9/9/17
Arnetia Sampson Maasha, 9/8/17
MULTIPLE COUNTRIES
Janet Chiyo Miyamae - Nigeria/Ethiopia, 7/24/17
Clarice Douoguih- Guinea/Togo, 9/1/17
AFGHANISTAN
Thomas Mandeville, 8/10/17
BRAZIL
Bob Arthur, 9/1/17
Marilyn Henderson-Parker, 9/4/17
Mary Woodward Pillsworth (1964-67), 4/11/17
CAMEROON
Taylor Moore (1993-95), 9/7/17
CHILE
Ted Cass, 7/30/17
COLOMBIA
Ernest Chabot (1963-65), 9/9/17
George DeWald, 8/14/17
Frederick Thornburg, 9/19/17
COSTA RICA
Ronald Sanchez, 9/22/17
ECUADOR
Richard Pelczar (1964-66), 9/29/17
Dolores Polson (1992-94), 9/25/17
Donna Scroggins (1967-69), 9/29/17
EL SALVADOR
James Carr, 9/2/17
ETHIOPIA
Paul Fahey, 9/12/17
GABON
Pete Cross (1983-85), 9/19/17
HONDURAS
Carl Ault, 3/17/17
Joan Cookson (1976-78), 6/21/17
Judy Luna (1978-80), 9/28/17
INDIA
Edward O. Hepner (1965-67), 7/8/17
Janet Bingham-Clark (1965-67), 2/7/17
IRAN
Roger Hartman (1964-66), 9/7/17
William Lirange (1967-68), 9/11/17
KENYA
Frances Steadman, 10/1/17
LIBERIA
Phyllis Hassinger, 9/14/17
NAMIBIA
Gerry Carleton, 9/30/17
NEPAL
Daniel Kucij (1965-67), 9/23/17
NIGER
Wendy Wallin (1967-69), 11/11/16
NIGERIA
Richard Priebe, 6/9/17
Robert Dahlin (1964-66), 4/10/17
Dale Musolf (1964-66), 3/13/17
PAPUA NEW GUINEA
David Shelden, 9/30/17
PERU
Duane Elg (1966-68), 3/30/17
David Frederick, 9/14/17
PHILIPPINES
Margaret Berner, 9/7/17
Thomas Kenney (1975-77, 2015), 5/4/17
Lonnie Laack, 9/11/17
POLAND
Helen Suchara (1989-92), 7/27/17
SIERRA LEONE
Richard Bowers (1964-66), 10/7/17
Bob Dach (1988-90), 7/3/17
TANZANIA
Elinor Abdulla (1966-68), 9/25/17
Mark Miyamoto (1993-95), 10/1/17
THAILAND
Betty Anne West (1984-86, 1992-95), 9/1/17
TOGO
Sandra Scavazzon, 9/9/17
COUNTRY OF SERVICE NOT SPECIFIED
J. Michael Blais, 9/19/17
Arnold Cook, 9/28/17
Inez Edmondson, 9/9/17
William Fisher, 9/20/17
John Ford, 10/3/17
Charles William Lawrence Jr. (1973-75), 9/9/17
Linda Popper, 9/15/17
Thomas Turner, 9/20/17

---