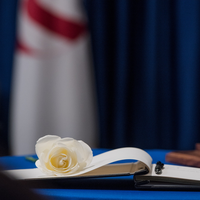 Remembering those we've lost recently in the Peace Corps Community
Whether in law, government, social work, or the arts, Returned Peace Corps Volunteers and former Peace Corps staff are leaders and visionaries in their selected fields. We honor those leaders who recently passed away.
Drew Saunders Days III (1941-2020) graduated from Hamilton College with a degree in English Literature before receiving his J.D. from Yale Law School in 1966. A year after graduating law school, Days served in the Peace Corps in Honduras from 1967 to 1969. After serving, Days became a successful civil rights lawyer focusing on police misconduct, school desegregation, and employment discrimination. Additionally, he worked at the NAACP Legal Defense and Educational Fund in New York City for eight years. He then joined the faculty at Yale Law School where he taught classes that focused on subjects including civil procedure, federal jurisdiction, Supreme Court practice, and many more. In addition to teaching, Days was the founding director of the Law School's Orville H. Schell, Jr. Center for International Human Rights, and wrote several books and articles regarding Supreme Court jurisprudence and civil rights. In 1977, Days was appointed by President Jimmy Carter as the first African American U.S. assistant attorney general for civil rights. He played a large role in advocating for upholding affirmative action in universities as litigated in the famous Supreme Court case Regents of the University of California v. Bakke. In 1993, he continued to demonstrate his lifelong commitment to social justice and the law when Bill Clinton nominated him to serve as solicitor general in the Department of Justice, where he argued a total of 26 cases before the Supreme Court.
In 1977, Drew S. Days III was appointed by President Jimmy Carter as the first African American U.S. assistant attorney general for civil rights.
Hugh Jesse Arnelle (1933-2020) graduated from Pennsylvania State University in 1955. He was the first Black student body president in the school's history. An excellent athlete, Arnelle was drafted by both the NFL and NBA, and ultimately chose to pursue professional basketball. After retiring from the NBA, Arnelle served as an officer in the United States Air Force. He then earned an LLB from Dickinson School of Law before serving as a Peace Corps Director in Turkey for two years, and in India for one year. Once he returned to the United States, Arnelle practiced law at the San Francisco Federal Public Defender's Office and eventually started a solo practice focused on criminal and civil law. He also spent 45 years on the Penn State Board of Trustees before participating as an active member on the boards of Waste Management, Gannett Company, the Metropolitan Life Series Fund, Eastman Chemical Company, Textron Corporation, Armstrong World Industries, and Florida Power & Light. Additionally, in 1969 he was elected to the PSU Board of Trustees, and served as the president from 1994 through 1996. He also co-founded the Penn State Renaissance Fund, which works to increase and support minority students at the university.
An excellent athlete, Hugh Jesse Arnelle was drafted by both the NFL and NBA, and ultimately chose to pursue professional basketball.

Genevieve Rafferty (1922–2020) earned her bachelor's degree from St. Ambrose College, where she co-organized the creation of the Iowa-Illinois Information and Referral Service. She managed this program up until her retirement in 1992, making sure every student was provided with the resources that they needed. Rafferty was a member of Junior Board Rock Island and Project Now, which participated in outreach efforts for issues such as housing, senior services, and child services within the community. She also held board positions at the Just For Kids Daycare and Directors for Transitions – Mental Health. Rafferty was named Social Worker of the Year by the Association of Social Workers before joining the Peace Corps in 1992, volunteering within cities along the ancient "Silk Road" in Uzbekistan. Upon her return to the United States, Rafferty continued to prove her dedication to civic engagement when she received the Civic Service Award as well as the Keys of the city of Rock Island Illinois. Additionally, she was recognized in "Who's Who of American Women" and "Who's Who in the Midwest." In 2003, Genevieve received The Jefferson Award from the American Institute for Public Service, where an awards ceremony was held at the John F. Kennedy Center for the Performing Arts in Washington, D.C.
Jack Roderick (1926–2020) received his education from Yale, Harvard, and the University of Washington. Before he became the regional director of the Peace Corps in India, Roderick worked as a truck driver in Anchorage, spent some time in the oil exploration business, and practiced law. Five years after his service in the Peace Corps, he became mayor of the Greater Anchorage Area Borough from 1972 to 1975. As a mayor in Alaska, Roderick took pride in advocating for environmental preservation of parks and the establishment of trail systems such as the Campbell Creek trail, community councils, and the People Mover public bus system. Additionally, he had a passion for getting others in the community involved in civic engagement and local government. Roderick himself held a few positions in state government, before teaching at local universities and publishing a memoir about witnessing the downfalls of Alaska's oil economy, titled "Crude Dreams: A Personal History of Oil & Politics in Alaska."
Stacy Elko served as a Peace Corps Volunteer in Morocco between 1988 and 1992. In 2005 she joined the faculty of the Texas Tech University (TTU) School of Art. In addition to teaching and mentoring students in printmaking, drawing, and video/transmedia, she also served as MFA Coordinator and engaged in research with collaborators from across the nation. A multi-dimensional artist, Elko's work stretched beyond printmaking to embrace time-based media, music, and performance art, as well as interactive environments that were epitomized in her sculptural airships, "Flying Machines." Elko took special pride in her work with an interdisciplinary research team to create a tablet-based application that would enable persons with aphasia — a language and cognition disorder that frequently appears after a stroke — to communicate with healthcare providers and other clinicians. This application, known as the Visual Interactive Narrative Intervention, or VINI, united Elko's three great passions: her love of the digital interface and its gaming aspects, her extensive artistic background and talent, and her belief that the arts as a whole have meaningful and useful contributions to make through interdisciplinary collaborations that improve lives and quality of life. Her pathbreaking work on this project was a critical component in the college's award of its first major federal grant, a National Endowment for the Arts Research Lab. The TTU School of Art plans to establish a scholarship in Stacy Elko's memory.
PEACE CORPS STAFF
Hugh Jesse Arnelle (Country Director Turkey, India 1960s), 10/21/20
Sharon Sue Hale (1960s), 10/24/20
MULTIPLE COUNTRIES
Ronald Wayne Bengston (Ecuador 1993-95; Honduras 1999-2001)
Margaret O'Brien Donohoe (Ethiopia staff 1962-64; Somalia staff 1966-68)
BELIZE
Robert Earl "Bob" Evans (late 1970s), 10/19/20
BRAZIL
Maxwell Creighton (1968-70), 11/7/20
Sylvan "Gene" Prell (1963-65), 10/24/20
CHILE
Therese "Tess" Pawelecki Carolan (1966-68), 10/22/20
COLOMBIA
David Goodrich Gabel (late 1960s), 10/18/20
COSTA RICA
Kenneth James Freebury (staff 1966-68), 10/31/20
ECUADOR
Philipp A. Auer, 10/15/20
Greg Radinovich (1993-94), 10/22/20
FEDERATED STATES OF MICRONESIA
William H. Hielscher (late 1960s/early 1970s), 10/18/20
FIJI
Donald Hemenover (1972-74), 11/15/20
GUATEMALA
Martina McCormack, 11/6/20
HONDURAS
Drew S. Days III (1967-69), 11/15/20
KENYA
Kathleen Anne Rick (early 1970s), 10/16/20
LESOTHO
Ruth W. Johnson, 11/12/20
LIBERIA
Harold Hersch (1965-67), 11/9/20
MALAWI
Ronnie E. Alff (1962-64), 11/2/20
MOROCCO
Stacy Elko (1988-92), 8/26/20
NEPAL
Purita Molina Dayawon, 11/12/20
PERU
Joan Carter (1962-64), 11/10/20
PHILIPPINES
Helen R. Cooper (1980-82), posted 11/11/20
ROMANIA
V. Edward Bates, 10/10/20
Michael James Belsom (1997), 10/29/20
SAINT VINCENT
Wayne A. Aprill (1980-82), posted 11/6/20
Frances English Moore (1991-93), 11/12/20
SENEGAL
Judith A. (Pierson) Beggs (1990's), 11/6/20
THAILAND
Robert Richard Charles (staff – early 1970s)
Gary Steven Izo, 11/21/20
Wilbur Taylor "Bill" Little III, 8/31/20
TUNISIA
Bruce James Abbey (1966-69), 10/26/20
TURKEY
Richard K. "Rick" Beebe Jr. (1967-69), 10/23/20
UGANDA
Barbara Anne Morin (1969-72), 11/11/20
UKRAINE
Eileen M. Kelly (2012-14), 11/1/20
UZBEKISTAN
Genevieve Rafferty (1992-94), 11/13/20
VENEZUELA
Roger A. Ackerman (1962-64), 10/17/20
COUNTRY OF SERVICE NOT SPECIFIED
Lyle Wayne Graf, 10/17/20
Mary A. Korneman (early 1970s), 11/1/20
Bruce F. Lawhead, 11/12/20
Gordon Authur "Pete" Maue (1962-63), 11/13/20
Jean E. Rainey, 10/30/20
---

If you have information you would like to share for our monthly In Memoriam post, contact obituary@peacecorpsconnect.org. Thanks to NPCA intern Kaylee Jensen for assistance in preparing this post.
---