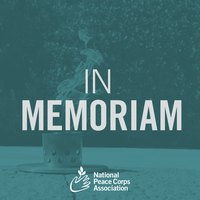 Whether as volunteers or staff, alumni of the Peace Corps lead inspiring lives. Among those who recently passed away were a South Carolina political trail blazer, a 1960's fighter on the front lines of desegregation, and a volunteer who would later direct Peace Corps programs in his former country of service.
He was the 2006 recipient of NPCA's Sargent Shriver Award for Distinguished Humanitarian Service. Dr. Loren Finnell (1942-2018) was recognized for his founding The Resource Foundation (TRF), an organization that works to empower communities across Latin America and the Caribbean with skills, knowledge and opportunities to improve their lives. More than 30 years after its creation, TRF currently supports programs in 29 nations, serving three million people. In 2013, TRF's Board of Directors created the Loren and Pilar Finnell Catalyst Award to recognize organizations that exhibit the visionary characteristics of TRF's founders. An Ecuador Peace Corps Volunteer in the mid 1960's, Finnell attended Manchester College and was honored by his alma mater on three occasions. In 2006, he was named a Skoll Foundation Fellow. He was also invited by the Clinton Global Initiative to become a member in 2011.
Another Peace Corps alumna who was on the front lines of the civil rights movement has passed away. Dr. Janette Hoston Harris (1939-2018), who was employed by the Peace Corps, is best known for leading a 1960 lunch counter sit-in protest in Baton Rouge while a student at Southern University. She was arrested and expelled. In 1962, while attending Central State University, her desegregation case (Hoston vs. State of Louisiana) was argued before the Louisiana Supreme Court and the U.S. Supreme Court by Thurgood Marshal, who would go on to win the case. Dr. Harris moved to Washington DC and earned a Masters and Ph.D. in History from Howard University. Along with the Peace Corps, Dr. Harris worked for the Association for the Study of Afro-American Life and History, DC Public Schools, Bowie State University, the University of the District of Columbia and Lorton prison. She founded the Washington DC Hall of Fame Society, to celebrate the achievements of District residents.
A former three-term member of Congress began her public service as a Peace Corps Public Affairs Officer. Elizabeth Johnston Patterson (1939-2018), the daughter of former South Carolina Governor and Senator Olin DeWitt Johnston graduated from Columbia College and earned a Master's Degree from Converse College. Along with her early work with the Peace Corps from 1962-64, Congressman Patterson also worked for VISTA, and served as administrator of Head Start Columbia. Her political career began with the Spartanburg County Council. She served seven years in the South Carolina State Senate before becoming the first woman in South Carolina elected to the U.S. House of Representatives. After elected office, she worked at Converse College and Spartanburg Methodist College. She served on many boards and commissions, and received many honors, including honorary doctorates from Converse College, Columbia College, Lander University and Wofford College.
Helen C. Dietz (1929-2018) was raised through the Great Depression. The daughter of a methodist minister, Helen and her family moved all over North Carolina, traveling to different parishes throughout the state. A very smart and curious girl, Helen graduated high school at the age of 15 and college at the age of 19. Helen spent much of her time exploring the world, visiting much of Asia, Japan, England and Scotland. When she returned to the states, she opened an English antique store, dabbled in real estate, continued her studies of art history and the French language and participated in a variety of recreational activities. Later on, she started working for an organization in Thailand called Save the Children aiding Loation refugees. Helen joined the Peace Corps, serving in Benin and helping the local communities in eradicating the guinea worm parasites from the water. When she finished her service in Benin, she moved to France where continued her language study while also teaching English to immigrants.
Growing up in the middle of California, Douglas Frago was surrounded by farmland and accustomed to the ways of agriculture. He graduated from California State Polytechnic University with his degree in agronomy, the science of soil management and crop production. He decided to share his agricultural knowledge and traveled to Guatemala with the Peace Corps. Following his service, Douglas came back to California and was hired by Cal Poly as an instructor in crop science. On his family's land, he grew sweet potatoes and almonds. After 18 years, Douglas moved back to Guatemala along with his wife and four children and served again - this time as Guatemala Country Director. His Peace Corps career continued in Washington, where he became the Peace Corps Director of International Operations. His Peace Corps career would conclude overseas once again, with assignments to serve as Country Director in Uzbekistan and in Moscow. Douglas closed out his career with the Department of Agriculture in the Farm Services Agency.
Below is our In Memoriam list for members of the Peace Corps community who recently passed away:
PEACE CORPS STAFF
Nadya Sill (1970-1972), 10/28/18
Lawrence S. Baker, 10/25/18
Thomas Scott, 10/28/18
Carol Lorain Curran, 11/7/18
Janette Harris, 11/2/18
Elizabeth Johnson Patterson (1962-64), 11/10/18
MULTIPLE COUNTRIES
Sally L. Lindover (Rwanda; 1979-1981, Malaysia; 1981-1982), 10/16/18
Priscilla Zeider (Mauritania; 1990-1991, Gabon; 1991-1993) 10/24/18
BELIZE
Elizabeth A. Reed (1994), 11/13/18
BENIN
Helen C. Dietz (1993-1996), 8/21/18
BOLIVIA
Michael Friggens (1991-1993), 10/13/18
BRAZIL
Michael Tindera (1966-68), 11/7/18
BULGARIA
Jan Harris Wines (2002-2004), 10/15/18
COSTA RICA
Joseph Averill Jr., 9/25/18
ECUADOR
Loren Finnell (1964-66), 10/21/18
EL SALVADOR
Bonnie "Beaver" Breckley (1968), 10/6/18
ETHIOPIA
Phil Eastman (1961-63), 6/19/18
Mark Nesse (1965-1967), 10/14/18
GHANA
Jose Torres Jr. (1975-1977), 10/17/18
GUATEMALA
Douglas William Frago, 10/16/18
Christine Grovenstein (1988-91), 2/19/18
HONDURAS
Nathan Patrick Haugen (2006-08), 8/26/18
INDIA
John Anderson Payne (1968-69), 11/16/18
Gail Hare Singh (1965-67), 10/7/18
Pat Wilson Wiley (1966-1969), 9/6/18
IRAN
John Michael Gaydos (1968-71), 6/28/18
Ghassem Khosravan (staff), 8/25/18
JAMAICA
Lois Bruce (1985-1987), 10/21/18
MOROCCO
Stefon Shorts (1989-90), 8/1/18
NEPAL
James R. Brunetti (1970-72), 11/11/18
NICARAGUA
Robert Burkhart (1978-1979), 10/20/18
Samuel H. Chernoff, 11/10/18
NIGERIA
Mary Jane Weidenbach (1966-68), 7/1/18
PERU
Charles "Andy" Vasquez (1970-1971), 10/24/18
Paige Stasney (1965-1967), 11/6/18
PHILIPPINES
Darleane T. Lemley (1985-1987) 10/24/18
Eric Nelson (1968-1970) 10/24/18
Robert Allen Vaughan (1968-70), 11/8/18
ROMANIA
Joseph Michael Gencarelli, 10/15/18
ST. LUCIA
Susan L. Karako, 10/16/18
SOMALIA
James Paul Shanor (1967-69), 2017
TURKEY
Sherman M. Cox, 10/24/18
Thomas M. Doerr (1965-1967), 11/5/18
VANUATU
Arlayne Helen Clow (1993-1996), 10/14/18
VENEZUELA
Karen (Wurtz) Hayward (1964-66), 11/1/18
COUNTRY OF SERVICE NOT SPECIFIED
Lon Franklin Jackson, 9/29/18
Kyle Orth, 10/15/18
John "Jack" Francis Sweeney, 10/20/18
Christine Elizabeth Tratnyek, posted 10/28/18
---