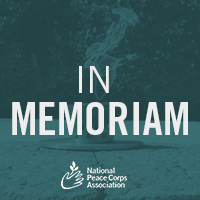 From the very first to the most recent, the Peace Corps community remembers volunteers and staff who served our nation with distinction.
The community mourns the loss of a volunteer who died in service. Hannah Huntley (1994 - 2017) perished in a car accident in Armenia in October. As a community youth development volunteer, she worked at an Armenian youth club and participated in the community's first artist teahouse and summer music festivals. She also had begun an English club in her community. Extremely gifted in language, Hannah was fluent in Hungarian, Spanish and Russian. As a college student, she tutored children and cared for orphans in Romania, and taught English as a second language since she was 18 years old.
Robert Steiner had extensive experience in the field of cross-cultural training and international education. He organized and started the first Peace Corps programs in Afghanistan and Iran. Along with leading early individual Peace Corps programs, Robert was later promoted to the post of Regional Director of North Africa, Near East and South Asia. He held key posts in management and training in the U.S. and abroad. This includes positions as Director of Cross-Cultural Training and Research at the University of Hawaii, Director of the Fulbright Commission in Iran, Executive Director of New Jersey Education Consortium and has been a consultant at the United Nations.
In marking his death, the Minneapolis Star-Tribune said that "David Nasby (1939 - 2017) committed his life to helping the less fortunate, from his days as the head of a small alternative school in south Minneapolis to his work as an executive at the General Mills Foundation, which dispensed millions of dollars in philanthropic donations." Following his graduation from St. Olaf College and Lutheran Seminary, David and his wife Karen served as Peace Corps Volunteers in the Philippines in 1966. He was the Chair of the Board of Luther Seminary, and received St. Olaf College's Distinguished Alumni Award and Second Harvest Heartland Honors Hunger Hero Award. After 25 years as Director of Community Affairs and Vice President of the General Mills Foundation, David retired in 2004. He was known by many for his work to combat injustice, gender inequality and racial prejudice.
A love of bicycling was central to the service work of Bradley Davis Schroeder (1977 - 2017). Following graduation at the University of North Carolina - Wilmington, Bradley became a Peace Corps Volunteer in Ghana. One of his activities while serving in western Africa was the establishment of a Village Bicycle Project. That was only the beginning of his bike share initiatives. Bradley began a California Bike Project, then traveled to southern Africa, beginning similar projects in South Africa and Namibia. Most recently, he worked with the Asia Development Bank where he oversaw more bike share projects and wrote a book on the subject.
John Paul "J.P." Banks (1952 - 2017) went from Mississippi College to the Golden Gate Theological Seminary, where he was ordained as a Southern Baptist Minister. A commitment to service led J.P. to the Peace Corps. He was deployed to Uzbekistan in 2000 and 2001, where he managed a medical supply distribution program. Upon completion of his Peace Corps service, J.P. worked in the medical field in California, before returning to his native Georgia. A community volunteer throughout his life, J.P.'s recent efforts included serving as project coordinator of the Drug Free Coalition of Hall County, Georgia.
His commitment to community and social justice helped lead Kenneth Bradley Bordwell (1942 - 2017) to the Peace Corps. From 1966 to 1968, Ken served his nation as a Peace Corps Volunteer in Brazil, working on literacy and community development. This led to a long career as a community development worker for the city of Cincinnati. A dedicated citizen advocate, Ken lobbied with the Friends Committee for National Legislation, Bread for the World and Ohioans to stop Executions. He was on the Board of Directors of the Metropolitan Area Religious Coalition of Cincinnati and Over the Rhine Community Housing. For two decades he participated with the American Council of the Blind of Ohio, participating in sports with others with visual impairment.
Below is our In Memoriam list for members of the Peace Corps community who recently passed away:
STAFF
Kim Briggs, 10/4/17
Verda Dale, 10/17/17
Elizabeth Gazzo, 11/5/17
Martha Lomonte, 10/23/17
Bob Steiner, 11/7/17
MULTIPLE COUNTRIES
Alverna Eriksson- Haiti/Nepal, 10/12/17
Kenn Miller-Haiti/Jamaica, 11/10/17
ARMENIA
Hanna Huntley, 11/1/17
BOTSWANA
Grace Marian, 10/24/17
Audrey Meitzner, 11/1/17
BRAZIL
Ken Bordwell (1966-68), 10/30/17
Cynthia Brown (1965-67), 10/15/17
Philip Letsinger (1964-66), 10/24/17
CHILE
Molly Genz, 10/23/17
COLOMBIA
Edwin Hancock, 11/3/17
CZECH REPUBLIC
Dorothy Converse (1990-92), 11/10/17
DOMINICAN REPUBLIC
Lew Gottfried (1970-72), 10/6/17
M. Denis Reshetar (1961-63), 9/12/17
Sherry Teachnor, 10/22/17
ECUADOR
Perry Zimmerman (1963-65), 11/2/17
EL SALVADOR
Tom Tisdell (1962-64), 3/9/17
ETHIOPIA
Craig Kyte, 11/1/17
GHANA
Thomas Graviss, 10/25/17
Bradley Schroeder, 10/9/17
IRAN
Quentin Fleming (1974-76), 10/15/17
JAMAICA
Ruth Slovak, 10/11/17
LESOTHO
Ken Castrop (1969-73), 11/8/17
MALAYSIA
Rick Jali, 10/7/17
MICRONESIA
Randolph Speers, 10/27/17
NIGER
Jack Birr, 10/4/17
Sally Sharpe, 9/24/17
PERU
William Tweed, 9/13/17
PHILIPPINES
David Nasby (1967-69), 11/5/17
SOMALIA
Margit Schaick, 10/13/17
SRI LANKA
Alice Davies, 9/30/17
THAILAND
Mona Fowler (1962-64), 10/24/17
Barbara Steckler (1965-66), 10/24/17
TONGA
LeRoy Pearson, 10/30/17
URUGUAY
Sydney Reibick, 10/17/17
UZBEKISTAN
J.P. Banks (2000-01), 10/28/17
COUNTRY OF SERVICE NOT SPECIFIED
Joseph Nation, 11/8/17

---