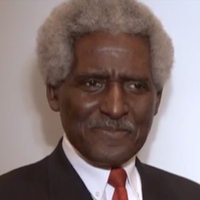 As we mourn the loss of members of the Peace Corps community, we celebrate the lives they led with a commitment to service.
By Molly O'Brien & Caitlin Nemeth
Our tributes include former U.S. Ambassador Larry L. Palmer, left, and an award-winning musician. A decorated State Department diplomat and a public health official specializing in infectious diseases. Educators with a lifelong commitment to their students. A dedicated physical therapist and a doctor who served as an instrumental member of the NPCA Board of Directors.
We honor the wide range of contributions made by members of the Peace Corps community who recently passed away.
Ambassador Larry L. Palmer, Ph.D. (1949 – 2021) was a dedicated civil servant and diplomat. He earned a bachelor's in history from Emory University, a master's of education from Texas Southern University, and a doctorate in higher education and African Studies from Indiana University, Bloomington. Palmer served as a Peace Corps Volunteer in Liberia from 1970 to 1972, which inspired him to join the Foreign Service. That led to postings in multiple U.S. Embassies around the world as part of the Senior Foreign Service. He served in the Dominican Republic, Uruguay, Paraguay, and Ecuador before being appointed U.S. Ambassador to Honduras (2002–05) by President Bush. During his tenure in Honduras, he oversaw more than $250 million in development programming from USAID and the Millennium Challenge Corporation. Upon completing his term as ambassador, he became the president and CEO of the Inter-American Foundation (IAF) from 2005–10. He was energetic and focused on generating economic impact during his time at IAF. He helped IAF expand their approach to funding and supporting underserved groups, including African descendants. After his time with IAF, Ambassador Palmer served as the U.S. Ambassador to Barbados and the Eastern Caribbean under President Obama (2012–16), where he concurrently served as the ambassador to Antigua and Barbuda, Barbados, Dominica, Grenada, Saint Kitts and Nevis, Saint Lucia, and Saint Vincent and the Grenadines. Ambassador Palmer was a wonderful connector and diplomat, working tirelessly in many roles to forge prosperous relationships between the U.S. and many parts of the world.
Mary L. Walker (1926 – 2021) was a musician, but her professional career began as a research assistant with the Wright Patterson Aeromedical Laboratories. This preliminary research was a precursor to the U.S. space program; Walker participated in trials to determine the effect of decreased oxygen levels on humans at high altitudes. Her career took a creative turn when, at 48, Walker taught herself how to play guitar; she would go on to complete eight albums. Her music can be described as entertaining and informational, and her inspiring impact was felt by the Catholic church and her local community, with songs such as "Advent Song" and "Everybody Has a Song." Mary was awarded the Popular Award every year from 1984 to 1994 by the American Society of Composers, Authors, and Publishers. From 1990 to 1992, Walker served as a Peace Corps Volunteer in Fiji, where she presented a weekly children's radio program called "Shared The Sunlight." Over the years, she went on to receive the Arts Partnership Award from the Chemung Valley Arts Council and was recognized as a Woman of Excellence Today by Girl Scouts of the USA. In addition to "Shared The Sunlight," other shows Walker hosted and performed on include PBS programs "Weekend Radio" and "Woody's Children," ITV's "Saints Alive," and the musical "Children of the Earth," a production by Mary and Serge Banyevitch. Her extensive work over the years as a creative performer cemented Walker's dedication to promoting fairness, love, and inclusion for the community's future — children.
David C. McGaffey, Ph.D. (1941 – 2021) was an incredibly smart and talented man with many interests. At the age of 15, he enrolled at the University of Detroit and completed his education with majors in theater, folklore, psychology, and math. During his time at U of D, he met his future wife, Elizabeth. Together, they joined Peace Corps after their wedding, serving in Afghanistan 1964–66. Upon their return, McGaffey joined the State Department, traveling the world and representing the United States in various capacities. His storied career involved managing the safe evacuation of 2,500 Americans from Iran during the 1979 revolution, serving as the Deputy Chief of Mission in Guyana, and holding a position as the U.S. representative to the United Nations Food and Agriculture Organization. He managed to find time to publish four non-fiction books about diplomacy and write a children's book. While working for the State Department, McGaffey received his master's in systems analysis at Harvard University, then furthered his education in retirement, completing a Ph.D. in international relations at Johns Hopkins University. He did not slow down, returning to teaching at several universities abroad in the U.S. He was passionate about teaching and assisted in the development of many programs at various international universities. David was an incredible civil servant and made a positive impact upon everyone he met.
David B. Wolf, Ph.D. (1942 – 2021) was a leader in higher education in California. Wolf attended the University of California, Berkeley, where he also earned his master's in economics. After marrying in 1965, David and Ruth Wolf served in the Peace Corps in Malaysia 1966–68. Upon their return, David pursued his doctorate in organization and education at Stanford University. He began his career in education in earnest; he was hired as the dean of Los Angeles Mission College, then later took on administrative roles at other colleges. He taught for many years and was later promoted to accrediter for the Western Association of Schools and Colleges. Wolf was passionate about his students and wanted every student in California to receive access to higher education. His retirement from teaching did not last long before he went back to work. He co-founded the Campaign for College Opportunity advocacy group in 2002, which has since grown into one of the only statewide nonprofits to focus exclusively on public higher education. Due to his work in his organization, hundreds of thousands of students in California have been able to achieve access to higher education and brighter futures.
H. David Hibbard, M.D. (1937 – 2021) followed JFK's call to service, joining the very first Peace Corps group in Nigeria, then later serving as a Peace Corps doctor in India 1967–69. An Oberlin College graduate, Hibbard continued his education at Case Western Reserve Medical School and the University of North Carolina, where he earned his public health degree. Remembered by patients as a kind and compassionate doctor, Hibbard contributed to the medical community in a variety of ways. He created the Advanced Medical Directive forms that are used nationwide, served on the Boulder Community Hospital Integrated task force, and co-founded the Malaria and Health Care Project with his wife, Chris, in Uganda. He remained active in the Returned Peace Corps Volunteer community, serving on the NPCA Board of Directors, making a lasting impact on NPCA's advocacy efforts.
Michael J. Bangs, Ph.D. (1956 – 2021) was a dedicated public health agent to the communities he served, working across the globe in southeast Asia, Central America, and Africa. Inspired by his three years working on malaria prevention as a Peace Corps Volunteer in northern Borneo, Bangs obtained his master's in medical entomology and infectious disease epidemiology. He spent 21 years as a U.S. Navy public health entomologist in the capacity of a preventive medicine officer in Indonesia, during which time he was sponsored as a Ph.D. candidate in medical entomology. Following his retirement from military service in 2006, he continued working overseas as director of vector-borne disease control programs for a private medical assistance company. Throughout his years as a public health worker, he authored over 250 articles that analyzed his research on vector-borne disease epidemiology. Bangs also consulted with major foundations on malaria prevention initiatives, and he taught as an adjunct professor and advisor to many students at world-renowned institutions such as the Universities of Oxford and Notre Dame.
Marian B. Rowe (1939 – 2021) was a three-time Peace Corps Volunteer. From a young age she was involved in the organization 4-H, owning a horse and sheep that participated in 4-H competitions. Rowe's devotion to animals led her to obtain her bachelor's in zoology from the University of California Davis, and later on to pursue her master's in wildlife biology through the University of Idaho. Her other passions included travel and education, and in 1962 she was part of the first Peace Corps group to arrive in Venezuela, where she worked in community development. She would go on to serve twice more in Peace Corps, but during the intervening years, she dedicated herself to working as an educator, teaching Spanish to high schoolers in California schools and teaching ESL to immigrants in local communities. In 1992, she served in Peace Corps Morocco as a large animal husbandry expert. She served for a third time as an English educator in Paraguay from 2009 to 2011. Her love for traveling, education, and animals continued for the rest of her life, and she passed on a deep appreciation for these to her children and grandchildren.
Francisco A. Sisneros (1948 – 2021) was a respected education administrator, researcher, and author. He spent several years in his late teens and early 20s independently in Latin America, studying and working, and by 1971 served as a Volunteer in Honduras. Following his Peace Corps service, Sisneros worked at the Bilingual Institute and the University of New Mexico, and conducted bilingual materials research at the University of Arizona in Tucson until 1981. He then switched gears and spent 20 years as a school administrator within the Socorro, New Mexico school district. In his spare time, Sisneros enjoyed researching his Hispanic ancestors, tracing his family ties to the mid-1660s in New Mexico. He helped establish the Hispanic Genealogical Research Center of New Mexico, and was a senior research associate at the center. He was also a well-known writer and researcher in the field of New Mexico Hispanic history.
Hugh T. Compton, Ph.D. (1944 – 2021) served as a Peace Corps Volunteer in Jamaica, working as a teacher and job counselor. Upon his return from service in 1969, he earned his doctorate in literature from the University of South Carolina. Compton joined the university faculty, inspiring thousands of students over the course of three decades. He served in many leadership positions at the university and contributed to a wide range of topics such as 18th-century literature, censorship, theatre history, Southern literature, and African American theatre and literature. Hugh was also the recipient of many University honors and awards, including the University of South Carolina Educational Foundation Award for Faculty Service and the Martin Luther King Jr. Award for Distinguished Teaching, Research and Service in Furtherance of Social Justice.
Gwendolyn K. Forbes-Kirby (1953 – 2021) was a dedicated physical therapist for over 35 years. After she graduated from the University of California, Davis, she joined the Peace Corps in 1976 and served in South Korea, where she met her future husband. After marriage, they traveled together and spent time in Switzerland, Japan, Hawai'i, and the state of Georgia. During her time in Atlanta, she used her extensive experience working as a certified lymphedema therapist to join the Board of Directors for the Lighthouse Lymphedema Network.
PEACE CORPS STAFF
Mercer Gilmore (US Staff), 4/5/21
Paul L. Guise, M.D. (West Africa 1961–64), 5/5/21
John L. Kuehn, M.D. (US Staff 1966), 4/25/21
Tobe Johnson, Ph.D. (US Staff), 5/7/21
Walter O. VomLehn, M.D. (Dominican Republic), 3/8/21
MULTIPLE COUNTRIES
Kathryn I. Chase (Hungary 1995–97, Eastern Caribbean 1998), 4/6/21
Marian B. Rowe (Venezuela 1962–64, Morocco 1992–94, Paraguay 2009–11), 5/8/21
AFGHANISTAN
John M. Flynn (1965–67), 5/18/21
David C. McGaffey (1964–66), 4/14/21
Sandra J. McNeilly (1971–73), 4/12/21
BANGLADESH
Michael B. Backus (2003–04), 5/12/21
BENIN
Monica M. Justice (1989–91), 1/15/21
BOTSWANA
Gary M. Bean (1968–69), 5/18/21
BRAZIL
Michael B. Fero (1965–67), 10/28/20
Rodolfo Ramirez (1966–69), 5/1/21
BURKINA FASO
Peter Brostrom (1985–86), 3/30/21
COLOMBIA
M. Dickey Drysdale (1966), 5/9/21
Michael S. Owen (1966–68), 4/13/21
Donald R. Torrence (1962–64), 4/25/21
EASTERN CARIBBEAN
Jake M. Beddoe (2018–19), 5/27/20
ECUADOR
Robert Donner (1966–68), 4/27/21
ETHIOPIA
Charles L. Clark (1963–65), 4/27/21
Elizabeth J. Hamm (1964–65), 4/11/21
Lois S. Mirkin (1962–64), 12/22/20
Gwendolyn S. Smith (1973–74), 5/4/21
FEDERATED STATES OF MICRONESIA
Esther M. Gray (1987–89), 4/28/21
Sharon N. Ruzumna (1967–69), 4/24/21
FIJI
Mary L. Walker (1990–92), 4/29/21
GUYANA
Frank X. McGough (1966–68), 4/24/21
HONDURAS
Francisco A. Sisneros (1971–73), 5/1/21
Jackson E. Tegarden (1977), 5/14/21
INDIA
Grant B. Anderson (1963), 5/18/21
Ruth Benziger Cahill (1968–70), 4/17/20
Conrad F. Fingerson (1963–65), 4/30/21
Bill A. Hetzner (1965–67), 4/15/21
James "Jamie" Oates (1968–71), 4/14/21
Roland M. Poirier (1968–69), 3/9/21
IRAN
Jeffrey D. Shorn (1966–68), 4/20/21
JAMAICA
Marvin A. Cochran (1965–67), 4/27/21
Hugh T. Compton, Ph.D. (1967–69), 4/28/21
KENYA
James R. Linville (1970–73), 4/19/21
LIBERIA
Amb. Larry L. Palmer, Ph.D. (1970–72), 4/22/21
Frank A. Peterson, Jr. (1963–65), 4/10/21
Marie L. Woodward (1977–80), 4/7/21

MALAWI
John A. Turnbull (1963–65), 4/13/21
MALAYSIA
Michael J. Bangs, Ph.D. (1979–82), 3/9/21
David B. Wolf (1966–68), 4/9/21
NIGER
Kent M. Helmer (1979–81), 4/21/21
NIGERIA
Eric E. Goodale (1964–67), 4/25/21
H. David Hibbard, M.D. (1961–63), 4/7/21
Gwendolyn E. Skeoch (1965–67), 5/2/21
Carl White (1964–66), 5/8/21
PANAMA
William A. LeMaire (1967–69), 3/29/21
PARAGUAY
Richard Headen Inman, Sr. (1968–70), 3/13/21
PERU
Carl S. Ebert (1966–68), 4/21/21
Frederick P. Romero (1964–66), 3/26/21
PHILIPPINES
Bruce C. Campbell (1961–63), 5/10/21
Veronica D. Casale (1966–68), 1/6/21
Ernest N. Way (1965–67), 5/21/21
SAINT LUCIA
Jane O. Mohney (1982–83), 5/7/21
SIERRA LEONE
Jeffrey N. Phillips (1973–75), 4/14/21
Diane Williams (1987–90), 4/5/21
Brenda Wilson (1973–76), 4/15/21
SOUTH KOREA
Peter Bartholomew (1967–71), 5/11/12
Gwendolyn K. Forbes-Kirby (1976–78), 4/9/21
TANZANIA
Noel C. Hankamer (1965–68), 4/6/21
COUNTRY OF SERVICE NOT SPECIFIED
Jerry D. Nash, 4/12/21
Ann Neuenschwander, 4/20/21
---

If you have information you would like to share for our monthly In Memoriam post, please reach out to us at obituary@peacecorpsconnect.org.
---