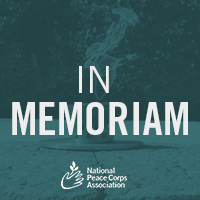 A firefighter, a quilter and a record-setting weightlifter. While we've come to expect members of the Peace Corps community to distinguish themselves in professions ranging from international development to health care to education, we also find they possess interests, passions and civic commitments that run the gamut of the human experience. We honor those members of our community who recently passed away.
International service was central to the life's work of Lloyd Oliver Pierson (1940 – 2018). In the early 1980's, Lloyd worked as legislative staff on Capitol Hill. From the late 1980's to the early 1990's, he held various positions with the Peace Corps. Lloyd was Country Director in Ghana, Botswana, Namibia and Swaziland. He would also serve in Washington as Chief of Staff and Acting Director of the agency. Lloyd would go on to serve as Administrator of the US Agency for International Development, Senior International Adviser for the Save Darfur Coalition and President of the U.S. African Development Foundation. Among his varied achievements, Lloyd was also a weightlifter who still holds several national bench press records.
He was part of the early conversations that eventually led to the formation of the Peace Corps. David M. Schimmel (1934-2018) graduated from Yale Law School, where he won a national legal essay contest on "Law and Disarmament". Over time, he would author or co-author more than 75 articles and seven books on law and education. Soon after the launch of the Peace Corps, David worked six years in various administrative posts at the agency. In 1968, he joined the faculty at UMass-Amherst, first as an associate professor in education. He would work at the university for the next 40 years. He was honored by the school with its Distinguished Academic Outreach Award. He also was recognized for his many achievements by the Education Press Association of America and the Education Law Association.
Born and raised in Chicago, Susan Richardson McKelvey attended Cornell College, then returned to earn a Master's in Education from the University of Chicago. Susan and her husband Doug became Peace Corps volunteers in Ethiopia. Upon returning from service, Susan became an English teacher. She taught at the high school level in Iowa for many years. She later moved to Maryland and became a middle school teacher. A lover of quilting, Susan co-owned Cottonseed Glory, the first quilt shop in Annapolis. She spent more than twenty years designing, teaching and publishing more than thirty quilting books and patterns. Her love of dogs (golden retrievers in particular) was in evidence when Susan moved to the eastern shore of Maryland. She volunteered at Golden Retriever Rescue, Education and Training, the Talbot Humane Society, Pets on Wheels and Reading with Dogs.
David Scott Palmer (1937-2018) attended Dartmouth College. He was a member of the school's first Ivy League championship football team and captain of the rowing team. He received a Marshall Fellowship to study in Chile, beginning a lifelong relationship with Latin America. In 1963, David was part of the first group of Peace Corps Volunteers to serve in Peru. Following his service, David earned his Master's degree from Stanford and a PhD. in Political Science from Cornell. He then worked for the State Department as Chair of Latin American and Caribbean Studies at the Foreign Service Institute. In 1988 David became a professor at Boston University. He served as chairman of the Political Science Department, Associate Chair of the Department of International Relations, Director of Latin American Studies and Co-Director of Peru summer programs. David taught at Boston University for thirty years, concluding his final semester last fall.
He divided his life between Michigan and Alaska, with a Peace Corps stint in Venezuela in between. Born in Detroit, Marvin Arndt Krogh (1942-2018) attended Central Michigan University, earning a Bachelor's degree in Business Administration. Marvin's Peace Corps service involved teaching physical education to school children. He returned to Michigan after Peace Corps. A pilot, he flew commercially for Zantop Airlines. Marvin hitchhiked to Alaska in 1974, and remained there for the rest of his life. He worked on the trans-Alaska pipeline, worked briefly as an Alaska State Trooper, and served thirty years on the Anchorage Fire Department. Marvin retired in 2010 as Senior Captain of Department Station Seven in Jewel Lake.
Below is our In Memoriam list for members of the Peace Corps community who recently passed away:
STAFF
Betsy McGregor Cooley (1966-68), 4/25/18
Lloyd Oliver Pierson, 4/14/18
David M. Schimmell, 5/4/18
MULTIPLE COUNTRIES
James William Wilson (Namibia 1998-200; Ukraine 2005-06), 5/9/18
ANTIGUA
Genevieve Diane Osborne Ellis, 4/19/18
BOLIVIA
Edward W. Ollick (1962-65), 4/28/18
BULGARIA
Richard A. Freed Sr., 5/1/18
CHILE
Peter Farmer (1980-81), 4/25/18
COLOMBIA
Harlan W. King (1964-66), posted 4/20/18
COSTA RICA
Joseph Richard Tkac Jr., 4/26/18
DOMINICA
Bill G. Corkins (1984-86), 4/8/18
DOMINICAN REPUBLIC
Harvey H. Sims III (1965-67), 4/11/18
ECUADOR
John Farina (1971-73)
ETHIOPIA
Susan Richardson McKelvey (1966-68), 4/10/18
Stan Ray Patten (1965-67), 4/18/18
GUATEMALA
Diane Lea Brown (1977-79), 5/5/18
KENYA
Michael Stringer (1965-67), 1/22/18
LIBERIA
Mario Lacenere, 4/25/18
MALAYSIA
Dwayne Lee Jeffries (1963-65), 4/20/18
MICRONESIA
Charles Edward Chamberlin (1970-72), 4/4/18
NEPAL
Stephen M. Sass (Staff 1972-73), posted 4/24/18
NIGERIA
Helen Louise Harms (1963-65), 11/28/17
Richard Bernard Kranzdorf (1961-63), 4/17/18
Beth Petersen (1963-66), 11/30/17
Susan Marie Saari-Karasti (1965-66), 3/3/18
PANAMA
Kathryn Anderson (1967-70), 4/5/18
PERU
David Scott Palmer (1962-64), 4/28/18
PHILIPPINES
George Grills (1963-65), 5/5/18
Kathryn McConnell (1978-79), 4/15/18
POLAND
Nello Carlini, 3/18/18
THAILAND
Maureen R. Reardon, 4/13/18
VENEZUELA
Marvin Arndt Krogh, 3/30/18
COUNTRY OF SERVICE NOT SPECIFIED
Elaine E. Caruso, 4/29/18
Larry P. Durkee, 3/10/18
Leroy Howard Lange, 5/8/18
David Joseph Martinez, posted 5/4/18

---