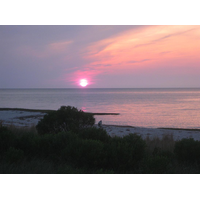 The accomplishments of so many members of the Peace Corps community who passed away over the past month are as varied as they are plentiful. Those we remember this May include three former Peace Corps Country Directors, longtime public servants, a champion for handicap accessibility, community award recipients, and the creator of some national advertising campaigns that you just might recognize.
The Peace Corps service of David H. Elliott (1929 – 2017) went against the grain of the service of most others. That's because he held high level staff positions first, and became a volunteer later. Tapped for service during the formative years of the agency, David became country director in two of Peace Corps' largest programs, in Nigeria (with 600 volunteers) in 1965 and India (with 1,200 volunteers) in 1966. When he returned to the U.S., David became Vice President of Administration for Memorex Corporation, and later joined Heidrick and Struggles, an international executive search firm. Upon his retirement, David joined the Board of Directors and Executive Committee of Heidrick and Struggles. He also served on the boards of at least six other organizations including Environmental Traveling Companions, the Salano Steel Corporation and the California Executive Search Association. Prior to his retirement, David returned to the Peace Corps, this time as a volunteer. He served in Poland with his late wife Ellen, beginning in 1991. A great friend of NPCA, David requested that in lieu of flowers, donations be made to support NPCA programs.
For George Wakiji (1929 – 1972), his service to our nation began with the U.S. Army during the Korean War. Following an honorable discharge, George attended UCLA and Cal State University. His work career began as he moved himself up the ranks while employed at Trans World Airlines. George then entered the fields of advertising, public relations and marketing, including serving as a principal of Suzuki, Wakiji and Associates in Chicago. His government service began in 1972 when George began working with ACTION. His Peace Corps work began with his appointment as Country Director of the Kingdom of Tonga in 1986. He later served the Peace Corps as a Minority Recruitment Specialist. George concluded his public service with the U.S. Labor Department and a part-time position with the Federal Emergency Management Agency. His departure from government was brought on by his 1995 appointment as executive director of the newly formed National Japanese American Memorial Foundation.
"It really started with John Kennedy, the idea that I would treat my life as an adventure." So begins the obituary of Michael McCone (1934 - 2017), another early member of Peace Corps leadership. A graduate of Yale who served in the Navy, Mike was drawn to JFK's call to service, and was appointed Deputy Director to the Sierra Leone program in 1962. Over the next five years, he would serve the Peace Corps in a variety of capacities, including Country Director in Malawi and Sarawak (Malaysian Borneo). In 1967, Mike and his family returned to San Francisco. He worked for Mayor Joseph Alioto and headed San Francisco's Model Cities program - an urban aid initiative aimed at fighting poverty. He later served thirteen years as Deputy Director of the San Francisco Museum of Modern Art, and later headed up the California Historical Society. In retirement, Mike served as chairman of the board of Heyday Books, which had earlier assisted with the publishing of Transformative Years, which reflected on his years overseas. Mike also volunteered at the San Francisco Food Bank, and helped teach reading to second graders at the elementary school across the street from his residence.
Members of the Peace Corps community may remember the iconic advertising slogan of AT&T – "Reach out and touch someone". What they don't likely know is that an RPCV was at the center of its creation. Born in North Carolina, John Ellison Moore III (1939 – 2017) attained a communications degree from the University of North Carolina, and later an MBA at the University of Tennessee. Between those degrees, John served for two years in the Army, where he was involved in directing training films. He also served in the Navy, attaining the rank of commander. Following military service, John embarked on a 30-year career in advertising and marketing, working for large agencies in Knoxville, Atlanta, Philadelphia and Chicago. In 1965, while working in Philadelphia, John was honored by the local Jaycees with their "Man of the Year" award. Along with AT&T, he created or supervised campaigns for many major companies, including Zenith TV ("The quality goes in before the name goes on"), Coca Cola, McDonalds and Chrysler. International service began after his retirement. John taught Business English as a Peace Corps Volunteer in Poland, and would stay on after service, working as a civilian faculty professor at the University of Silesia. He later served with World Teach, providing education to students in China, Spain and Colombia. John passed way while on an extended trip to Thailand.
While Peace Corps often serves as a first step in global engagement, that was not the case for Suzanne Weibel (1938 – 2017). Born in Indianapolis, Suzanne attended Indiana University. Prior to the establishment of Peace Corps, she participated in the International Farm Youth Exchange program, where she lived and worked with families in Finland. Returning home, Suzanne conducted a short speaking tour to promote peace through understanding, and accepted a six-month assignment with the Village Missions organization. These experiences led to her Peace Corps appointment in Nepal. Upon the completion of her service, she began a thirty year career with Village Missons, where she worked closely with the Business Christian Women's Association. A life of international experiences and travels provided plenty of story-telling content, not the least of which was Suzanne's account of having her appendix removed while at the North Pole!
One tour of Peace Corps service was not enough for Thomas Frank Fondell (1956 – 2017). After receiving a degree in Wildlife Management from the University of Minnesota and a Masters in Wildlife Biology from the University of Montana, Tom served as a Peace Corps Volunteer in the Central African Republic and Malawi between 1982 and 1987, working on fisheries and beekeeping projects. He remained in Malawi for three additional years, serving as Peace Corps Training Director. With his education and Peace Corps experience in hand, Tom embarked on a lengthy public service career, culminating in a twenty-year position in Anchorage at the U.S. Geological Survey's Alaska Science Center, where he specialized in waterfowl. Tom was a longtime member of the American Orinthologist's Union, The Wildlife Society and the Union of Concerned Scientists.
It was the late 1960's when Robert William Matthews (1944 – 2017) began his Peace Corps service, working as a Physical Education and English teacher for three years in Afghanistan. Upon his completion of service, Bob returned to his native North Carolina where he was hired to work with children at the North Carolina Institute for the Deaf, Dumb and Blind. Bob next moved to Florida to serve as the Assistant State Director of Special Olympics. He later worked as a computer programmer for the Florida Department of Children and Families. Among Bob's proudest accomplishments was his work to design handicap-accessible state parks across Florida.
A career in education came first before the Peace Corps service of Jane McLean Glazer (1925 – 2017). Born in Des Moines, Jane moved to Oregon where she attended Oregon State College and the University of Oregon. It was at this time when Jane was awarded a Fulbright Scholarship to study in Dublin. Jane returned to Oregon, teaching advanced placement English and humanities at Eugene high schools. She later moved to Portland, where she concluded her teaching career. In her 50's, Jane and her husband Howard became Peace Corps Volunteers, serving more than two years in Venezuela. Back in Oregon, Jane served on the Urban Forestry Commission. She led efforts to establish Portland's Heritage Tree Program and was honored for this achievement with the Bill Naito Community Trees Award in 2001. A writer, Jane's publications included two volumes of poetry – one of which was a finalist for the 1993 Oregon Book Award.
Below is our In Memoriam list for members of the Peace Corps community who recently passed away:
STAFF
David Elliott, 4/16/17
Michael McCone, 5/9/17
George Wakiji, 5/7/17
Peggy Wilkinson, 4/15/17
MULTIPLE COUNTRIES
Thomas Frank Fondell - Central African Republic/Malawi (1982-90)
AFGHANISTAN
Robert William Matthews (1967-69), posted 5/5/17
BRAZIL
Wayne Peterson (1965-66), 4/30/17
CAMEROON
Gladys Bannister (1960-62), 4/14/17
Michael Clark (1964-66), 4/26/17
Donald Malinovsky (1965-68), 4/21/17
CAPE VERDE
Nathaniel Creamer, 4/14/17
CHILE
Regina Ann Tague, 4/23/17
CYPRUS
Robert L. Major (1962-64), 4/10/17
EASTERN CARIBBEAN
Charlotte Grap (1981-83), 5/5/17
ETHIOPIA
Everett A. Cantrell (1964-67), 4/13/17
HONDURAS
Jeanne Helen Younger, (1986-88), 12/7/16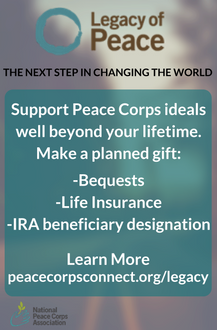 INDIA
Ray H. "Butch" Verhasselt, 4/27/17
IRAN
Christopher G. "Chico" Stephen (1971-73), 1/9/17
KENYA
James Bradley, 4/13/17
KIRIBATI
Eileen Coe, 4/14/17
MALAYSIA
Eric James Foell, 4/6/17
William Michael "Bill" Langley, 3/13/17
Arthur Linscott "Art" Porter (1971-73), 3/25/17
MICRONESIA
Jill Jordan (1970-72), 4/10/17
Ray Downie Stewart, 3/29/17
NEPAL
Suzanne Weibel (1965-67), 5/7/17
PARAGUAY
Roger Pugh, 4/12/17
POLAND
John Ellison Moore III (1994-96), 3/22/17
SENEGAL
Jeremy Ronald Freimund (1985-88), 5/5/17
Bette Peterson (1982-84), 4/18/17
TUNISIA
Glen Dale Evans, 5/4/17
Melvin J. Wilson, 4/20/17
TURKEY
Dale H. Hultengren, 2/14/17
Karen Gernenz Youngman (1968-70), 4/16/17
VENEZUELA
Jane McLean Glazer (1973-75), 5/2/17
Basha Hicks, 2/23/17
COUNTRY OF SERVICE NOT SPECIFIED
Gregory Allen Broome Sr., 5/7/17
Bellisandro Mares, 4/24/17
---