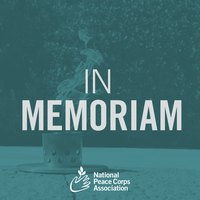 People who served in the Peace Corps realize their years as a volunteer are just the beginning. Among those members of our community who recently died are many who exemplified that lifetime commitment to serving others, whether with other Peace Corps alumni or through other organizations.
David Clark Scheinman (1948-2019) led the NPCA affiliate group the Gulf Coast Council of Returned Peace Corps Volunteers, based in Houston, for many years after moving to Texas in 2004. Born in New York City, Dave attended York Suburban High School and Storm King boarding school, before attending American University and earning a graduate degree from Cornell. Dave joined the Peace Corps and served approximately four years in Nepal. Following service, he continued to work overseas, moving to Tanzania for a long career in international development consulting.
Rose J. Forney (1921 - 2018) joined the U.S. Navy WAVES in 1944 and served for two years. She later joined a group of speech pathologists and helped establish a speech therapy program for the Duval County Public Schools in Jacksonville. After eleven years of work, Rose went overseas, assigned by the U.S. Overseas Education program in 1963 to programs in Japan and Germany. It was in 1965, when her Peace Corps service began. Rose was selected to serve at a Teachers College in Malaysia, where she trained future elementary school teachers. That was just the beginning. Between the mid 1960's and the early 200's, Rose received Peace Corps assignments in eight countries. In between her many Peace Corps assignments, Rose also worked for the Bureau of Indian Affairs in New Mexico, at the William S. Tubman Institute of Medical Arts in Monrovia Liberia, and as a volunteer with the Amity Foundation at the Jiangsu Institute of Education in Nanjing China.
Michael Owen Willson (1938 - 2019) was a member of the first group of volunteers to serve in Colombia. After his Peace Corps assignment in rural community development, Mike soon moved to Panama and Venezuela where he worked for Grant Advertising and later, Brown and Williamson Tobacco Company. In 1969, Mike and his family moved to Louisville. He became Advertising/Marketing Director for Kentucky Fried Chicken until his retirement in 2000. Along with his passion for the Peace Corps, Mike was also active with the Audubon Society and the Sierra Club.

After coming to the United States from his native Iran, Farhad Meskoob (1975 2019) served his country in many ways. After obtaining a degree in Chinese Language from the University of Massachusetts/Amherst, Farhad was a team leader for Americorps, where he coordinated child vaccines and emergency housing. He next served in the Peace Corps in Cote D'Ivoire. Immediately following his service, Farhad worked as an executive assistant to the National Alliance on Mental Illness, facilitating both research and advocacy on the issue. Farhad went on to earn his J.D. from the Franklin Pierce School of Law, and practiced as a lawyer in Massachusetts for underrepresented, low income families. In 2013, Farhad joined the U.S. military, offering his understanding of seven distinct languages to work as a language specialist and electronic war specialist. Among his greatest achievements, Farhad trained his cadre to teach base security to the Nigerian Military. Staff Sergeant Farhad Meskoob passed away while on assignment with the U.S. Army in San Diego.
Sister Lynne Therese Elwinger (1939-2019) studied nursing at the University of Pittsburgh, eventually graduating Magna Cum Laude. After obtaining her degree, she served for six years in the U.S. Navy, reaching the rank of Lieutenant by the end of her service. Then, Lynne went on to serve in the Peace Corps, stationed in Chile. Upon her return, she resumed her nursing career, working six years with the Indian Health Service on Sioux, Apache and Hopi Indian Reservations and more than four years on the Navajo Indian Reservation. Her work in health care also included a year-long stint with the Washington, D.C. Health Department, a year at a rural Massachusetts community health center, and eight years in various private hospitals. In 1990, Sister Lynne entered the Carmelite Monastery in Eldridge, Iowa and became the Prioress of the Monastery in 2007.

Below is our In Memoriam list for members of the Peace Corps community who recently passed away:
MULTIPLE COUNTRIES
Rose J. Forney (Malaysia, Sri Lanka, Liberia, Philippines, Botswana, Thailand, Turkmenistan, China between 1963 and 2001)
Ruth Carlson Jarvis (Fiji 1976-78; Eastern Caribbean 1979-80)
BELIZE
James W. Barry, 3/8/19
BOLIVIA
Robert Almquist (1966-68), 3/3/19
BOTSWANA
Mary M. Kisko (1990-92), 2/22/19
Chanelle Zimmer, 2/25/19
CHILE
Sr. Lynne Therese Elwinger, OCD, 3/11/19
COLOMBIA
Paul C. Blau, 3/26/18
Donald Jeffries Lipscomb (1963-65), 3/6/19
Michael Owen Willson (1961-63), 3/7/19
COSTA RICA
Dr. William (Bill) Edward Schneider, 3/8/19
COTE D'IVOIRE
Ssgt.Farhad Meskoob (2001), 2/10/19
DEMOCRATIC REPUBLIC OF CONGO
CWT "Bill" Hagelman (1972-75), 12/28/18
GHANA
Harold Richard Hanks, 2/11/19
INDIA
Stephen Michael Hattman, 2/11/19
LIBERIA
Douglas David Case (1964), 2/25/19
MALAYSIA
David Kellam Sterling (1963-65), 3/16/19
NEPAL
David Clark Scheinman (1972-76), 3/6/19
NIGERIA
Donald Austin Johnson (1962-64), 2/13/19
PANAMA
Jo Ellen Day Keating (1965-66), 3/1/19
ROMANIA
Frank Huthnance (2002-05), 1/5/19
SAMOA
Dorothy Ellen Thompson, 2/24/19
SIERRA LEONE
Mary Marcile Mashburn (1985), 12/11/18
TANZANIA
James Robinson (staff, 1966-68), 2/21/19
TUNISIA
Ellen Rose Khayat (staff), 3/8/19
TURKEY
Rosiland Aileen "Rosie" Suit, 2/23/19
COUNTRY OF SERVICE NOT SPECIFIED
Stanley Wayne Mosser, 3/10/19
William "Bill" Poppe, 3/7/19
Sandi Rafchiek, 2/4/19
Nicholas Alex Zdinak, 2/17/19

If you have information you would like to share for our monthly In Memoriam post, contact obituary@peacecorpsconnect.org
---