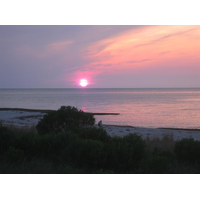 Among those members of the Peace Corps community who passed away in the past month were two leaders within the NPCA's affiliate group network.
Turkey RPCVs are mourning the loss of Sandra Lee "Sandy" Anderson (1942 - 2017), a leader of the the NPCA affiliate group known as Arkadaslar. Sandy's Peace Corps service from 1966 - 68 included teaching English at an all-girls school. That service led to Sandy's career working in the Washington D.C. school system. Sandy had many articles published in Bay Weekly newspaper. At the time of her passing, she was in the midst of writing an historical fiction novel based on ancestors who lived in the Appalachian Mountains during the Civil War. The feelings of loss for Sandy were felt in her Peace Corps country of service. As one Turkish friend of Arkadaslar wrote, "Humanity has lost a beloved child, Turkey has lost a great friend. Arkadaslar are now more incomplete without you, and we are more lonely. I am so happy I have had the honor to meet you."
Another NPCA leader also passed away. Susan E. Celadilla (1947 - 2017), is credited with starting the RPCVs of West Michigan affiliate group. This stemmed from her Peace Corps service in the Dominican Republic (1976-78). Peace Corps was not Sue's only form of service. She was a Past President of the Alter and Rosary Society and volunteered at the St. Vincent de Paul food pantry in Haines City, Florida. She also enjoyed teaching Spanish to English classes.
Another staff member of the early days of the Peace Corps has passed away. Dr. Gerald "Jerry" Osterweil (1925 - 2017) received both his BA, and after serving two years in the US Army, his PhD in Clinical Psychology from the University of Chicago. He was on the staff of the original Peace Corps under Sargent Shriver in Washington D.C. for over two years. He then joined the staff at the National Institute of Mental Health in Bethesda and then Rockville, MD from which he retired after twenty three years. Jerry pursued his hobby of photography in retirement in Florida.
Margaret Pelelo Ottinger (1960 - 2017) joined the Peace Corps with her husband Matthew soon after their marriage. After serving two years in the Solomon Islands, Margaret began putting her Masters degree in Social Work from the University of Minnesota to use. Relocating to Vermont, Margaret worked for the Counseling Service of Addison County as a school-based clinician at Vergennes Union High School. She also served on the Shelburne Social Services Committee. Service was central to Margaret's life outside of work. She was very involved with All Souls Interfaith Gathering, supporting food drives and helping to organize an annual COTS walk. She and her family enjoyed preparing holiday meals for those staying at the Harbor Place facility for the homeless in Shelburne.
Peace Corps service in Malaysia was a first step for Raymond Gieri, leading to a lifelong career with the United Nations. Beginning his U.N. work in 1966, the year following his Peace Corps service, Raymond retired as the Chief Executive Officer of the United Nations Joint Staff Pension Fund in 2000. While in the Peace Corps, Ray taught Mathematics at MalayCollege in Kuala Kangsar.
Calvin Hashimoto (1945 - 2017) is credited with being among the foremost Bamboo sculpture/artists in the country. Cal attended UC - Berkeley and graduated with a Bachelor's Degree in Architecture. He joined the Peace Corps and served as a volunteer in Sierra Leone. Then he traveled extensively in Western and Central Africa, Mexico and Central America. He found his true "home" on the Big Island in Hawaii in 1982. Through many cycles of experimentation with different media, Bamboo became his art form. His mastery and techniques were written up in various magazines and books. He invented ways to work with Bamboo that had not been used before. Cal's beautiful and striking work has been admired and collected throughout America.
Below is our In Memoriam list for members of the Peace Corps community who recently passed away:
STAFF
Carol Ann Leonard Kaiser, 3/8/17
Dr. Gerald "Jerry" Osterweil, 2/17/17
MULTIPLE COUNTRIES
Allan Graeff Jr. - Peru; Costa Rica; El Salvador, 1/11/17
Harriet Woodside, - Antigua; Philippines; Kenya, 12/4/16
BELIZE
Paul Clinton Sipe Jr. (1989-91), 2/10/17
BOLIVIA
Leah Allert (1965-67), 2/19/17
BOTSWANA
Irene Oriend, 2/11/17
BRAZIL
Merle Hunt, 2/6/17
Jaralene Spring (1967-69), 2/22/17
CAMEROON
Gregory L. Poe, 3/11/17
COLOMBIA
Marc Jeffrey Gould (1973-75), 3/10/17
DOMINICAN REPUBLIC
Susan Celadilla (1976-78), 3/5/17
Debra Sage, 3/4/17
ECUADOR
Dorine Mae Arvidson, 3/5/17
Carol A. Govek, 2/24/17
James Michael Herrington (1964-66), 3/6/17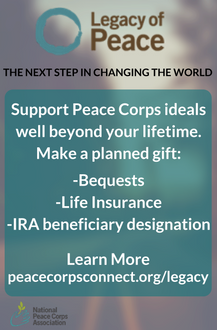 GUYANA
Dale Hammermeister, 2/11/17
HUNGARY
Mina P. Costin, 3/11/17
MALAYSIA
Raymond Gieri (1963-65), 2/6/17
NAMIBIA
Nancy Mantle, 1/30/17
NIGER
Dean Robert Lockwood (1964-66), 2/16/17
Deborah Jane Lowe (1979-81), 2/23/17
PHILIPPINES
Rosanne Crichton Freeburg (1989), 2/9/17
SAMOA
Robert L. Clark, 2/15/17
SIERRA LEONE
Calvin Hashimoto, 2/3/17
James Michael Leatherwood, 3/2/17
David A. Paige, 2/16/17
SOLOMON ISLANDS
Margaret Pelelo Ottinger, 3/13/17
SRI LANKA
Barbara Bergen, 3/1/17
SWAZILAND
James Michael Howell, 2/18/17
TURKEY
Sandra Lee "Sandy" Anderson (1966-68), 3/4/17
David G. Bringedahl (1963-65), 2/20/17
VENEZUELA
Melinda Holland (1964-66), 2/25/17
COUNTRY OF SERVICE NOT SPECIFIED
John Archibald Jr., 2/10/17
Lawrence Bowmar, 2/12/17
Judy Fricker Coakley, 2/17/17
Samuel Stephens DuVall, 2/10/17
Capt. Raye R. Payne, 3/2/17
---