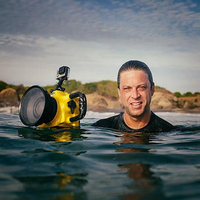 As we mourn the loss of members of the Peace Corps community, we celebrate the lives they led with a commitment to service.
By Molly O'Brien & Caitlin Nemeth
Photo: Tommy Schultz III, talented writer and photographer, gone too soon. His service with the Peace Corps in the Philippines taught him the importance of marine conservation.
Our tributes include an innovative playground designer and play expert. A talented travel writer and photographer. A scholar and expert on African Literature. Several lifelong educators and a social worker. Servicemen who continued their devotion to their communities.
We honor the wide range of contributions made by members of the Peace Corps community who recently passed away.
Paul Hogan (1928 – 2021) was the innovative founder of the "Playgrounds for Free" movement. Growing up in Philadelphia, Hogan often accompanied his father, a building developer, to building sites. He earned his B.A. from Goddard College and served the United States in both the Merchant Marine and in the Eleventh Airborne Division. From 1965 to 1967, Hogan served as the Regional Director of Peace Corps in Colombia in what was a life-changing experience for him and his family. The concept for his playground career was inspired in 1958, when he volunteered at Charlestown Playschool. At the time, he was the Director of Construction for the Neighborhood Renewal Corps of Philadelphia, and organized his community to build a playground. This was the first "playground for free" that started a national movement and inspired Paul to write his first book. Later, he would publish PlayPlans magazine as part of the International Play Association (IPA) and publish more books on playground construction and safety. Over the years, Hogan would travel globally, consulting and promoting safe play. He co-invented the Triax 2000 portable surface impact testing device, which allows municipalities globally to create safe surfaces for play. President Jimmy Carter appointed him as Honorary Commissioner of the U.S. National Commission for the International Year of the Child in 1979, a great honor for Paul. His passion for his community and play will be long remembered.
Charles R. Larson, Ph.D. (1938 – 2021), was a pioneering educator in comparative literature and profoundly influenced the growth of scholarship on African Literature in the United States. After graduating from the University of Colorado with a B.A. and M.A. in English Literature, Larson considered himself just a budding researcher of literature when he joined Peace Corps Nigeria in 1962. According to Larson, his time in West Africa altered his world view, leading him to understand the limits of his own schooling and to pursue a broader education through a doctorate in African literature. However, he was unable to find a program, and decided to pursue a degree in African American literature at Howard University. After transferring to Indiana University, he received his Ph.D. in comparative literature. Starting in 1970, he joined American University's faculty as a professor of African literature, and taught students for over 40 years until his retirement in 2011. Dr. Larson's first major critical work was The Emergence of African Fiction, a piece notable for challenging readers to consider African literature within the context of African oral tradition, rather than judging based on American or Western ideals of character and plot. His other works include anthologies of African writers, highlighting novelists and authors China Achebe, Wole Soyinka, Amos Tutuola, Ben Okri, Nuruddin Farah, Camara Laye, and Grace Ogot, among others; a retelling of The Scarlet Letter called "Arthur Dimmesdale"; a scholarly work on Native American literature; a biography of two noted Harlem Renaissance writers, Jean Toomer and Nella Larsen; and several works of fiction.
Stella Martinez See (1927 – 2021) was a passionate educator. In 1950, Stella married Robert See, moving from Nevada to become a Midwestern farm wife. She and Robert had three daughters and later moved the family to Fort Collins, Colorado. When her children were older, Stella resumed her education, earning her B.A. in 1969 from Colorado State University and a M.A. in 1971 from University of Northern Colorado. Later, she would earn a public school administrator's certificate from University of Colorado. Stella See loved teaching. She taught everything from Spanish to junior and senior high students, to reading to elementary students, to ESL and GED classes. She was a teacher trainer for those changing careers and for professionals working with diverse populations. Outside of classroom teaching, See recorded textbooks for blind students, translated for Crossroads Safehouse, and worked with Spanish-speaking clients at the Homeless Prevention program. From 1993 to 1994, See served as a Peace Corps Volunteer in Honduras, working with teachers to improve teaching standards and methods. See received awards such as Woman of the Year by the YWCA and Volunteer of the Year from Front Range Community College. When not giving her time to others, See loved to travel, read, and spend time with her family.
Thomas A. Schultz III (1975 – 2021), known as Tommy, was a talented writer and photographer, gone too soon. Schultz graduated from the University of Virginia with a B.A. in Environmental Science in 1998. After graduation, he worked as a fly fishing instructor and guide. This led him to be hired by Trout Unlimited, a national nonprofit conservation organization. He became the director of marketing, discovering an interest in outdoor photography. In 2004, Schultz made the life-changing decision to join the Peace Corps and served in the Philippines as a coastal resource management Volunteer. His time there taught him the importance of marine conservation. After his service, Schultz engaged in writing and photography full time, traveling extensively in Asia, eventually settling in Bali, Indonesia. There, he worked on an innovative National Geographic–sponsored project called Photovoices, which involved sharing stories from remote communities through photography. Schultz remained in Bali for over 14 years, working on various stories which appeared in publications for National Geographic, Patagonia, and World Wildlife Fund, as well as travel and airline flight magazines. He was a strong advocate for the health and protection of the ocean, having made so many lasting memories in and around it.
Richard C. Andresen (1939 – 2021), known by his nickname Dick, was an entrepreneur and involved business owner. Following his graduation from Ferris State University in Michigan, Andresen joined the Peace Corps, developing co-ops for farmers in Malawi. Out of his Peace Corps experience came two of the most meaningful things in his life. The first was the realization that he wanted to be self-employed, which would lead to several successful business ventures over the next few decades. The second was meeting his wife, Lynn, on his way home from Africa. They were married in 1968 and shared a nearly 53-year marriage. After his return from Peace Corps service, Andresen developed 29 Burger King restaurants throughout Michigan, established "Alibi" Nightclubs in several cities, and became the president of eight corporations. Never one to rest, he also bought and remodeled an inn and founded Mt. Pleasant Oil and Gas. In 1984, Andresen was named alumnus of the year from Ferris State University. When he was ready to retire, Andresen sold his Burger King Restaurants to four of his key employees. At the time, his company had over 2,300 employees. In his retirement years, Andresen enjoyed boating and fishing, as well as piloting his plane, but was also happiest as PaPa to his three granddaughters.
Wiley R. Carmack (1935 – 2021) was a dedicated serviceman, worker, and volunteer throughout his life. He joined the United States Air Force right out of high school, and upon returning stateside he attended UCLA and later earned his master of science in geology. In 1963, he served in Peace Corps Sierra Leone, an experience that would inspire him to travel throughout his life, as well as work in central and northern Mexico. Carmack had earlier established himself in Silverton, Colorado, and he would spend the next 60 years in his community, with a few notable exceptions for his world travels. While he lived in Silverton, he owned and operated several retail businesses throughout the years, and during the winter months he worked as a hard-rock miner and mill operator. Carmack was essential in the founding of Silverton's first volunteer ambulance service, and he went on to serve as an EMT for 15 years. His continual devotion to his community was evident throughout his life, as he served his community in many capacities including town council member, municipal judge, theater board member, Chamber of Commerce president, town deputy, and member of Blair Street Gunfighters, Silverton's very own community group that assists with the filming of Western movies and television shows.
Lelia E. Johnson (1922 – 2021) was an exemplary teacher and dedicated missionary. Johnson and her family moved to France when she was just five years old. Becoming fluent in French, she would later have to relearn English when they moved back to the U.S. She was one of the first Black students to graduate from Dorsey High School in California, and would go on to be instrumental in the integration of West Coast military base housing and local schooling after her marriage to Lt. Colonel Rupert Johnson, a WWII Tuskegee Airman. Her activism work would lead her and her young children to meet Martin Luther King, Jr. In her mid-40s, Lelia Johnson attended California State University, Northridge, for both her B.A. and M.A. in French. After graduation, Johnson served in Dakar, Senegal as an English teacher, and would go on to also serve as a Catholic Missionary in American Samoa. After she received her teaching credentials in 1985, she spent many years as an elementary school teacher and CCD instructor.
Simon A. St. Laurent (1941 – 2021) graduated from the University of Notre Dame's general program of liberal studies and NROTC. Following graduation, he served in the U.S. Navy until returning stateside to attend University of Chicago's business school for his MBA. He and his wife, Mary, served in Peru to assist locals with business development. After their service, Simon St. Laurent worked in the accounting department for Corning Glass Works for many years, working in several cities in Pennsylvania and Seoul, Korea, as well as traveling to assist on Corning projects in India, Mexico, Germany, Malaysia, and China. After St. Laurent retired in 2001, he focused his time on volunteering as the president of the advisory board of the Steuben County Office for the Aging, and he continued to travel and fish until his death.
Maureen A. Sweeney (1969 – 2021) was a persevering and dedicated social worker. She received her B.S. in liberal studies and completed a certificate program in child welfare studies. She worked for the Pennsylvania State Division of Nursing Care Facilities as a Health Facility Quality Examiner. Maureen was an avid advocate for nursing home residents, and this passion and dedication led to her involvement with many other community-driven programs, including joining Peace Corps Namibia in 2015. She also volunteered as secretary on the Helping Hands Board in Bechtelsville, Pennsylvania, a program dedicated to facilitating enrichment programs for individuals with disabilities; and participated in the Youth Aid Panel, an innovative program for providing second chances to youth in the criminal justice system.
PEACE CORPS STAFF
Nona L. Bailey (Peace Corps Recruiter), 5/21/21
Jon K. Groteluschen (Puerto Rico), 6/2/21
Paul Hogan (Colombia 1965–67), 2/19/21
Charles T. O'Connor, M.D. (Deputy Chief Psychiatrist of Peace Corps), 5/16/21
AFGHANISTAN
Alice M. Roddy (1963–65), 5/20/21
BELIZE
Frank Phelan (2001–03), 6/1/21
BOTSWANA
Marilyn A. Conger (1989–91), 5/9/21
BRAZIL
Thomas J. Brock (1976–79), 5/23/21
Katia (Buchler) Lund (1968–70), 6/14/21
Douglas L. Toews (1962–64), 5/25/21
CHILE
Collier N. Smith (1966–69), 2/11/21
COLOMBIA
Charles "Tony" Christy (1968), 6/8/21
Carl Mallory (1963–65), 6/14/21
COSTA RICA
Laura "Betty" Deavours (1966–68), 6/8/21
EASTERN CARIBBEAN
Fern E. Jackson (1971–72), 5/30/21
Noel F. Sabine (1970–72), 5/30/21
ECUADOR
John A. A. Meyer (1964–66), 12/17/20
Karl A. Stadler (1967–69), 6/15/21
ESWATINI
Kenneth L. Alvey (1992–95), 5/16/21
FIJI
Mark R. Schiffer (1969–71), 6/8/21
GUATEMALA
John H. Dolan (1993), 6/13/21
HONDURAS
Stella (Martinez) See (1993–94), 5/21/21
LIBERIA
Mary Katherine "Kathy" Poese (1977–79), 6/11/21
MALAWI
Richard "Dick" C. Andresen (1964–66), 5/30/21
NAMIBIA
Maureen A. Sweeney (2015), 5/14/21
NICARAGUA
Richard Domingo Uberuaga (1973–76), 6/4/21
NIGERIA
Charles R. Larson (1962–64), 5/22/21
Lawrence "Larry" H. Shafer (1965–67), 6/9/21
PAPUA NEW GUINEA
Margel "Lee" Parker Craig (1985–88), 5/25/21
PERU
Simon A. St. Laurent (1967–70), 6/12/21
PHILIPPINES
Kenneth R. Rashid (1961–63), 6/6/21
Thomas A. Schultz III (2004–06), 6/4/21
SENEGAL
Lelia E. Johnson (1972–75), 5/26/21
SIERRA LEONE
Wiley R. Carmack (1963–64), 6/2/21
THAILAND
William Dennis Haden (1968–69), 5/12/21
David Michaels (1961–63), 5/26/21
TUNISIA
Nancy (Townsend) MacDonald (1969–71), 6/4/21

If you have information you would like to share for our monthly In Memoriam post, please reach out to us at obituary@peacecorpsconnect.org.
---