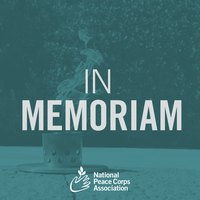 From Follansbee, West Virginia to Painesville, Ohio or Tacoma, Washington to Cedar Rapids, Iowa, the Peace Corps experience took some of our community members who recently passed away to places that perhaps they'd never imagined. As a recent Peace Corps campaign asked "Life is calling, how far will you go?," these RPCVs and community members answered that call to the fullest.

Dr. Maurice "Moe" Sill (born in Follansbee, West Virginia) was one of the Peace Corps pioneers who served as the training officer for the initial group of Volunteers sent to India. From 1961-1963, he served as the first country director of the Peace Corps in Pakistan. When his family returned to the United States in 1963, Moe continued his work with the Peace Corps in Washington, D.C. for the next year. He received his BS from the University of Virginia in 1945, then an MS and later a PhD (both from Penn State University). Moe and his family moved to India, where he served as an agricultural missionary for eight years. Working with India's government as a rural life analyst, he was instrumental in establishing their Agricultural Extension Service and India Village Service. After Peace Corps, Moe worked on the U.S. "War on Poverty" program from 1964-1971. He retired from the Department of Sociology and Anthropology at Marshall University in 1990. He also served his country as a U.S. Navy veteran.

Will Lotter (1924-2019) joined the Peace Corps in 1965 and took his family to Malawi, where he served as deputy country director and then country director. He also served as in-country staff in Nepal. Over the past fifty years, Will and his wife Jane devoted much of their time working on social justice issues, especially for victims of Central American violence. They were co-founders of the Davis (CA) Religious Community for Sanctuary. Will was a University of California at Davis (UCD) Hall of Fame coach, a U.S. Navy aviation veteran, an inspiring professor, and a humanitarian leader. A talented athlete, he played football for Cal Berkeley in the 1949 Rose Bowl and played baseball in the 1947 College Baseball World Series. In addition to teaching, his long career included coaching football, baseball, soccer, and tennis. His awards included induction to Cal Aggie Athletic Hall of Fame and the UCD Law School Martin Luther King Jr. Lifetime Achievement Award. The City of Davis named him as recipient of their Peace and Justice Award, as well as Humanitarian of the Year.

Muriel Ann (Pennant) Hoyt (Born in Tacoma, Washington 1930-2019) had a full, non-traditional life. She was most proud of her work fighting infectious diseases, first for the State of Oregon, and later for the Centers for Disease Control (CDC) in Atlanta. This work took her to Africa four times: with a World Vision emergency medical team in Ethiopia during famine, Somalia during civil unrest, Swaziland, and, lastly, Lesotho, where Muriel served in the Peace Corps after her retirement from the CDC. She earned a BS from the University of Oregon School of Nursing, becoming a registered nurse. Muriel then worked in public health for the State of Oregon, writing rules that governed nursing homes and patient care. She later earned a Master of Public Administration degree from Portland State University.

Dr. James (Jim) McNitt returned to Africa as a teacher at the University of Malawi after serving as a Peace Corps Volunteer in the early 1970's. Jim earned degrees from Cornell University, the University of Wisconsin, and Colorado State. In the U.S., he was an Animal Science Professor at Southern University A&M College for 25 years before retiring in 2009. He was affectionately known as the "chicken and rabbit" professor. Jim was a also a member of the Baton Rouge Zoo, the Big River Economic and Agricultural Development Alliance, the Red Stick Farmers Market, Partners of the Americas, and Farmer-to-Farmer, where he worked alongside farmers in El Salvador and Haiti.

Paula Cornwell Miles (Born in Painesville, Ohio 1942-2019) volunteered for the Peace Corps upon graduation and was assigned to Afghanistan, where she served in 1964-1966. After her service, Paula traveled throughout Europe. She later taught high school biology in international schools in London, Sao Paulo, and Geneva. As a scientist, she worked at the United Nations Environmental Programme in Switzerland and upon return to the U.S. at the US Environmental Protection Agency.

Carl P. Onken (Born in Cedar Rapids, Iowa) joined the Peace Corps in 1968 after graduating from Iowa State University, where he met his future wife, Mary (Haak) Onken. He was assigned to serve in Sierra Leone. During his second year as a PCV, Mary joined him there to marry and serve together, working to help improve the schools in the rural regions of the country. Carl and Mary continued their support of education and youth programs in Sierra Leone throughout their lives. When they returned to the United States, Carl settled first in Manhattan where he completed his MBA before joining Chase Manhattan Bank, working as a Systems Analyst for over 35 years. He served on the school board for Monroe-Woodbury, NY for 21 years, the Orange-Ulster BOCES School Board for 29, and the New York State School Board for 12, including two as president of the board.
Below is our In Memoriam list for members of the Peace Corps community who recently passed away:
PEACE CORPS STAFF
Will Lotter (Malawi, Nepal 1965-1967), 5/19
Dr. Maurice Lucien "Moe" Sill (India 1961; Pakistan 1961-1963; U.S. 1963-1964), 6/6/19
MULTIPLE COUNTRIES
John Francis Murphy (Tunisia 1962-63; Gabon 1963-1964), 6/9/19
AFGHANISTAN
William Kaschub, 5/19/19
Paula Cornwell Miles (1964-1966), 3/6/19
BELIZE
Edith Lucile Torgerson (1986-1988), 5/21/19
BOTSWANA
Jackie Jacobs, 4/18/19
BRAZIL
John J. Cassidy (1968-1971), 6/6/19
BURKINA FASO
Gerald J. Hof (1973-1975), 6/1/19
COLOMBIA
Dr. Merrilee Cunningham (1967-1969), 6/2/19
Andrew Nelson Fiori, 5/19
COTE D'IVOIRE
June Rose Crawford (1996-1998), 6/3/19
DOMINICAN REPUBLIC
Phyllis P. Rzewnicki, 6/12/19
ECUADOR
John Bowland (1968-1969), 5/31/19
Patricia Valentine Roy, 6/4/19
EL SALVADOR
Tito Campos, 6/2/19
ETHIOPIA
Branden Michael Hamel (2018), 5/13/19
John Terrence "Terry" O'Herron (1962-1964), 6/1/19
FIJI
Kent Hinnart, 5/21/19
INDIA
Linda S. Lonsdale (1968-1970), 5/30/19
JAMAICA
Bruce K. Bellin, 5/2/19
Mary Helen Cameron (2004-2006), 6/13/19
Thomas R. "Rom" Chevraux, 5/18/19
KAZAKHSTAN
Joan Z. Himmelhoch, 6/20/19
KENYA
Bethany Ann Tomala (2001-2003), 4/19/19
LESOTHO
Muriel Ann (Pennant) Hoyt, 6/16/19
LIBERIA
Lonny V. Main, 4/27/19
NIGERIA
Michael E. Colbert, 1/8/19
PERU
John Walter Harden (1968), 6/15/19
PHILIPPINES
Donna J. Hess (1966-1969), 6/16/19
Ellen Jeronimo (1961-1963), 5/19/19
POLAND
Pamela Wells Hanson (1991), 6/11/19
ROMANIA
Michael G. "Mike" Rae, 5/6/19
Richard Logsdon Young, 5/28/19
SAINT LUCIA
Gilbert Martin Makus, 3/17/19
SAMOA
Mary Alice Batchelor (1993-1995), 6/21/19
SIERRA LEONE
Carl P. Onken (1968-1970), 6/6/19
Larry Wayne Square, 5/31/19
SWAZILAND
Dr. James McNitt (1971-1973), 5/22/19
THAILAND
Carol (Price) McLean (1983-1985), 6/9/19
Michael Joseph Sinsko (1965-1967), 5/22/19
Leila McKimmon Webster (1974-1976), 5/22/19
TURKEY
Robert Kennedy McBride (1965-1967), 5/20/19
VENEZUELA
John Sanbrailo, 4/20/19
COUNTRY OF SERVICE NOT SPECIFIED
Thomas Lawrence Minnis, 5/10/19
Ronald Pletcher, 6/1/19

If you have information you would like to share for our monthly In Memoriam post, contact obituary@peacecorpsconnect.org.
Thanks to Betty Pyle for her assistance in preparing this month's In Memoriam page.
---