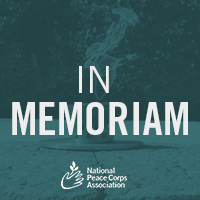 The US Agency for International Development (USAID). The Environmental Protection Agency. The Department of Health, Education and Welfare. Like thousands of other Returned Peace Corps Volunteers over the decades, a number of those who recently passed away served our nation not only in the Peace Corps, but also in other key branches of our federal government.
Pittsburgh native Norton Lawrence Berman (1931-2018) was never afraid to let his job take him across the world. After completing both his bachelor's and master's degree at the University of Pittsburgh, he remained in the city and began his career as a lawyer. A few years later Norton would take a job with USAID and move to Washington, D.C. From there he was called to serve in both Botswana and Liberia as a Peace Corps volunteer before returning stateside to Michigan. But soon enough Norton was back on the move, this time to go work for the newly independent government of Papua New Guinea. Following this, he once again ended up in Michigan where he would found his own economic development consulting firm, BermanGroup, LLC. After more than ten years of working across Europe, Norton settled in New Orleans where he would retire and become an avid supporter of many musical groups and organizations in the Big Easy.
Education was always a driving force in the life of Carol Deforest Locke-Endy (1942-2018). After graduating high school in New Hampshire, she attended Cornell University where she would go on to earn both her bachelor's and master's degree in English. Carol's passion for learning led her to the Peace Corps, where she taught English at a university to students in Colombia. She would also work as a Peace Corps trainer for nine months in Milwaukee following her service in South America. Following this, Carol became the assistant to the vice-president for administration at Brown University before going on to work in similar roles at Hamilton College, Colgate College, St. Mary's College of Maryland, and her alma mater Cornell. After retiring, she remained an active advocate for civil rights through her work with the Task Force for Racial Equity and Religious Society of Friends.
Much of her post-Peace Corps career occurred in Florida, including active participation (with service as president) of the North Florida RPCVs. For Juel E. Kamke (1946-2018), her path to the Peace Corps began in Wisconsin, where whe studied art and education at the University of Wisconsin-Madison, followed by six years teaching art in Burlington, Vermont. Juel joined the Peace Corps in 1978, serving in El Salvador. Following her service, Juel came to Washington, working as a graphic artist and editor at the Environmental Protection Agency and then becoming Executive Director of the Arlington, Virginia-based Refugee Assistance Center. Her work in Florida began as Field Director of the Coalition of Florida Farmworkers Organizations. Other posts included work as a planner for the Florida Department of Labor and Employment Security, and - lastly - as a Grants Compliance Analyst at Florida State University. Along with the local RPCV affiliate group, Juel was appointed to the Governor's Human Rights Committee and served on the board of the Immokalee Friendship House, serving Tallahassee's homeless community.
When Ronald Joseph Drago (1945-2018) joined the Peace Corps as a volunteer in Sierra Leone, he was starting a lifetime commitment to helping others. Born and raised in Easton, Pennsylvania, Ronald would go on to graduate from East Stroudsburg University where he was also a member of the Sigma Pi Fraternity. After his time working in the Peace Corps, he began working for US AID in Danang and Saigon, Vietnam where he would remain until the end of the Vietnam War. Ronald then went on to help serve refugees as a part of International Rescue Committee. He would then spend 30 years working for United Way, an organization that helps build up communities all across the world. He retired as President of United Way of Northampton and Warren Counties (Easton and Bethlehem, PA), and the United Way of Wake County (Raleigh, NC).
West Africa always held a special place in the heart of Nicolas Peter "Nick" Kulibaba (1951-2018). Once he finished working in his bachelor's degree in Religion at Allegheny College, Nicholas briefly worked as National Defense Foreign Language Fellow, University of Chicago, and Andhra University, India before he joined the Peace Corp and was assigned his post in Togo. Here he discovered his calling to help fight for the voiceless and empower the powerless all across the world. After volunteering, he found a career in International Trade and Development that took him to over 60 countries across the globe ranging from the former Soviet Union to Latin America. He also spent time working on a USAID project in Bamako, Mali. Many a time did he return to Africa and will be greatly missed by all of his Malian friends and families.

James Kolb (1941-2018) always had a knack for public service. He graduated from the University of Notre Dame before enrolling in the University of Wisconsin to earn his master's in American Social History. Before he completed his degree, he answered his first call to public service when he became a Peace Corps volunteer in Colombia where he helped launch instructional TV programs all across the country. After completing his service, he returned to the University of Wisconsin to finish his degree. From there he joined the Peace Corps staff in Washington D.C. as a desk officer for Peru and Chile. In 1968 he was drafted into the military and was stationed in Korea until 1970. After leaving the military, he started working for the Office of the Assistant Secretary for Planning and Evaluation (ASPE) in the Department of Health, Education and Welfare (HEW, now Health and Human Services or HHS). He would return to the HEW/HHS after working as a consultant in Germany in 1974 and remain in the bureaucracy until his retirement from federal service in 2002.
Below is our In Memoriam list for members of the Peace Corps community who recently passed away:
STAFF
John "Jack" Andrews, 5/27/18
MULTIPLE COUNTRIES
Monique Baran (Gabon 1975-77; Ghana 1977-78), 5/28/18
Norton Lawrence Berman (Liberia, Botswana), 5/27/18
Kristina Marie (Torkelson) Gray (Philippines, Kazakhstan/staff), 5/31/18
Frederic W. Halbritter (Togo 1971-73; Tunisia 1975), 5/22/18
Herbert V. Tobias (Afghanistan/Iran 1961-65), 5/23/18
ANTIGUA
William Rafael Saadeh, 6/11/18
BOLIVIA
Keith Gardner Williams (1965-67), 5/10/18
BOTSWANA
Emil H. Meitzner (1986-89), 5/20/18
BRAZIL
Carol Deforest Locke-Endy (1964-66), 5/23/18
CHILE
Howard A. Van Vleck Jr. (1967-69), 5/20/18
COLOMBIA
Robert Samuel Kenison (1963-65), 6/13/18
James Kolb, (1963-65), 5/11/18
COSTA RICA
Charles Lee Chaney, 5/15/18
DOMINICAN REPUBLIC
Jill Aldridge (2000-02), 6/1/18
ECUADOR
John Christopher Farina (1970-73), 5/16/18
EL SALVADOR
Juel E. Kamke (1976-78), 6/8/18
GHANA
Marion Morrison (1961-63), 4/15/18
INDIA
Jeremiah Breen (1968), 1/10/18
James T. Newton (1966-68)
Gary Wolcott (1965-67), 5/9/18
LIBERIA
Andy Evans (1981-83), Feb/2018
MALAYSIA
Claudia Linda Balcom-Milks, 5/15/18
MICRONESIA
Evelyn C. Perodeau (1971-73), 5/19/18
PHILIPPINES
Edward Neil Cabot (1969-72), 5/26/18
Patricia Lee Nichol (1963-65), 5/18
POLAND
William "Bill" Manning, 6/3/18
THAILAND
Leonard Joseph Baczek (1965), 5/16/18
TURKEY
Virginia Goshdigian (1963-65), 5/20/18
SIERRA LEONE
Ronald Joseph Drago (1967-69), 5/20/18
Peter A. Krusch - Staff (1968-71) 5/19/18
SWAZILAND
Irene Kibalo (1972-75), 6/2/18
TOGO
Gregory Spencer Brown, 5/23/18
Nicolas Peter "Nick" Kuilbaba (1975-78), 5/7/18
COUNTRY OF SERVICE NOT SPECIFIED
Colleen K. Wallesser Brown, 5/19/18
Emily Bukovec, 5/5/18
Thomas Dalton, 6/12/18
Rev. Priscilla "Peri" Murdock, 5/29/18
Larry Snyder, 2/23/18

---