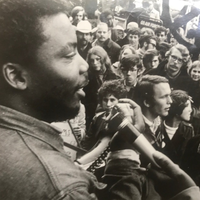 As we mourn the loss of members of the Peace Corps community, we celebrate the lives they led with a commitment to service.
By Molly O'Brien and Caitlin Nemeth
Photo: Lifelong civil rights activist Hardy Frye pictured.
Our tributes include Chuck Woodward, a key leader in the early years of the Peace Corps; a former ambassador; and a senator in Guam. Lifelong civil rights activist Hardy Frye (pictured) and an inspiring coach. A dedicated veterinarian and a social worker. Several Peace Corps staff and many dedicated military veterans.
We honor the wide range of contributions made by members of the Peace Corps community who recently passed away — including the tragic and untimely death of Jeremy Black, a victim of needless gun violence in Washington, D.C.
Charles "Chuck" Woodward, Jr. (1923–2021) was a devoted family man and played a key role in the early years of the Peace Corps. While attending UCLA, he joined the Army ROTC after the bombing of Pearl Harbor, and he went on to see battle action in Germany after his unit was shipped off in January 1945. A few months later he was injured and returned home; he finished his UCLA education in 1946. Chuck then attended Stanford Law School, where he was a member of the school's first Law Review. After law school, he began working for CBS's legal department; he was eventually transferred to New York City and started his position as a senior television attorney. After a few years at CBS, Chuck became the vice president of Westinghouse Broadcasting Corporation, a move which would take him to NYC suburb Hastings-on-Hudson. He would go on to serve for a few years as mayor, as well as two terms on the school board. During his time at Westinghouse he took a leave of absence to serve as the Peace Corps Associate Director of Public Affairs. He reported directly to Bill Moyers and Sargent Shriver, and was instrumental in Peace Corps recruitment, advertising, and public relations. "Chuck brought spectacular credentials to his Peace Corps service and was an extremely valuable member to the team," noted William Josephson, who served as founding counsel for the Peace Corps. Woodward often referred to his role with Peace Corps as by far the most interesting and rewarding work of his career.
Dr. Hardy T. Frye, Ph.D. (1939–2021) was a dedicated civil rights activist and University of California, Berkeley, professor emeritus of African American studies. Frye grew up in Tuskegee, Alabama and learned about Black history from his teachers. After his service in the Army, he moved to Los Angeles and became involved in rights activism in the 1960s. He participated in picketing the 1960 Democratic National Convention, and registered Black voters during Mississippi Freedom Summer. He was a Student Nonviolent Coordinating Committee (SNCC) Field Secretary in Mississippi and Alabama from 1964 to 1967. After college, Frye became the director of Peace Corps in Guyana. In 1975, he earned a Ph.D. in sociology from UC Berkeley. He would teach at Yale for a year before returning to the UC system. During his time with UC, Frye spent several decades formulating and implementing policies that worked to advance equity. Even after his retirement, Frye would return to lecture and advance ideas of social justice and community service.
Jeremy M. Black (1968–2021) dedicated his professional life to international development. Jerry, as friends knew him, was a husband, father, son, brother, nephew, and uncle. He passed away needlessly from gun violence in Washington, D.C., on June 29, 2021. He was 53 years old. He graduated from Washington University in St. Louis and served as a Volunteer in the Comoros Islands 1992–94, leading to a lifelong passion of promoting a deeper understanding between people across and within borders. He earned a graduate degree from the Columbia University School of International and Public Affairs, along with his wife, Cathy Feingold. They worked together at the Ford Foundation before moving to Washington, D.C, where Jerry worked at the Aspen Institute as the director of MicroTest, a program that gave grants to microenterprise development organizations across the U.S. In 2007, Black and his family moved to the Dominican Republic, where he found his love for triathlon and endurance sports. In 2010, they moved back to the D.C. area, and Black returned to the Peace Corps to work in the Office of the Inspector General. Black was born in Strasbourg, France, and grew up in the Midwest. He leaves behind wife Cathy, sons Myles and Alex, a loving sister, extended family, and a global community of dear friends.
Michael J. Reidy (1946–2021) began his long career in public service as a Peace Corps Volunteer in Somalia. His first position within government was a planner with Guam's Department of Public Works starting in 1975; he was promoted to acting director of the department in 1977. He would go on to later work as special assistant for policy and program development to then-Governor Calvo until 1980. His work continued within the 16th Guam legislature as the executive assistant to Speaker Thomas V.C. Tanaka, and in 1986 he was appointed director of the Bureau of Budget and Management Research, a position he held until he became a senator in 1990. Reidy was an avid athlete and advocate for the sports community. He joined the Guam Amateur Sports Federation, and participated in many sports clubs, including but not limited to the Guam Water Polo Club, the Guam Running Club, the Guam Fishing Derby, Guam Fishermen's Co-op, and the Guam Fishing and Boating Association. His devotion to sports led him to serving as the first president of the Guam National Olympic Committee.
Ambassador Thomas C. Ferguson (1933–2021) was a dedicated lifelong servant to his country. Ferguson earned his B.A. from Vanderbilt University in 1955 and earned his J.D. from Vanderbilt Law School in 1959. After serving in the U.S. Army, Ferguson began a career practicing law. Over the next several years, he moved firms, became a marketing manager, and bought a marina in Melbourne, Florida. In 1982, Ferguson started service as the director for the Eastern Caribbean for Peace Corps, overseeing operations in 10 countries throughout the region. He was recognized for a special act of service during the Grenada intervention. After his time with Peace Corps, Ferguson served as deputy commissioner of the U.S. Immigration and Naturalization Service 1985–87. He made valuable contributions to legislation, including border security and employment-based visas, including the innovative EB-5 immigrant investor visa. In 1987, President Ronald Reagan nominated Ferguson to serve as U.S. Ambassador to Brunei. He represented the United States in various diplomatic missions in Southeast Asia.
Margaret "Lounelle" Selle (1929–2021) was a lifelong serviceperson whose interest in world travel developed at a young age. After graduating high school, she worked for Hanes Hosiery, soon after becoming a star softball and basketball player on the company's world championship textile league teams. During her time at the company, she joined North Winston Baptist Church which prompted a serious interest in Christian education. This led to Selle taking over as the church's minister for education in 1954; she would go on to work in various positions for baptist churches all over the States. After a few years, Selle decided to continue her education and applied to Pfeiffer College, but the establishment of Peace Corps in 1962 led her to defer her college career for two years to serve in Peace Corps Bolivia. Upon her return to the States she attended Pfeiffer, graduating in 1966, and then enrolled in Southern Baptist Theological Seminary in Louisville, Kentucky. She completed her master's degree in 1969, and for the next few years worked as directors of Christian social ministries and education at various churches. In 1973, she was able to combine her love of travel and education with her new position within the Baptist Board of Foreign Missions, where she worked as student director in Taiwan for four years. She returned to the U.S. and began working at Bowman-Gray Medical Center at Wake Forest University, where she established a clinical pastoral program. She worked until she retired at her dream job as clinical staff chaplain at the Baptist Medical Center in Birmingham.
Steve Moulds (1944—2021) was a zealous traveler and successful entrepreneur, and he was devoted to his family. He served as a Peace Corps Volunteer in Honduras. When he returned to the States, he obtained his degrees in Spanish and Sociology and pursued a career as a social worker. In his off time he traveled all over the world, climbing Mt. Kilimanjaro, rafting in La Mosquitia, skiing to the South Pole, even exploring the Arctic Circle, as well as returning to Honduras many times with his family. Later on in his life he and his wife Betsy settled down in Napa Valley to establish Moulds Family Vineyard. Steve also became the director and president of the Napa Valley Grapegrowers Association and founded the Farmworker Foundation in 2011, and was recognized in 2018 for his contribution to the field through the prestigious Napa Valley Grower of the Year award.
June Y. Levulett (1927–2021) was born in Poland before emigrating to Canada shortly after she was born. As a child, she earned her way, caring for children, cleaning homes, and working in local cafes. Shortly after WWII, she met her husband while he was working in Canada. They remained in Canada for a few years before moving to the United States in 1951. Levulett became an American citizen in 1960, and this sparked her passion for history, politics, and service. In 1968, she was accepted into the licensed vocational nursing program at Butte Junior College. She worked as a nurse after graduation, while also continuing her education. She received her associate arts degree in 1973. She then decided to join Peace Corps and put her nursing talents to use in Côte d'Ivoire. When Levulett returned from service, she worked at a hospital and volunteered for a street clinic for the poor and homeless. This inspired her to continue her education, and she earned her B.A. in social welfare at the age of 51. June returned to work in Canada at the House Next Door Society, helping her clients gain critical life skills. She would work there until she retired in 1993. After retirement, she enjoyed traveling, spending time with family, and volunteering in her community. A life-long dream was realized when she traveled to Poland to meet her Polish family in 1996. Levulett greatly enjoyed all pursuits of life and was described as a free spirited soul by her family.
Dr. Glen E. Hurley, VMD (1929–2021) was a renowned veterinarian. He grew up in Indiana and attended Purdue University before transferring to Kansas State College, now Kansas State University. He graduated with as a doctor of veterinary medicine in 1953. While he was at KSU, he met his future wife, Lois. They married shortly after graduation. During college, he served with the Veterinary Reserved Officers' Training Corps (ROTC) and after graduation he was called to service as a base veterinarian in Washington, D.C. As part of his duties, he chaperoned Enos, a chimpanzee and the first American to orbit the earth in space. After his service, Glen and his family moved to the Midwest, where he eventually opened his own veterinary practice. He and his wife led busy lives; they were involved in the school board and Boy Scouts, and they managed a small farm. After a move to Waverly, Iowa, Glen became further involved in his community, volunteering with Habitat for Humanity and the Northeast Iowa Regional Housing Authority. He and his wife also volunteered with The Heifer Project for over 35 years. Upon retirement, Glen and Lois did not slow down. They joined Peace Corps, serving in Morocco from 1991–92. Glen trained veterinary technicians and taught animal husbandry. After their Peace Corps service, they continued to travel the world, volunteering with various veterinary and service programs. They lived in Kenya, Mongolia, El Salvador, and Ghana over the years and volunteered with their church in many more countries.
Jeffrey Harlan Shryer (1948–2021) was a lifelong wildlife biologist and warden, and this passion took him around the world where he worked tirelessly to protect wildlife and their habitats. Jeff began his career with the Bureau of Land Management, researching all manner of animals including condors, desert tortoise, wolves, bears, Dall sheep, raptors, bats, and black-footed ferrets all over the States, from Nevada and California to Montana and Alaska. After his time with BLM, Shryer joined Peace Corps in Botswana, where he worked at Chobe National Park, known for its large herds of elephants and Cape buffalo. He assisted park employees with wildlife management practices and worked with locals to protect threatened species from poachers. Shryer joined the U.S. Fish and Wildlife Service after completing his service in Botswana, where he conducted wildlife inventories and prepared management plans for wildlife reserves. This work led him across the globe, including Antarctica, Australia, Bolivia, China, the Galapagos Islands, Greenland, Iceland, Israel, Madagascar, Montana, New Jersey, Siberia, Sri Lanka, West Virginia, and Washington, D.C. Shryer retired to Montana, where he worked as an assistant instructor at Montana State University, still devoted to protecting wildlife and land conservation.
Nancy Koo (1945–2021) was a world traveler and admired human resources executive. Koo's family fled China with the rise of leader Mao Zedong when Nancy was four. This was an experience that inspired her to learn more about her own roots as well as about other cultures. Koo grew up in Seattle and graduated from the University of Washington. She moved to Twin Cities to study counseling psychology at the graduate level at the University of Minnesota. She began her traveling adventures when she and her first husband served as Peace Corps Volunteers in Malaysia 1967–69. She went on to 75 countries and visit every continent except Antarctica. In her professional life, Koo was the vice president of human resources at the Minneapolis Star Tribune 1993–2001. She was also an executive coat at Lee Hecht Harrison and served on boards for several nonprofits and professional organizations. Her love for traveling and serving others never diminished in later years. A memorial in her name is dedicated to supporting Peace Corps housing at the Magulilwa Secondary School in Tanzania.
Kathleen Frances Soli (1957–2021) was born in Michigan, and her family moved to Lakeville, Minnesota where she attended high school. Soli studied at Winona State in Minnesota and later graduated from the University of North Dakota in 1979. She then served in Peace Corps Morocco and taught English for two years. She went to graduate school at George Washington University and later obtained her master's degree at the Antioch School of Law in Washington, D.C. Soli soon returned to the Black Hills and worked for the forest service for a time. She entered the Air Force as an officer and traveled all over from Alabama, Utah, Florida, Texas, and Washington state to Japan, South Korea, Italy, Germany, and the Netherlands. She retired to Johnson Siding, South Dakota, and lived at the edge of the national park, enjoying every last moment of living in the Black Hills.
William Mierzejewski (1948–2021), known to many as "Coach Bill," was a memorable teacher and coach who spent three decades working with students at defense department schools overseas. Coach Bill graduated from Brigham Young University and served as a Peace Corps Volunteer in Afghanistan in the late 1960s. After his service, he joined the Department of Defense Education Activity-Pacific on Okinawa. He taught physical education, science, and health, and he coached football. He would teach at bases in Korea and the Philippines before returning to Okinawa for his last teaching post. His students described him as a passionate and inspiring teacher. His basketball teams made it to four DODEA-Pacific Far East Tournament finals; his girls won in 1994. Bill became a DODEA administrator on Okinawa for 11 years before retiring in 2011.
PEACE CORPS STAFF
Hardy T. Frye (Country Director of Guyana), 6/15/21
Charles "Chuck" C. Woodard, Jr. (PCHQ Associate Director of Public Affairs 1963—65), 6/11/21
MULTIPLE COUNTRIES
Marguerite "Meg" E. Carter (Senegal 1975–77, Uganda 2007, Guinea 2010–11), 4/16/21
Edward "Ned" S. Seligman (Burkina Faso 1969–73, Sao Tome as Staff, Guinea-Bissau as Staff), 1/7/21
AFGHANISTAN
William Mierzejewski (1979—70), 6/24/21
BOLIVIA
Margaret "Lounelle" Selle (1962–64), 6/23/21
BOTSWANA
Lawrence "Larry" Burmeister (1978—82), 6/27/21
Frank Hornor Sheffield, Jr. (1968—71), 6/26/21
Jeff H. Shryer (1988—90), 6/13/21
BRAZIL
Josh R. Comfort (1966—68), 6/27/21
CHILE
Charles "Barry" Cooper (1964—66), 6/15/21
COLOMBIA
Evelyn J. (Reis) Perry (1963–65), 6/18/21
COMOROS
Jeremy Black (1992–94), 6/29/21
COSTA RICA
Gerald F. Leblanc (1989–91), 7/4/21
COTE D'IVOIRE
June Y. Levulett (1973—74), 3/6/21
DOMINICAN REPUBLIC
Helena E. (Mokray) Reed (1964—66), 7/8/21
EASTERN CARIBBEAN
Thomas Crooks Ferguson (1982—84), 6/28/21
Michael J. Reidy (1969—71), 3/30/21
ETHIOPIA
H. William "Will" Seigel (1962–64), 4/22/21
GHANA
Robert J. Donnelly (1970—72), 7/1/21
Carl A. Wolosin (1970—71), 6/14/21
HONDURAS
Mary E. Henry (1986—88), 5/4/21
Steve P. Moulds (1964–66), 6/8/21
INDIA
Eric Hammerquist (1966–69), 4/27/21
George L. Helmholtz (1965–67), 2/28/21
Charles Sterling Lenth (1968–70), 12/20/21
Philip T. Warman (1963—65), 6/25/21
IRAN
John M. Holehan (1967—70), 6/21/21
JAMAICA
Michael J. Glaza (1976—78), 7/1/21
KENYA
Frederick C. Lickteig (1964—66), 6/21/21
James "Jim" W. Otto (1974—77), 6/19/21
LIBERIA
Roberta J. Colville (1962–64), 4/18/21
MALAWI
Jerome R. Mescher (1982—85), 7/2/21
MALAYSIA
Michael H. Anderson (1968—71), 6/20/21
Lucian Weller Dixon (1965), 7/9/21
Joanne M. Garrett (1973—75), 7/3/21
William Alan Hodson (1967—69), 6/22/21
Nancy Koo (1967—69), 5/18/21
Robert J. Pfeiffer (1972—74), 6/24/21
John J. Shay (1963—65), 6/24/21
MOROCCO
Glen E. Hurley, VMD (1991–92), 6/20/21
Kathleen Frances Soli (1980–82), 6/11/21
PHILIPPINES
Al Royal (1983—84), 6/23/21
Paul John Taylor (1968), 6/25/21
SAMOA
Gerald "Jerry" Klemens (1975—76), 7/8/21
SIERRA LEONE
Alan P. Beals, Jr. (1962—64), 6/29/21
THAILAND
Sharon Lynn Mueller, 6/24/21
Elizabeth "Bette" J. Rielly (1988—90), 6/27/21
TUNISIA
Nancy T. (Townsend) Macdonald (1969—71), 6/4/21
VENEZUELA
David J. Foster (1965—67), 5/11/21

If you have information you would like to share for our monthly In Memoriam post, please reach out to us at obituary@peacecorpsconnect.org.
---