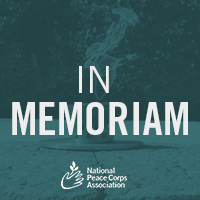 Whether through the State Department, Radio Free Asia, FEMA, or the Department of Agriculture, Peace Corps was a springboard for continued service to our nation among a number of distinguished individuals we lost in recent weeks.
Peace Corps Volunteer. Diplomat. Friend and supporter of the National Peace Corps Association. Service on the NPCA Board of Directors was just one of the boards Darryl Norman Johnson (1938 -2018) served on, following a long and distinguished career in the foreign service. Darryl's formal education took him across the country, from the University of Puget Sound, University of Washington, to the University of Minnesota, to Princeton. Darryl joined the Peace Corps in 1963, serving in Thailand. Soon after he completed service, Darryl joined the State Department and was assigned to his first post in India. That was just the beginning, as further assignments and increasing responsibilities took Darryl to Taiwan, Province of China; Hong Kong, Special Administrative Region of China; Moscow; China; and Poland. After the breakup of the Soviet Union, Darryl was selected to be the first Ambassador to Lithuania. He would eventually rise to the rank of Under Secretary of State for East Asian and Pacific Affairs, and - coming full circle to his Peace Corps service - becoming our nation's Ambassador to Thailand. Darryl would later share his experiences with the next generation of diplomats, teaching at the Scoop Jackson School of International Relations at the University of Washington.
He said he knew he wanted to be in the foreign service by the time he was in 4th grade. The career of Thomas Gallagher (1940-2018) was extensive and notable. And it began with the Peace Corps, which Tom applied to five days after graduating from Monmouth University in 1962. Tom served as a volunteer in Ethiopia. He would later become among the earliest supporters of Eritrean independence and remained devoted to the country the remainder of his life. Following service and a brief stint in the White House (working on the Johnson administration's War on Poverty), Tom joined the State Department in 1965, taking on assignments in Saudi Arabia and Ecuador. His work with the Office of Personnel - including breakthrough hires of women - would later result in Tom winning the Tragen Award, honoring support for the women's movement at State in its early days. In 1975, Tom became the first government officer to publicly and voluntarily "come out" as a gay man. This decision forced Tom to resign from the State Department. He would travel to California and pursue a career as a social worker. He returned to the State Department in 1994, when the policy of formal discrimination against gay foreign service officers was lifted. In 2015 Monmouth University named Tom its Distinguished Alumnus of the Year. In 2016, New Jersey Pride honored Tom with its Trailblazer award.
A Peace Corps official in the 1960's, he would later become the founding president of Radio Free Asia. Dick Richter (1929 - 2018) graduated from New York Queens College in 1950, and began a career in journalism. Dick was a copy aide at the New York Times and then became a reporter at Newsday and the New York World-Telegram Sun. In the 1960's he joined Peace Corps staff, first as an overseas program evaluator and later as the deputy director of programs in Kenya. Dick returned to journalism, this time moving to television. He was a news producer at WETA public television in Washington. He also worked as a news producer for ABC television, including serving as founding producer of "Good Morning America". In 1996, Dick was appointed as founding president of Radio Free Asia (RFA). Upon his retirement in 2005, he said "Repressive governments reviled RFA because we were letting people know what was going on in their own countries - providing information that their own leaders would suppress."
Debra (Hunt) Nace (1970 - 2018) along with her husband William died earlier this year from injuries sustained in an auto accident. After graduating with degrees in Agronomy and French from Iowa State University, Debra Nace joined the Peace Corps, serving in Senegal. Her public service would continue. Debra was hired by the U.S. Department of Agriculture, where she would work for the Natural Resources Conservation Service in Iowa, Pennsylvania, Idaho and Ohio. She also worked on Puerto Rico hurricane recovery efforts with FEMA. Debra was a co-leader of a Girl Scout troop, and a member of the Delaware (OH) Women's City Club.
Clair Elmer Skold's (1933 - 2018) service as Peace Corps overseas staff was ten years in length, first as Associate Director in Malaysia and later as Country Director in the Kingdom of Tonga. Between the age of four and nine, Elmer accompanied his family to west-central Alaska, where his parents traveled to teach English to Eskimos. The family then moved to Washington state, where Elmer would eventually graduate from the University of Washington. Following his overseas Peace Corps assignments, Elmer and his family moved back to the Seattle area. He was a member of the Bothell United Methodist Church choir for forty years, and also participated in a men's gospel group that performed at area churches, nursing homes and public gatherings. He was appointed as an original member of the city of Kenmore's Downtown Task Force. Elmer also served many years on the Kenmore Heritage Society.
Below is our In Memoriam list for members of the Peace Corps community who recently passed away:
STAFF
Dick Richter, 6/29/18
Clair Elmer Skold, 6/6/18
MULTIPLE COUNTRIES
Robert J. Attaway (Nigeria/Ethiopia), Posted 7/15/18
Lilly Otto (Ecuador 1980-82; Guatemala 1982-84), 7/7/18
ANTIGUA
John Logan "Jack" Bullister (1973-75), 6/13/18
BRAZIL
William Paul "Bill" Sloane, 7/7/18
CHAD
Christopher W. Duarte (1991-93), 6/26/18
COSTA RICA
Eric Charles Lehman (1976-78), 7/10/18
ETHIOPIA
Thomas Gallagher (1962-64), 7/8/18
FIJI
Lee Brelie (1969-71), 6/16/18
GHANA
John Thomas Hutton (1969-71), 6/26/18
HONDURAS
Janice Rule (1980-82), 7/14/18
INDIA
Aaron Vail Frost III (1965-66), 7/7/18
Dan Gusewelle, 7/8/18
IRAN
George Townsend Dorrill (1967-69), 7/13/18
KENYA
Terry B. Carpenter (1963-67), 6/12/18
LESOTHO
Beth Healy, 6/19/18
Jenny Phillips (1967-69), 7/9/18
NIGERIA
Whitney P. Foster (1964-66), 3/24/18
Norm Gary (1961-63), 6/24/18
PHILIPPINES
Charles P. Brown Jr., 7/5/18
Richard J. (Dick) Zecher (1962-64), 7/5/18
POLAND
Aimee Thompson, 7/10/18
SENEGAL
Debra Anne (Hunt) Nace, 2/3/18
THAILAND
Joan Boyce (1963 - 65), 6/14/18
Darryl Johnson (1963-65), 6/24/18
TOGO
Irene R. Schreck, 6/24/18
TURKEY
Edward Klinger (1966-68), 7/10/18
COUNTRY OF SERVICE NOT SPECIFIED
Robert Craig Smith, 7/4/18
Patricia Stoddard, 7/5/18

---