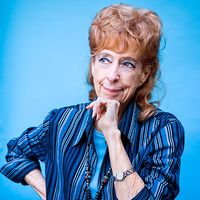 Jan Knippers Black (1940–2021) wrote the definitive book on U.S. interference in post-colonial Brazil.
By Catherine Gardner
Photo by Elëna Zhukova
Professor emerita, world traveler, beloved role model and mentor to thousands of students, singer and songwriter, advocate and ally: These are just some of the many terms one could use to describe Jan Knippers Black, a prominent scholar and human rights activist. She wrote the definitive book on U.S. interference in post-colonial Brazil — some years after she was invited to play piano in Elvis Presley's band. She was well known for her expertise on political dynamics within Latin America, specifically about the intersection of U.S. affairs in the region and the relationships between the U.S. and several of the Latin American countries.
Black's first degree was a B.A. in art and Spanish from the University of Tennessee. Then, she said, "When I heard about the Peace Corps in 1961, I said 'That's it! That's where I'll find myself.'" She was among the first group of Volunteers in Chile. She returned and earned a Ph.D. from American University and later joined the faculty of the Middlebury Institute of International Studies. She understood the importance of first-hand experience and led trips for students to Cuba, Iran, Bhutan, Chile, and the Balkans.
She was elected to the Amnesty International USA Board of Directors and spoke out on behalf of arrested activists. Upon her retirement in 2018, she launched the Jan Knippers Black Fund for Human Rights Protection to support student workers and speakers in the field. She died in August 2021 at age 81.
This remembrance appears in the Spring-Summer edition of WorldView magazine.
---
Catherine Gardner is an intern with WorldView. She is a student at Lafayette College.
---