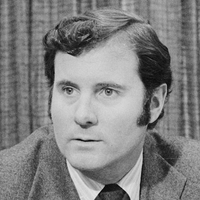 Third director of the agency, he led during turbulent times
By Steven Boyd Saum

The Peace Corps community mourns the loss of Joseph H. Blatchford, third director of the Peace Corps. He took on that role at a time that heralded, he said, a "new world and a different America from 1961" when the Peace Corps was launched.
Joseph Blatchford was appointed to lead the Peace Corps by President Richard Nixon in May 1969 — and he headed the agency during turbulent times of Nixon's first administration. Tapped for the post at 34 years old, he came with nearly a decade's experience of organizing international volunteers: In 1961, he had launched the organization Accion to send U.S. volunteers to work in Latin America.
Some of the initial luster was already off Peace Corps when Blatchford took on the director's role. That was true in the U.S. — deeply divided over the war in Vietnam — as well as internationally, where countries were increasingly seeking Volunteers with greater skills and expertise.
Blatchford called for a "wider spectrum" of volunteers, seeking, as the New York Times noted, to enlist "trade union members and blue collar workers, mature persons in mid-career, not just fresh college graduates." He also floated the idea of a "reverse Peace Corps" to bring volunteers to the U.S. to help in domestic antipoverty programs.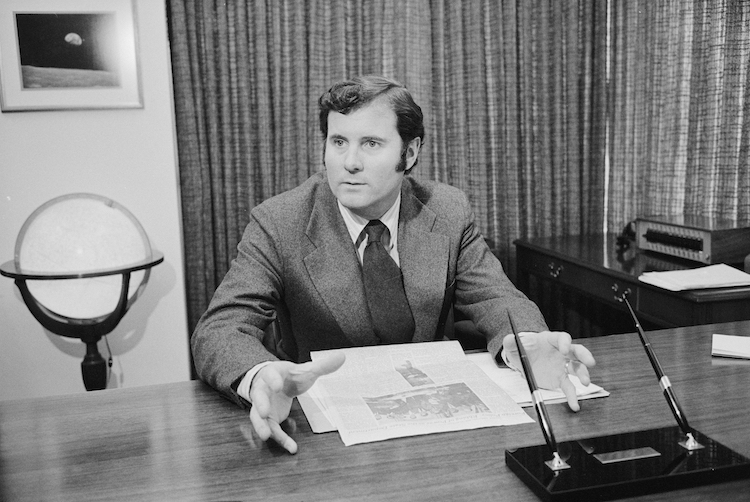 New Directions: Third Director of the Peace Corps Joseph Blatchford in his office, January 1971. Photo by Warren K. Loeffler / Library of Congress
New Directions
Blatchford introduced changes to the agency under the banner of "New Directions." That included the creation of an office for minority affairs. "I think that the people who characterized the Peace Corps as an organization made up primarily of lily-white, middle-class people may have had a very valid point," he told an audience at Harvard University in 1970. "But I think that has changed. We have a tremendous need for Blacks and other minorities, particularly in places like Africa and Latin America."
It was also during his tenure as director, in May 1970, that a group of returned Peace Corps Volunteers occupied Peace Corps headquarters for several days in protest of the U.S. invasion of Cambodia. That was the same U.S. military campaign that led to the tragic shootings at Kent State University.
In the fall of 1970, writing for the journal Foreign Affairs, Blatchford asked, "Are we seeing the beginning of the end for the Peace Corps, or is it perhaps the end of the beginning?" He noted, "The American people, in a public opinion poll, declared the Peace Corps to be the best investment among our foreign assistance programs." But, he said, "To attract Volunteers from a wider spectrum of American society, the Peace Corps has to broaden its appeal." He put in place policies to allow Volunteers to serve with families. And he recognized that when it came to building true partnerships with countries, "if the Peace Corps has done better than some agencies, it is still behind the times."
At a time of national turmoil, he also raised a question that resonates many decades later: "It is common for Americans to ask today, 'Why go overseas when there is so much to be done at home?'"
At a time of national turmoil, he also raised a question that resonates many decades later: "It is common for Americans to ask today, 'Why go overseas when there is so much to be done at home?' The answer to the question is also best exemplified in the nearly 40,000 Volunteers who have now served in the Peace Corps and returned home. After living among the poor abroad and struggling in the agonizing process of change, they are not satisfied with 'band-aid' cures."
He acknowledged the "bitter disillusionment over the Vietnam war among the Peace Corps' traditional college constituency. For many of these students the Peace Corps is tainted by the war, an arm of the Establishment, merely the most tolerable part of an intolerable government."
And he recognized the perception that the days of the Peace Corps might be numbered. "Some think the President will allow the Peace Corps to die of inattention. In the Congress the Peace Corps could fall victim to partisan politics."
That didn't happen. But under Nixon Peace Corps was folded into a new umbrella agency, ACTION, along with other domestic agencies including VISTA and Teacher Corps. And Blatchford was named head of ACTION.
Blatchford's life story includes a remarkable television moment as well: As Director of the Peace Corps, in 1972 he appeared on "The Mike Douglas Show," which was being guest-hosted by John Lennon and Yoko Ono. One fellow guest that day: rock and roll pioneer Chuck Berry.
That same year saw President Nixon reelected in a landslide. All agency heads were asked to submit their resignations. The story is that Blatchford told a colleague, "But I thought we won." Along with a pro forma resignation, he submitted a real resignation letter, and he stepped down at the end of the year.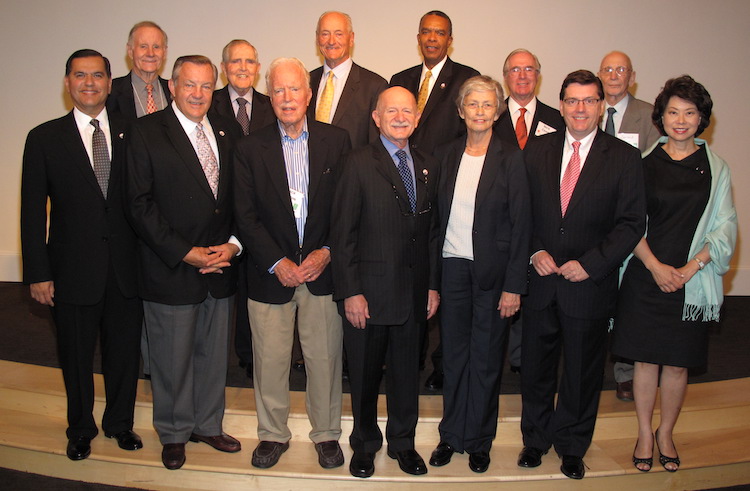 50th ANNIVERSARY REUNION, 2011: Joseph Blatchford, second from left, joined other leaders of the agency for the 50th anniversary of the founding of the Peace Corps. | Front row from left: Gaddi H. Vasquez, Ronald A. Tschetter, Jack Vaughn, Mark L. Schneider, Carol Bellamy, Mark D. Gearan, Elaine Chao. | Back row: Joseph Blatchford, Kevin O'Donnell, Richard F. Celeste, Aaron S. Williams, Nick Craw, Donald Hess
"Joe Blatchford led the agency through some of the most challenging and turbulent periods of Peace Corps' 60-year history," said National Peace Corps Association President and CEO Glenn Blumhorst. "In recent years, Director Blatchford has been a regular, enthusiastic participant in bipartisan efforts of past Peace Corps directors to support the agency and defend its independence."
Indeed, in January 2020 he joined nine other former Peace Corps Directors to write an open letter opposing U.S. Senate legislation that would fold Peace Corps administration into the State Department. As that letter noted, in quoting Secretary of State Dean Rusk's comment in 1961: "The Peace Corps is not an instrument of foreign policy because to make it so would rob it of its contribution to foreign policy."
Joseph Hoffer Blatchford was born in Milwaukee in 1934. His family moved to California when he was 10 years old, and he was raised a Christian Scientist. He attended the University of California, Los Angeles for his undergraduate studies and excelled at tennis. He played at Wimbledon. In 1967 he wed Winifred March, an Accion veteran. Accion International, the organization that he founded in 1961, continues its work today. He died on October 7 at age 86.
"Every time we mourn the loss of a former Peace Corps director, we lose a part of our history," said Glenn Blumhorst. "Our condolences to his family and to others who knew him, worked with him, and loved him."
---
Steven Boyd Saum is editor of WorldView magazine and Director of Strategic Communications for National Peace Corps Association.
---