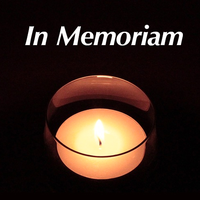 As we mourn the loss of members of the Peace Corps community, we celebrate the lives they led with a commitment to service.
By Jonathan Pearson
Our tributes include recognition of a lifetime legal servant from western Wisconsin who established the first victim-witness protection program, a groundbreaking leader at the National Oceanic and Atmospheric Association, and an education leader in Southern California.
Roger William LeGrand Jr. (1946 – 2021) devoted his lifetime to service beginning with his time studying to be a Catholic priest in the Servite Order at Our Lady of Benburb Priory in Northern Ireland. After graduating from St. Louis University, LeGrand served domestically as a VISTA volunteer, working with migrant workers in central Florida. Soon after, in 1969, he joined the Peace Corps, where he was assigned to train English teachers in southern India. Following Peace Corps, LeGrand enrolled at the University of Wisconsin Law School. He was president of the student bar association and received the Salmon Dahlberg Award as the outstanding graduate in the class of 1975. He began a law practice in La Crosse, taught business law at two schools, and was a member of the La Crosse City Council from 1979 to 1983. Soon after, he became a member of the school board. LeGrand became district attorney for La Crosse County. During his tenure he established his first victim-witness program and founded the La Crosse Domestic Violence Task Force. At the end of his career, he served as the Family Court Commissioner and was appointed as a Circuit Court Judge. In retirement, LeGrand served on many boards and commissions including the La Crosse Community Foundation, the La Crosse Public School Foundation, and the local Rotary Club.
Rebecca "Becky" S. Rootes (1951 – 2021) served as a Peace Corps Volunteer in the Philippines and also served our nation for nearly three decades in various positions with the National Oceanic and Atmospheric Administration (NOAA). A graduate of Southampton College, Rotes earned her master's degree in public administration while serving as a marine extension agent with the Texas A&M Marine Advisory Service. In 1983, she was awarded a Grant Knauss Fellowship, beginning her NOAA career as a legislative fellow, serving as a staff member of the former Merchant Marine and Fisheries Committee within the House of Representatives. Early in her career, she helped establish the Women's Aquatic Network, which brings together professionals with interests in marine, coastal, and aquatic affairs and promotes the roles of women in these fields. Rootes represented NOAA as a delegate to the International Whaling Commission and International Commission for the Conservation of Atlantic Tuna. After retiring nearly ten years ago, she relocated to Onancock, Virginia. She became an accomplished artist and was active with the Eastern Shore Art League, the Historic Onancock School, and the Historical Society of the Eastern Shore of Virginia.
Dr. Amos Isaac (1934 – 2021) began his personal relationship with East and West Africa when he and his wife, Lorraine, served as Peace Corps Volunteers in the early 1960s. That served as the first of many sojourns to the continent to advance educational opportunities. After moving as a child to San Bernardino, California, Dr. Isaac would become a noted educator and community leader in the state's Inland Empire region. He earned a master's degree from the University of Redlands and a Ph.D. in education from Claremont Graduate School. Dr. Isaac became the second Black person to teach in the Redlands Unified School District. Over his long career in education, Dr. Isaac served as a teacher, administrator, and educational consultant. He also was a longtime member of Concerned Citizens, a coalition of political and educational leaders, and community service organizations dedicated to improving the quality of education for all in the Redlands Unified School District.
Marcia Karen Lang (1941 – 2021) was an early Peace Corps Volunteer, assigned to Guatemala in 1963. A graduate of Miami University in Ohio, she earned a master's degree in social work from Fresno State University. Lang traveled the world with her husband, living and working in Colombia, Sri Lanka, Costa Rica, Honduras, Indonesia, Russia, Egypt, and Guatemala. She was a consultant for CARE and other international development organizations during her time in Guatemala, Indonesia, and Russia. Upon her return to the United States, she settled in Sarasota, Florida, and was active with the local Returned Peace Corps Volunteer group, the Democratic Party, and the local Episcopal Church.
Thomas P. Kelly Jr. (1943 – 2021) traveled through Europe during the years of his studies at Whitman College in southeast Washington. Upon graduation in 1966 with a degree in fine art, Kelly married his first wife, Marilyn. Together, they joined the Peace Corps, volunteering for three years in Tanzania and Uganda. Returning to the United States, they settled in Eugene, Oregon, where Tom opened a graphic design business. In 1986, he joined the advertising agency Cappelli Miles Wiltz, becoming senior art director and part owner. For more than 20 years he donated his design services to nonprofit organizations in the local community.
MULTIPLE COUNTRIES
Joseph Albert Doucet (Nigeria 1965–66; Tanzania 1968–69), 1/22/21
Dr. Arthur John Eisenhower (Afghanistan/El Salvador 1973–76), 2/3/21
Thomas P. Kelly Jr. (Tanzania/Uganda 1966–69), 1/14/21
Louis D. "Mike" Michel III (East Timor/Bulgaria 2000–03),
AFGHANISTAN
Shelton Pitney III (1970–73), 1/26/21
BRAZIL
Dr. Rebecca L. Cassell (1960s), 1/31/21
COLOMBIA
Paul Bankerd (1967–68), 1/14/21
ECUADOR
Polly Bednar, 2/8/21
J. Edward Johnston (early 1960s), 1/13/21
Judith L. Thrasher (1966–68), 2/3/21
EL SALVADOR
John Raymond Bellenoit (1970–71), 2/11/21
Anne Gabele (1971–73), 1/25/21
FIJI
Richard Beman, 1/13/21
GUATEMALA
Marcia Karen Lang (1963–65), 1/24/21
INDIA
Roger William LeGrande Jr. (1969–71), 2/8/21
John Alden Metcalfe (1962–64), 1/26/21
IRAN
Mary J. (Wertz) Fiscus (1967–69), 2/10/21
JAMAICA
Mike John Curry (1972–74), 1/21/21
KENYA
Carl V. M. Benander (1998–2000), 1/23/21
Dennis Lohr (1970–72), 12/2020
KIRIBATI
Mary Jane (Hughes) Crowther, 1/21/21
LIBERIA
The Most Rev. Dr. Lorraine Bouffard (1963–65), 1/31/21
Wendy L. Murray (1970's), 12/26/20
LIBYA
Eleanor Stuart Blue (late 1960's), 1/27/21
MALAYSIA
Sowchan Vandenakker (staff), 1/22/21
NEPAL
Robert L. Gilbert Jr. (1972–74), 2/8/21
Joyce E. Merritt, 1/17/21
NICARAGUA
Michele Wilkie (1971–73), 1/17/21
NIGERIA
James Proctor Brown III (1962–64), 1/4/21
PAPUA NEW GUINEA
Evelyn Agnes Murrill, 2/1/21
PARAGUAY
Francis B. "Frank" O'Hara (Country Director 1979–84), 12/17/20
THE PHILIPPINES
George Dennis Drake (1982-84), 1/20/21
Kenneth Ross Ingle (1965–67), posted 1/27/21
Richard K. Putt (1970–72), 1/24/21
Rebecca S. "Becky" Rootes, 2/5/21
SAMOA
Julie Myers (1983–85), 1/29/21
SENEGAL
Jill Larsen, 5/27/20
TANZANIA
Enoch E. Evans, 1/7/21
John Oliver, 12/31/20
TONGA
Paul Justus (1973–75), 1/20/21
VENEZUELA
Nancy Frances Tuft (1964–66)
COUNTRY OF SERVICE NOT SPECIFIED
Dr. Isaac Amos (Africa early 1960s), 1/21/21
Edmond Dale "Ed" Johnson, 12/12/20
Bruce McAtee, 2/11/21
Vernell Johnson Tyler, 1/3/21
---

If you have information you would like to share for our monthly In Memoriam post, please reach out to us at obituary@peacecorpsconnect.org.
---