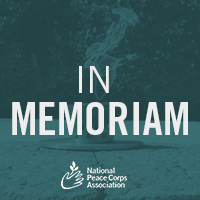 From long standing public servants, to an icon of the civil rights movement, to an early Silicon Valley entrepreneur, to a late-in-life volunteer who was among the oldest to serve in the Peace Corps. So many impressive members of the Peace Corps community passed away in recent weeks and months. We remember them here.
She served as a special assistant to four Peace Corps directors between 1976 and 1982, and is credited with quadrupling the number of women and minorities appointed as country directors and senior staff. But that wasn't the first Peace Corps encounter for Nancy A. Graham (1926 – 2018). That came in 1963, when she and her family accompanied Nancy's husband Richard, when he served as country director in Tunisia for two years. During that time, Nancy worked at an orphanage and organized dinners and events for Peace Corps volunteers and Tunisian diplomats. Nancy's long list of achievements began in the early 1950's when she served as President of the Planned Parenthood chapter in Milwaukee, and helped found the Milwaukee Book Club. In the 1980's she co-founded the Institute for Soviet American Relations and served as executive director of the organization from 1986 to 1990. She also served as the national coordinator of Peace Links and deputy director of education programs at the National Urban Coalition.
LeRoy Frasier (1937 – 2017) joined the Peace Corps and served in Malawi from 1964 – 1966. However, what he is most remembered for came several years before his Peace Corps service. In 1955, following the Brown v. Board of Education Supreme Court decision (from the previous year), LeRoy, his brother Ralph and high school friend John Lewis Brandon became among the first African-American undergraduate students to challenge segregation at the University of North Carolina – Chapel Hill. The university rejected their application until a federal judge overturned the decision and ordered the young men to be admitted. Frasier endured racism and hostility from many students, faculty and administrators during his three years at UNC. Ralph Frasier left UNC to join the Army while Leroy joined the Peace Corps. Both later completed their education at what is now North Carolina Central University. UNC established a scholarship program to honor the three men. Upon his death in the closing days of 2017, the university said Leroy "was a true pioneer and historic figure in Carolina's history and his legacy of leadership, courage and self-sacrifice made a lasting impact on our university community. LeRoy's contributions to Carolina will live on through our students who receive scholarships bearing his name."
After graduating from Yale University and serving with the Peace Corps in India, Frank Heintz (1944-2018) began a long and meaningful career in public service. He taught in Baltimore City Schools before being elected to the Maryland House of Delegates. During his career as a state delegate, Frank earned a law degree from the University of Maryland. He then served as a Baltimore City Councilor, Executive Director of the Employment Security Administration, and Chairman of the Public Service Commission. Later, he worked and retired as the President and CEO of Baltimore Gas and Electric. Frank was also active in his church, where he was the treasurer and taught Sunday school.
He was the first Peace Corps Country Director in Honduras. But Thomas Walz (1933 - 2018) was best known for being a champion of the rights for the disabled. Tom obtained his Masters in Social Work from St. Louis University and a PhD from the University of Minnesota, where he was hired as a professor. He later became the Director of the University of Iowa School of Social Work, a position he held for five years. He remained on the University of Iowa faculty until his retirement. Following his retirement, he founded and directed two non-profits dedicated to improving the lives of disadvantaged individuals living in the Iowa City area. Upon his death, a feature story in the Iowa Press-Citizen newspaper highlights the depth of Tom's community work in support of the disabled.
While India was her country of service, Sudan would also hold a special place later in the life of Diane King (1943-2018). Diane earned a degree in political science from Ohio Wesleyan University and a master's degree in counseling from the University of Pittsburgh. Afterwards, served with the Peace Corps in India, inspired by the words of John F. Kennedy. Following her service in India, she traveled elsewhere in Asia, eventually settling in New York where she was a school counselor for over 30 years. Diane became a strong advocate for charities in Sudan, such as the Walking Boys of Sudan and Water for South Sudan. She helped establish the organization Building Minds in South Sudan, and also published a children's book titled "Child of Sand and Water".
She passed away twelve days short of her 99th birthday. And it wasn't so long ago that she was serving in the Peace Corps. Beatrice Veronica Grossman (1919 - 2018) was 81 when she joined the Peace Corps in 2001 as a volunteer in Romania. That wasn't the only accomplishment through which Beatrice proved one is never too old. She became a student at Cal State Fullerton, graduating with a degree in economics at the age of 78. This followed a 25 year career with the Pamona Division of General Dynamics, where she was one of the first to apply Parametric estimating as an estimating tool.
The education of Albert Horley (1936 - 2018) included a Bachelors of Science from the Carnegie Institute of Technology, a Masters in Physics from Harvard University and PhD in Communications Systems Planning from Stanford University. In between these achievements, he answered President Kennedy's call to service, joining the Peace Corps in Malaysia. Albert started a Physics Department at the Technical Institute of Malaysia, where he and students launched the first full-size satellite ground station in Southeast Asia. In 1970, Albert began six years of employment in Washington with the Department of Health, Education and Welfare. Then, it was back to the west coast and Silicon Valley, where he helped co-found the satellite communications company Vitalink. He later formed another startup, Vitacom.
Below is our In Memoriam list for members of the Peace Corps community who recently passed away:
STAFF
Phyllis Draper, 1/25/18
Nancy A. Graham (1976 - 82), 1/12/18
Mary Goggins Miles, 2/11/18
Edward Slevin, 1/18/18
MULTIPLE COUNTRIES
Richard Lynn Chitwood Ukraine/Russia, 2/16/18
Mary Froehlich Ghana/Libya, 1/17/18
AFGHANISTAN
Ronald DiOrio, 1/19/18
Elaine Woods (1965-67), 2/5/18
BRAZIL
Bernard Blanche (1965-67), 1/25/18
George Coleman (staff), 12/10/17
Kathleen (Kaharick) Maneese, 1/26/18
Manuel Vega Palacin, 2/6/18
CAMEROON
George Glaros (1965-67), 1/27/18
CHILE
Gerald Gogan, 1/17/18
CHINA
Frances Bentley, 1/11/18
COLOMBIA
William G. Morris, 1/11/18
DOMINICAN REPUBLIC
David Kaufman (1962-64), 1/6/18
Cathi Kroon (1967-69), passed away late 2017
Edward Junior Warmoth (1985-87), 1/26/18
ECUADOR
Lydia Ann Abell Gibson, posted 1/24/18
ETHIOPIA
Leslie Frankfurt, 1/18/18
FIJI
Jacob Zawacki (staff), 1/20/18
GABON
Eugene "Geno" Torres (1963-65), 2/5/18
THE GAMBIA
Margaret M. Grant, 2/1/18
HONDURAS
Thomas John Hebert (1989), 1/30/18
Ellen Donna "Cookie" Rocklin Izaguirre (1973-75; staff various years 1975 - 2000), 1/26/18
Thomas Walz (Country Director 1962-64), 2/10/18
INDIA
Frank Heintz (1966-68), 1/24/18
Diane Dickerson King (1965-67), 1/25/18
David Swope (1967-69), posted 2/4/18
JAMAICA
Irwin Saul Loibman (1968-70), 2/6/18
KENYA
Edward C. Nichols, 2/4/18
LIBERIA
William R. Morris, 1/15/18
Phyliss Sigetti (1977-79), 1/26/18
Kathleen A. Simon (1981-84), 2/18/18
MALAWI
LeRoy Frasier (1964-66), 12/29/17
John Timothy O'Donnell, 12/30/17
MALAYSIA
Albert Horley (1963-65), 1/14/18
Mike O'Rourke, 1/22/18
MICRONESIA
Dean Lawrence Peterson, 1/25/18
MOROCCO
Donna Mary Burns, 1/25/18
NIGERIA
Doris Frances Denning (1964-66), 1/3/18
OMAN
Gary Meserole (1979-81), 2/8/18
PANAMA
Mateo Johnson, posted 2/7/18
PAKISTAN
Susan Elizabeth Wedemeyer, 2/9/18
PHILIPPINES
Mary Ann Kojis-Zopp, 2/16/18
Michael James Morse, 1/29/18
Lorraine "Lori" Siegmann (1968-69), 2/10/18
M. Deane Wylie, 1/30/18
POLAND
Miriam Richter, 2/5/18
ROMANIA
Beatrice Veronica Grossman (2001-03), 2/11/18
SENEGAL
Jamie E. Gill (2010-12), 1/2/18
SIERRA LEONE
Joseph Flicek, 1/25/18
Daniel Keil, 1/13/2018
Norman Munroe (1989-91), 1/19/18
SOUTH AFRICA
Jay Robert Atherton (1999 - 2001), 1/28/18
TANZANIA
Ron Hert (1966-68), 2/3/18
Kenneth Spitzer, 2/6/18
THAILAND
Edmund H. Clark, 10/19/17
Lucia Wilcox, 1/11/18
TOGO
John Wilson (1981-84), 1/25/18
COUNTRY OF SERVICE NOT SPECIFIED
David George Fonesca, 12/18/17
Joseph Michael Gauthier, 2/5/18
Mildred Green, 2/17/18
Stephen J. Green, 1/30/18
Lola Law, 1/13/18

---