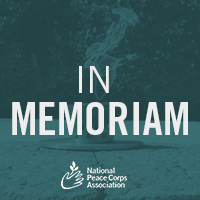 Among those members of the Peace Corps community who passed away in the past several weeks were a number of outstanding public servants and teachers, who devoted their lives to the betterment of others.
Roger Landrum was a champion of service and an early leader as the first wave of returning Peace Corps Volunteers began to organize into a national movement. A member of the first group of volunteers to serve in Nigeria in 1961, Roger - as President of the Washington DC Returned Peace Corps Volunteers - became deeply involved in the organization of the 25th anniversary celebration of Peace Corps service. One of the outcomes of this national gathering was the substantial growth of geographic and country-of-service RPCV groups, and the mobilization of community members to carry out the third-goal of the Peace Corps. Roger worked closely with Harris Wofford, Theodore Hesburgh and others in promoting national service initiatives. Along with his commitment to the Peace Corps, Roger also made his mark as the founding president of Youth Service America and Youth Service International.
Following three years of service as a Peace Corps Volunteer in Nigeria and Liberia, Dr. Frederick "Rick" E. Machmer Jr. (1940 - 2017), embarked on a long and distinguished career in the U.S. foreign service. Over a 35 year period, Dr. Machmer was a USAID Mission Director at overseas posts in Afghanistan, Ethiopia, Georgia, Lebanon, Nepal, Somalia and Sudan. He also served as Director of the USAID/Washington Office of Middle East Affairs. His numerous awards in service to his nation included a 2001 State Department Group Meritorious Honor Award for "outstanding sustained effort to prevent a human catastrophe in Ethiopia." In 1992, President George H.W. Bush honored Dr. Machmer with the Presidential Meritorious Honor Award. He also received USAID's Superior Honor Award in 1985, and Distinguished Honor Award in 1988.
Teaching was the career path chosen by Benjamin Harrison Thomas (1941 - 2017) following two years of Peace Corps service in Ethiopia. Benjamin became a teacher at the Sidwell Friends School in Washington DC for 24 years. From there, he helped found the Thornton Friends School in nearby Silver Spring. After 30 years in education, Benjamin moved to Ukiah, California. He became a member of the Ukiah City Council, serving two four-year terms. His other wide-ranging community endeavors included involvement with Ukiah community radio, membership on Ukiah's Poet Laureate Committee, participation in the Ukiah Haiku Festival and mentoring in the Partnership Scholars program.
Teaching was also the career path of Cynthia Jo Picou (1943 - 2017). In her case, the teaching of law. Born and raised in Louisiana, Cynthia attended Louisiana State University before joining the Peace Corps. She organized a literacy campaign while serving as a volunteer in Medellin, Colombia with efforts to raise money to buy books for the people of the Simon Bolivar barrio. Following Peace Corps, Cynthia returned to LSU for her law degree. This would lead to a thirty year career teaching law as a professor at Southern University Law Center. She traveled for three months as an exchange professor in the country of Georgia and also went to Bosnia during the post-war peace efforts.
Climbing Mount Kilimanjaro was the greatest thrill for Randolph F. Lowe (1945 - 2017), who accomplished the feat in the course of his Peace Corps service in Ghana from 1968 - 70. After returning to the U.S., Randolph worked for nearly thirty years at the U.S. Labor Department, culminating in his role as the USDOL's Director of Administration. He closed out his career with ten years of work with Union Bank as a Senior Vice President Diversity Officer and Employment Manager. Upon his retirement, Randolph's service included several years as a member of the Palm Springs Planning Commission and serving as Chairman of the Board of the LGBTQ Community Center of the Desert.
In the 1970's John Sommer worked with the Ford Foundation in New Dehli, followed by senior positions in Washington with the Peace Corps and USAID. His extensive involvement in international development led John to Vermont, where he served as Dean of the Study Abroad Program at the School of International Training (SIT) from 1981-1999, John's first personal exploration of the world began as a volunteer building schools in South Vietnam through International Voluntary Services. He co-wrote a his book, Viet Nam-The Unheard Voices. To honor his efforts at SIT, a scholarship was established in his name. In 2001, John served as Vice President of Eisenhower Fellowships, based in Philadelphia, an exchange program for emerging world leaders.
Below is our In Memoriam list for members of the Peace Corps community who recently passed away:
STAFF
Siaosi Enosi, 9/27/17
John Sommer (1977-79), 11/11/17
M. Paul Zimmerman (1966-71), 11/20/17
MULTIPLE COUNTRIES
Albert Glosser -Chile/Peru, 11/15/17
Rick Machmer Jr -Nigeria/Liberia (1966-68), 11/18/17
AFGHANISTAN
Leo Ehrensberger (1965-67), 11/28/17
BARBADOS
Charles Cademartori (1970-73), 11/20/17
BRAZIL
Janis Calmes, 11/14/17
COLOMBIA
Cynthia Picou, 11/11/17
ETHIOPIA
Joan Flora Moran Girija, 10/31/17
Benjamin Harrison Thomas (1962-64), 11/14/17
GHANA
John Kihorany, 11/8/17
Randy Lowe (1968-70), 11/23/17
GUATEMALA
Gloria Larson (1972-74), 11/28/17
INDIA
Joseph MacNeil (staff 1968), posted 21/11/17
JAMAICA
Lorraine McNally (1991-93), 11/26/17
Carol Judith Oltchick (1962-64), 12/6/17
KENYA
Alfred Goodale, 11/10/17
Craig J. Tieszen (1971-75), 11/22/17
LIBERIA
Charles Douglas Norman (1987-89), 12/2/17
MALAWI
Patrick Easter, 11/29/17
MALI
Kelley Loren Kyle, 11/2/17
MARSHALL ISLANDS
Ross S. Taylor (1966-68), 11/16/17
MOROCCO
Diane Ponasik, 11/17/17
NIGERIA
Roger Landrum (1961-63), 12/9/17
PANAMA
Ruth M. Fitzpatrick (1965-67), 11/23/17
PERU
Richard Reinhart (1963-65), 11/13/17
SENEGAL
Mary O'Kelly, 11/29/17
VENEZUELA
Edward Lawrence Ballen, 11/25/17
Gulden Godfrey Lloyd (1965-66), 11/17/17
COUNTRY OF SERVICE NOT SPECIFIED
Mark Alan, 12/3/17
Carmine DiStasio (1976-79), 12/2/17
Helen Harms, 11/28/17
William Francis Melvin, 11/22/17
Susan Schoenberger, 11/11/17
Jerry Walter, 11/1/17

---