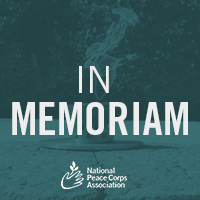 One joined the profession of her historically significant grandfather. One dedicated his life to historic preservation. One devoted her life to girls education.
When the lives of Returned Peace Corps Volunteers fade away, remembrances bring light on their many amazing contributions. We recognize and remember the achievements of some of the members of our community we lost in recent weeks.
After graduating from Radcliffe College, Alice Popkin (1928-2018) went on to graduate from Yale Law school. In pursuing a legal career, she would follow in the footsteps of her grandfather, Supreme Court Justice Louis Brandeis. It was also at Yale, however, where Alice joined the National Student's Association and met fellow classmate Sargent Shriver. While Alice worked in public service law until 1987, she joined Shriver during the early days of the Peace Corps, assisting with establishing a number of Peace Corps offices and programs around the world. Continuing her commitment to public service, Alice served as special counsel to a Senate subcommittee investigating juvenile delinquency. She was later serve as Associate Administrator for International Affairs at the Environmental Protection Agency. Committed to her community of Chatham, Massachusetts, she was a trustee and five year president of the Eldredge Library and served on the Chatham Community Preservation Committee and Harbor Management Committee. She was also a Trustee at Radcliffe College.
When asked when she would discontinue her overseas relief work and return to the United States, MaryJo Aerts (1985 - 2018) was reported to have replied, "When all the four million girls in Afghanistan can go to school." MaryJo was working with Catholic Relief Services (CRS) in Afghanistan and Laos at the time of her death. A graduate of the University of Wisconsin - Stevens Point and the University of Portland, MaryJo began her career in education at St. Anthony's Nativity School in Portland. She then joined the Peace Corps and served in Nicaragua. Following Peace Corps and prior to joining CRS, she spent three years teaching at the St. Augustine Prepatory School in Nicaragua.
For thirty years, Dominican Republic (1963-64) Peace Corps Volunteer Phillip Foster Brown (1937 – 2018) served our nation through the US Department of Agriculture as an agricultural economist. But those who knew him also were aware of Phillip's longtime involvement with woodturning as a craft art. He was one of the early members of the American Association of Woodturners, helped found a chapter in Montgomery County Maryland and was honored in 2017 by the county with a Lifetime Impact Award for Excellence in the Arts and Humanities. Phillip was active in a number of other organizations devoted to the craft. His wood sculptures and bowls can be found in many private collections and nine museums, including the Smithsonian's Renwick Gallery.
It is not an exaggeration to say that Michael E. Emrick (1945 – 2018) left his mark on the city of Nashville. A graduate of Washington University in St. Louis, Michael studied and practiced architecture for fifty years, including during his service as a Peace Corps Volunteer in Malaysia. His career would eventually bring him to Tennessee, where he began in 1978 working on a master plan for the Rugby Colony. His work there would bring him national recognition. In Nashville, much of Michael's work centered on restoration of the Germantown section of the city. There, he worked on sixty projects in forty different buildings. For this work, Nashville's Metropolitan Historic Commission honored Michael with a Lifetime Achievement Award. Taken together, Michael worked on seven National Historic Landmarks, nineteen National Register Historic Districts and nearly one hundred National Register listed properties.
The vibrant twists and turns through the life of Barbara Jean Sullivan (1944 – 2018) included Peace Corps service in Malaysia. A 1967 graduate of Mercy College, Barbara's degree in mathematics would lead her to become one of the first computer programmers for IBM. She would later work at National Geographic, and was a small business owner with her husband. The larger world would call Barbara overseas as a Foreign Service Officer, where she served at U.S. embassies in eight different nations. Barbara's commitment to others would continue upon retirement to Daniel Island South Carolina. She volunteered and supported organizations including Meals on Wheels, the Low Country Pregnancy Center and Hospice of Charleston.
Below is our In Memoriam list for members of the Peace Corps community who recently passed away:
STAFF
Alice Popkin (1961-63), 7/18/18
Marjorie E. McLean, 7/13/18
MULTIPLE COUNTRIES
Barbara Dove (Democratic Republic of Congo 1972-74; Burkina Faso 1974-76), 7/26/18
James A. Pratt (Tunisia, Togo), 7/4/18
CHILE
Ward D. Belding Jr. (1964-66), 6/27/18
COLOMBIA
John F. Ryan (1967-69), 8/11/18
COSTA RICA
James E. Niles, 7/10/18
DOMINICAN REPUBLIC
Phillip Foster Brown (1963-64), 7/14/18
ECUADOR
David H. Rathbun, 8/9/18
ETHIOPIA
Myrna Logan (1967-69), 6/26/18
FIJI
Barbara Ann Lee Knutson (1990-93), 7/22/18
GHANA
Gwen Lee Rosser (1964-66), 7/23/18
GUATEMALA
Eric Woodman Rozendaal, 7/10/18
INDIA
Steven K. Thomas, 7/29/18
MALAYSIA
Michael E. Emrick, 7/3/18
Nell Quigley McCombs (1967-69), 7/14/18
Barbara Jean Sullivan, 7/22/18
Carol S. Wheelock (1963-65), 8/10/18
MICRONESIA
Ruth Marie Duperret (1968-70), 8/6/18
MOROCCO
Lesta Chandler (1984-86), 7/23/18
NICARAGUA
MaryJo Aerts, 8/2/18
PALAU
Tom Blackburn (staff), 7/22/18
PHILIPPINES
Joanne Frances (Holland) Machmer (1962-64), 2/28/18
SOUTH KOREA
Edward Gignoux Jr., 7/20/18
John L. Grant (1967-69), 7/23/18
Joseph T. Sefcheck (1972-75), 7/10/18
TANZANIA
Nancy Lee O'Donnell (1966-68), 6/29/18
THAILAND
Roger Archie Coulombe, 2/22/18
COUNTRY OF SERVICE NOT SPECIFIED
Joan Cecilia Andring, 7/18/18
Charles Henry Howe III, 7/26/18
Myron Alexander Nachbar, 7/15/18
Sage Douglas Remington, 7/31/18

---