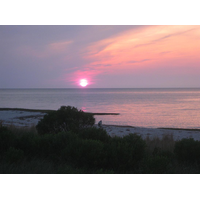 Members of the Peace Corps community who recently passed away included a winner of a congressional gold medal, a doctor who had an award named in his honor by a local civic organization, and an athlete who worked for a professional basketball team. Our In Memoriam page in April also includes remembrances of individuals whose deaths were sudden and untimely.
The NPCA community joins the Peace Corps in mourning the loss of volunteer Cody Oser, who died while serving our nation in Panama. Cody was working with people of the Comarca Ngabe Bugle region of Panama. A graduate of Colorado State University, Cody spent time in Kenya and El Salvador, working on engineering projects to help communities build potable water structures and solar-powered irrigation systems. Just prior to his Peace Corps service, Cody was a project leader for Engineers Without Borders in both El Salvador and Pine Ridge, South Dakota.
The sudden and untimely death of Jessica Dawn Daniel El Bechir (1982 - 2017) occurred during a vacation trip to northern Vietnam. Jessica was serving our nation as a Human Resources Officer for the U.S. Embassy in Myanmar. A graduate of the University of Richmond, Jessica studied business management and French. She also studied abroad in Dublin, Ireland and LaRochelle, France. Soon after her two years of Peace Corps service in Mauritania, Jessica began her seven-years with the foreign service. She was a Desk Officer in Sudan, and a Counsular Officer and Assistant General Services Officer in South Korea.
The extensive public and legal service career of David Hollister Rogers (1929 - 2017) included five years of service with the Peace Corps as Country Director of India from 1968 to 1973. A graduate of Harvard University and Harvard Law School, David served in the U.S. Army in post-war Japan. He next moved to California, clerked for a judge on the 9th Circuit Court, and then spent ten years practicing law in Oakland. Following his Peace Corps service, David went to the Northern Marianas Islands to chair the Micronesian Claims Commission, established by Congress to validate war claims by Micronesians who lost property or loved ones during World War II. He ended his career in Washington as chief counsel of the Foreign Claims Settlement Commission. Upon his retirement, David returned to the west, where he volunteered with Legal Services of Northern California. In 1994, he was recognized by the State Bar of California as its pro bono attorney of the year.
John L. Harrison, Jr. (1921 - 2017) was recognized in 2007 by President George W. Bush with the Congressional Gold Medal as one of the members of the famed Tuskegee Airmen. John was a member of the 332nd Fighter Group and the 477th Bombardment Group of the U.S. Army Air Forces. Following a twenty-year military career, he served as an administrator for the Peace Corps in East Africa. He concluded his career as director of affirmative action for the Boeing Aircraft Company.
Dr. John Joseph Benton (1923 - 2017) served as a Peace Corps Volunteer with his wife in Colombia in their late 60's. He had an impressive record of accomplishments that began early in life. At the age of 15, John became the youngest student at the time enrolled at the University of Florida, and would earn his M.D. at the age of 22 from the Johns Hopkins School of Medicine. After completing his residency in pediatrics at Indiana University in Indianapolis, he moved to Panama City, Florida to begin his practice. John eventually was in charge of health departments in several counties, including many years of service as head of the Bay County Health Department. His volunteer work beyond Peace Corps included participation in several medical missions to Latin America. In Florida, he volunteered to provide medical exams at the area Boy Scout camp, helped found the Bay County Child Guidance Clinic, and was on the founding Board of the Boys and Girls Club of Bay County. In 2010, the Panama City Kiwanis Club established the "Dr. John J. Benton Sr. Children's Advocacy Award" to honor a Kiwanian who lived a life of service to children.
Born and raised in South Dakota, Kathryn Mary Cole Quinones (1942 - 2017) joined the Peace Corps during the early years of service in Uganda. Soon after the completion of her service, Kathryn took her talents to New York City. She served 25 years as Vice President for English as a Second Language (ESL) with the New York City Board of Education. She also co-authored a textbook for the instruction of ESL for adults. After her career, Kathryn returned to her home state. After moving to Brookings, South Dakota, she was active in the Medary Chapter of the Daughters of the American Revolution, the Brookings Community Theatre, the Brookings chapter of the General Federation of Women's Clubs, and St. Thomas More parish.
Sports and service mark much of the life of Charles Clayton "Chuck" Hayes (1963 - 2017). Soon after helping lead his Lyons, Nebraska high school basketball team to a state championship, Chuck received a basketball scholarship to Hastings College. After college, Chuck began the first of three terms of service with the Peace Corps. He first served in The Gambia in 1985, and then served in Togo starting in 1987. Upon returning home, he pursued a Masters Degree in African Studies at Ohio University, then traveled to Houston, where we taught math to at-risk high school students at Jefferson Davis High School, and coached football and basketball. Sports remained central to his next period in life. Chuck received a Masters Degree in Sports Management at the University of Richmond and later worked with the National Basketball Association's Miami Heat, editing game film and preparting scouting reports. His third Peace Corps deployment brought Chuck to Tonga, and he closed his career with the United Seaman's Service, working in Casablanca, Okinawa and South Korea.
Below is our In Memoriam list for members of the Peace Corps community who recently passed away:
STAFF
Dr. Ronald Bigelow, posted 3/26/17
John L. Harrison Jr., 3/22/17
David Hollister Rogers (1968-73), 3/21/17
MULTIPLE COUNTRIES
Charles "Chuck" Hayes - The Gambia/Togo (1985-89); Tonga (2000-02)
BOTSWANA
Mark A. MacKay, Posted 4/2/17
BRAZIL
Krystal Leah Hall (1974-75), 3/17/17
Mel Tolbert, 4/2/17
Maurice Williamson, 3/28/17
COLOMBIA
John Benton, 4/4/17
COSTA RICA
Eric Dean Mahan, 3/19/17
ECUADOR
Megan Dickie (2005-07), 3/10/17
Frank Krumenaker III, 3/20/17
GUINEA
Carol Zeitz, 3/14/17
HONDURAS
Henry J. Friedman, 3/6/17
JAMAICA
Paula Lanigan Diiorio Grady (2004-06), 3/23/17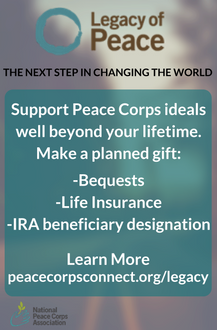 KOREA
Joseph W. Pawlosky, 4/8/17
LESOTHO
Charles J. "Chuck" McKenney, Jr., 4/2/17
MALAWI
James Joseph Pidgeon, 3/30/17
MAURITANIA
Jessica Dawn Daniel El Bachir, 3/26/17
MONGOLIA
Evan Wright Mickle, 12/26/16
MOROCCO
David Jenkins McCaa (1999-01), 3/24/17
NAMIBIA
Peggy Nolan, 3/13/17
NIGERIA
Leslie Holt, 3/9/17
Barbara Franceen Hornady (1963-65), 3/12/17
John Maurice Levy, 4/2/17
PANAMA
Steve Edwin Kocsis, 1/8/17
Cody Oser, 4/8/17
PARAGUAY
Juliette McClendon (1980-82), 3/30/17
PERU
Tommy McConnell (1962-63), 3/21/17
PHILIPPINES
Anna Gass (1966-68), 3/30/17
Carol Scribner, 3/21/17
SIERRA LEONE
Rex Jarrell Jr. (1961-63), 3/10/17
THAILAND
William "Bill" Helz (1969-72), 3/21/17
TURKEY
Dr. Richard Stacey, 3/12/17
UGANDA
Kathryn Mary Quinones (1966-68), 3/31/17
COUNTRY OF SERVICE NOT SPECIFIED
Julia Duddleston Comin, 4/5/17
Gerald Sikora, 3/24/17
Willard Sodders Sr., 4/3/17
---