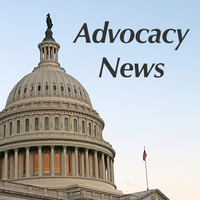 While action on the annual House Peace Corps funding letter has concluded, opportunities for Senators to sign onto their version of this important letter continues. However, this is the final week for Senators to sign the letter.
Senate
A bipartisan Senate letter asking for robust funding for Peace Corps in fiscal year 2021 is co-authored by Senators Dianne Feinstein (D-CA) and Susan Collins (R-ME).
Take Action with your Senators**
If you wish, you can read the Senate letter here.
Ask your Senator(s) to "sign the Feinstein-Collins Peace Corps funding Dear Colleague letter that is now circulating".
TAKE ACTION HERE: Write and ask you Senator(s) to sign the letter (or, thank them if they already signed! - see list below).
Find the phone number of your Senators if you want to contact them by phone.
Deadline to sign on: Friday April 10th.
Signatures as of Tuesday, April 7, 9:00 AM: 27 (see list below)
Additional Signatures Needed to Reach Last Year's Record: 14
(** Along with the Peace Corps letter, we encourage you to urge your Senator(s) to also sign a similar letter - being circulated by Senators Todd Young (R-IN) and Richard Durbin (D-IL), requesting strong funding for all international affairs funding, including Peace Corps)
Senators who signed the Feinstein-Collins Peace Corps Funding Dear Colleague Letter (List of Current Signers Below)
California: Feinstein (co-author)
Connecticut: Blumenthal, Murphy
Colorado: Bennet
Delaware: Carper, Coons
Hawaii: Schatz
Illinois: Duckworth
Maine: Collins (co-author), King
Maryland: Cardin, Van Hollen
Massachusetts: Warren
Michigan: Peters, Stabenow
Minnesota: Klobuchar
Nevada: Rosen
New Hampshire: Hassan, Shaheen
North Carolina: Tillis
Ohio: Brown
Oregon: Wyden
Rhode Island: Reed, Whitehouse
Vermont: Sanders
Virginia: Kaine
Washington: Cantwell
House of Representatives
The co-chairs of the House of Representatives Peace Corps Caucus, RPCVs John Garamendi (D-CA) and Joe Kennedy (D-MA), and Representative Garrett Graves (R-LA) circulated a letter that their colleagues can sign, asking that Peace Corps funding for the fiscal year that begins this coming October (FY 2021) be increased to $450 million.
THIS LETTER IS NOW CLOSED.
Our thanks to all who reached out to their House Reps on this important action.
We await a final update on signers of this letter.
You can read the House letter here.
Lawmakers who Signed the Garamendi - Graves - Kennedy Peace Corps Funding Dear Colleague Letter (List of Current Signers Below)
Deadline to sign on: Thursday March 12, 2020 (a final signature count is still pending)
Signatures as of Thursday, March 12, 4:00 PM: 167
Additional Signatures Needed to Surpass Last Year's Record: 15
Alabama: Sewell
Alaska: Young
American Samoa: Radewagan
Arizona: Gallego, Grijalva
California: Barragan, Bass, Bera, Brownley, Carbajal, Chu, Cisneros, Costa, Susan Davis, DeSaulniers, Eshoo, Garamendi (co-author), Harder, Khanna, LaMalfa, Barbara Lee, Mike Levin, Lieu, Lofgren, Lowenthal, Matsui, McNerney, Napolitano, Panetta, Scott Peters, Porter, Rouda, Roybal-Allard, Sanchez, Schiff, Speier, Swalwell, Takano, Vargas, Waters
Colorado: DeGette, Neguse, Perlmutter, Tipton
Connecticut: Courtney, DeLauro, Hayes, Himes, Larson
Delaware: Blunt Rochester
District of Columbia: Norton
Florida: Castor, Deutch, Hastings, Murphy, Shalala
Georgia: Bishop, Hank Johnson, Lewis, David Scott
Hawaii: Gabbard
Illinois: Bustos, Casten, Davis, Foster, Garcia, Kelly, Lipinski, Rush, Schakowsky, Schneider
Indiana: Carson
Iowa: Steve King, Loebsack
Kansas: Davids
Kentucky: Barr, Yarmuth
Louisiana: Graves (co-author)
Maine: Golden, Pingree
Maryland: Brown, Raskin, Ruppersberger, Sarbanes, Trone
Massachusetts: Kennedy (co-author), Keating, Lynch, McGovern, Moulton, Pressley, Trahan
Michigan: Dingell, Kildee, Andy Levin, Slotkin, Tlaib
Minnesota: Craig, Peterson, Phillips
Mississippi: Thompson
Nevada: Horsford, Lee, Titus
New Hampshire: Kuster, Pappas
New Jersey: Gottheimer, Kim, Malinowski, Pallone, Pascrell Jr., Payne Jr., Sires, Chris Smith, Van Drew
New Mexico: Haaland
New York: Clarke, Delgado, Engel, Espaillat, Higgins, Katko, Sean Patrick Maloney, Meeks, Morelle, Rice, Suozzi, Tonko, Velazquez
North Carolina: Adams, Butterfield
Northern Marianas: Sablan
Ohio: Beatty
Oregon: Blumenauer, Bonamici, DeFazio
Pennsylvania: Boyle, Evans, Fitzpatrick, Wild
Puerto Rico: Gonzalez-Colon
Rhode Island: Ciciline
Tennessee: Cohen
Texas: Allred, Castro, Doggett, Escobar, Vicente Gonzalez, Green, Jackson-Lee, Veasey, Vela
Vermont: Welch
Virginia: Beyer, Connolly, Luria, McEachin, Spanberger, Wexton
Washington: DelBene, Heck, Jayapal, Larsen, Schrier, Adam Smith
Wisconsin: Kind, Moore
---