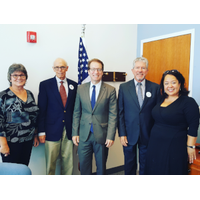 When one thinks of legislation before Congress, thoughts come to mind of hundreds, even thousands of pages of text, quite often confusing to the general public with arcane references to legislative definitions, the United States Code, and subsections.
But that's not the case with House Bill 1295, legislation that would allow for a simple, no-cost fix to honor Peace Corps service.
Introduced by Congressman Albio Sires (D-NJ) and David Young (R-IA), the heart of the legislation is this: "The official seal or emblem and the name 'Peace Corps' may be used on any death announcement, gravestone, plaque or other grave marker of any person who served as a volunteer or as an officer or employee of the Peace Corps…"
The original Peace Corps Act – signed into law 56 years ago tomorrow, September 22nd – did not include the iconic Peace Corps logo as an allowable use to honor service at the time of death. The Sires – Young legislation, all 143 words of it, would correct that.
Take Action Now!
This is a piece of legislation every member of the House of Representatives can get behind. But they won't act unless you ask them!
Follow this link to see if your rep is already a co-sponsor. If s/he is, send them a thank you message!
If they are not signed on, ask them to become a co-sponsor of H.R. 1295. Call your rep or send an automated message (be sure to edit and personalize your message)
Reach out to others you know and ask them to take similar action!
Want to get more involved in efforts to pass this legislation? Contact us at jonathan@peacecorpsconnect.org.
(Photo: After meeting with constituents earlier this month in suburban Chicago, Congressman Peter Roskam agreed to become the next co-sponsor of the Respect for Peace Corps Volunteers Act!)
---