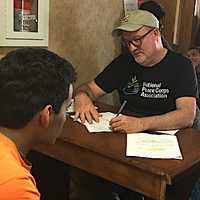 As we celebrate Volunteers returning to service in dozens of countries, we pay tribute to a leader here at NPCA who made a difference at a critical time for the Peace Corps community.
By Dan Baker
At left: El Paso, 2019 — Glenn Blumhorst assists migrants at the border.
Just as the Winter 2023 edition of WorldView went press, Carol Spahn was sworn in as Director of the Peace Corps. I was delighted to be there as RPCV Rep. John Garamendi delivered the oath of office. This is an exciting and important moment. The Peace Corps community has spent nearly three years seeking to maintain and restore Volunteer programs across the world. There have been enormous obstacles, and the Peace Corps has emerged from the pandemic with a renewed clarity of purpose, better Volunteer services, and an undeniable sense of urgency that it hasn't seen since its inception. And at the beginning of 2023, the return to service continues to gain strength and momentum, thanks to the hard work of hundreds of local Peace Corps staff, agency leaders, health and safety professionals, recruiters, and all of those who make these programs possible. We especially celebrate Volunteers boldly leading the way into the new Peace Corps.
The pandemic forced National Peace Corps Association, like many organizations, to pivot in unforeseeable ways. The past few years have arguably been the most important in the history of this community-driven organization. NPCA itself looks much different than it did even one year ago. One of the key changes we must acknowledge was the departure last year of NPCA's longest-serving president and CEO, Glenn Blumhorst.
We celebrate Glenn's important new role with the Peace Corps Commemorative Foundation, which will establish a commemorative just steps from the Capitol. At the same time, many at NPCA will greatly miss his leadership of the organization. I find it fitting to honor his tenure at NPCA in this edition of WorldView by sharing some of his Peace Corps story — and a few of his most important achievements.
Amplifying Impact
Glenn launched his career with the Peace Corps, serving as an agriculture extension Volunteer in Guatemala 1988–91, supporting 18 rural Mayan Indian communities in the central highlands. Those who know his skills and dedication to service would not be surprised to know how successful he was as a Volunteer, working to increase household incomes, build an elementary school, and bring electricity to a remote village of 40 families. That work led him to nearly two decades of increasing leadership roles with the international development organization ACDI/VOCA. Then, in 2013, following a national search by NPCA, Glenn was brought on to serve as its president and CEO.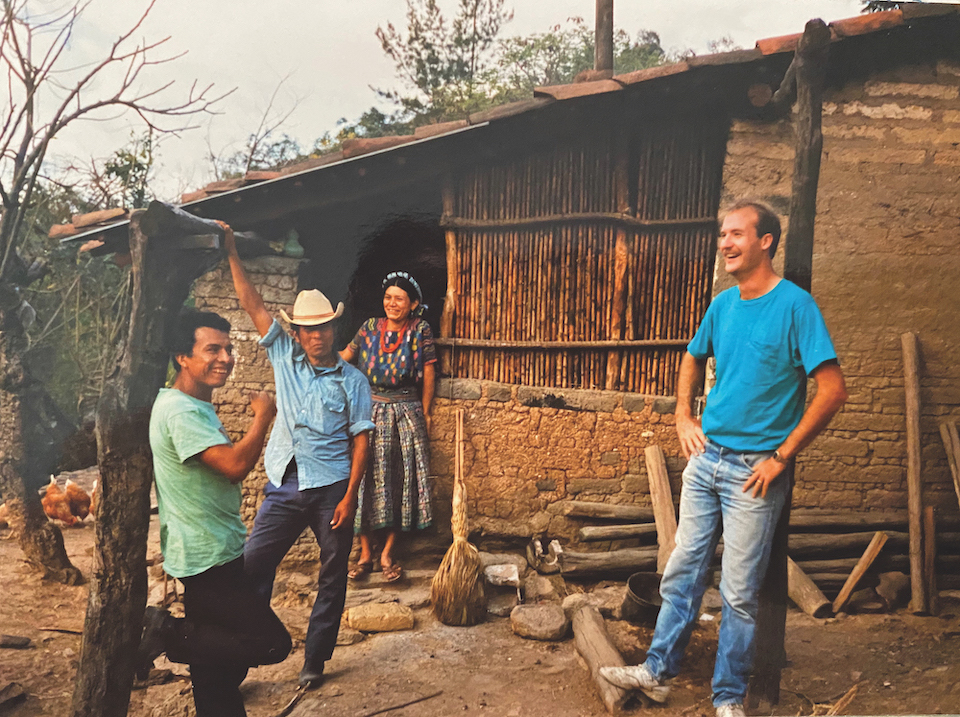 Community partners: In the highlands of Guatemala, from left, Manuel Alvarado, Tiburcio Alvarado, Carmelina Alvarado Gonzales, and Volunteer Glenn Blumhorst. Photo courtesy Glenn Blumhorst
Glenn soon set to work transforming NPCA: guiding the organization from struggling alumni association to a dynamic community-driven social impact enterprise. That new vision was informed in large part by Glenn's "listening tours" across the country — meeting with NPCA affiliate group leaders, donors, and individual members to better understand their priorities. His travels took him to meet with members of the Peace Corps community in all 50 states — at potluck dinners and annual meetings, community service projects and RPCV reunions — to listen and share experiences and, together, plan for the future.
Glenn restored and strengthened NPCA's financial health by adopting a new business model: moving away from a dues-paying membership to opening membership to all. NPCA invited community members to invest in and support causes they care about, and NPCA provided avenues for voluntary financial contributions. That quadrupled annual revenues, enabled us to triple our staff and grow programs, and exponentially increased member engagement in NPCA's mission. RPCV affiliate groups grew as well, from 130 to 185 under Glenn's leadership, with many focusing explicitly on specific social impact causes.
Glenn helped modernize NPCA's advocacy program and grew constituent outreach. That fed successful efforts to increase Peace Corps' federal appropriations by $30 million — and it helped fend off attempts to slash the agency's budget (even defund it!) as well thwart an ill-advised attempt to fold the Peace Corps into the State Department. Along the way, Glenn ensured NPCA never lost sight of important reforms needed within the agency to improve Volunteer safety, security, healthcare, and post-service benefits. A milestone in that work: The Sam Farr and Nick Castle Peace Corps Reform Act, signed into law in 2018, which improved the provisioning of healthcare for Volunteers, program oversight, and how the agency handles sexual assault allegations.
Living Peace Corps Ideals
The lack of services for returning Volunteers is something Glenn understood. He worked with NPCA to put in place — well before COVID-19 hit — the framework for the Global Reentry Program. That program was launched immediately when the global evacuation of Volunteers was announced in March 2020. (I stepped down from the NPCA Board to join the staff as director of the program.) The long-term vision is to provide a bridge between Volunteers' service and a lifetime of Peace Corps ideals.
Amid the turmoil of the pandemic's early days, NPCA also successfully lobbied for $88 million in additional support for Volunteers; and NPCA worked to get the U.S. Department of Labor to issue guidelines that evacuated Volunteers were eligible for help under the Pandemic Assistance Program.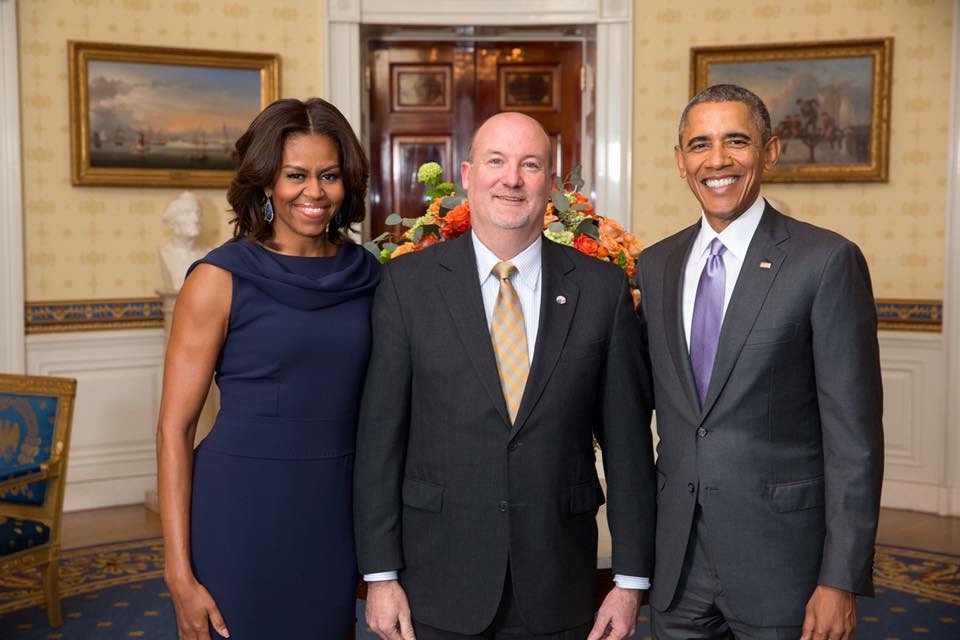 Global partnership: In 2015 with Michelle Obama and President Barack Obama, Glenn Blumhorst marks the launch of the Let Girls Learn initiative. Photo by Pete Souza/The White House
In summer 2020, harnessing the experience, commitment, and innovative ideas of the Peace Corps community, NPCA convened a series of national town halls and a global ideas summit under the title Peace Corps Connect to the Future. A community-driven report from the summit contained over 220 recommendations to Congress, the Peace Corps agency and executive branch, and the Peace Corps community. It has served as a vital roadmap for many reforms and improvements that began being implemented by Peace Corps leadership prior to the return of Volunteers to service. It's fair to say this community-driven effort also laid the groundwork for some of the most sweeping Peace Corps legislation proposals in a generation.
These are just a few of the initiatives Glenn led NPCA to tackle. There is the launch of the Community Fund to support community projects by Volunteers, returned Volunteers — and, beginning in 2020, evacuated Volunteers — in the U.S. and globally. There is the Benevolent Fund, to support RPCVs experiencing acute hardship. And in the future, there will be Peace Corps Place, envisioned as a hub for the Peace Corps community in the Truxton Circle neighborhood in Washington, D.C.
Glenn has begun leading a multimillion-dollar capital campaign to underwrite design and construction of the Peace Corps Commemorative. It will honor the creation of the Peace Corps in 1961 and those aspects of the American character exemplified by Peace Corps service. We are deeply grateful to Glenn for his past, present, and future service to Peace Corps ideals, and we look forward to celebrating this commemorative together when it is completed.
As a part of all that NPCA has accomplished under Glenn's leadership, we have seen tremendous growth in how NPCA tells its stories. The past three years this work has been led by Director of Strategic Communications and Editor of WorldView Steven Saum. With thought and care, the WorldView team has crafted a magazine of powerful stories and images. Those efforts have earned top national awards the past two years. Behind the scenes, Steven also orchestrated NPCA's social media presence, newsletters, and other publications — notably the "Peace Corps Connect to the Future" report. We are sorry to announce that this will be Steven's last edition of WorldView magazine as he moves into a new role in California.
Interim successors for Glenn and Steven are in place, but we will stand on their shoulders as we move into the next chapters of support for a united and vibrant Peace Corps community. Please keep in touch, and stay connected online and through our email newsletters. And watch for more important Peace Corps news in upcoming editions of WorldView.
---
Dan Baker is President and CEO of National Peace Corps Association. He served as a Volunteer in Bolivia 1999–2002 and Timor-Leste 2002–03, and with Peace Corps staff in Washington, D.C., Costa Rica, and Ethiopia. Write him.
---