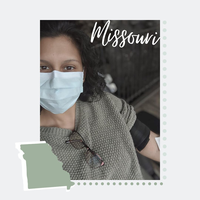 Ideas and resources for the Peace Corps community
By James Rupert
Photo: RPCV Mia Richardson donating blood. Courtesy RPCVs in Service at Home

As evacuated Peace Corps Volunteers seek new jobs — and as all Returned Peace Corps Volunteers ask what we can do for our country — the COVID-19 pandemic has only increased America's need for the commitment, experience, and skills we built in Peace Corps.
Organizations across the country are hiring new crisis responders: thousands of paid contact tracers to work via phone and internet to suppress COVID's spread. We need new public health workers — with and without medical or clinical skills. The range of need is vast: building online communication, keeping key facilities safe from the virus, empathetically engaging high-risk communities, and more. RPCVs, including teachers and development specialists, are needed to build stronger communities and help those most at risk: migrants, refugees, low-wage earners, the elderly, or disabled.
Thousands of missions can be found in the blossoming "mutual aid" movement of neighborhood groups nationwide, or with AmeriCorps, including VISTA, or the Senior Corps. Virtually every state government has a volunteer service commission — a resource often overlooked.
As COVID-19 upends our world and deepens its preexisting ills and inequities, how will Americans — and Returned Peace Corps Volunteers in particular — respond? No matter how you may find yourself answering that call, we would like to hear your story; it can be helpful to the wider Peace Corps community. Write a brief note to National Peace Corps Association about your chosen mission, large or small, against COVID-19.


Join Them: RPCVs Serving at Home
RPCVs Serving at Home is a new effort led by evacuated Peace Corps Volunteers to help their communities in times of crisis. In the few weeks since they were founded by Volunteers who had been serving in North Macedonia, as of May 7 they've logged nearly 1,000 hours of community service and grown to more than 200 members. Scores of volunteers from almost every Peace Corps region are taking part, doing work in 19 states so far. Their goals: Help the community, stay engaged by doing meaningful work, and show the important presence of Peace Corps here at home. Check out their Facebook Page or follow them on Twitter for ideas and opportunities, and to help demonstrate the scale of commitment by the RPCV community during this critical time.

Contact Tracing Jobs
RPCVs, including recent evacuees, bring strong credentials for the rising number of these critical COVID-fighting jobs with state and federal public health units. Contact tracers (remotely) interview people infected with COVID-19 to identify anyone they might have encountered closely enough to have transmitted the virus. The job requires organizational, communications, and cross-cultural skills — plus initiative, patience, and empathy.

Contact Tracing Training
Johns Hopkins University has published an online course in contact tracing through Coursera. Enrollment is free and available here. The intro to the program notes: "The COVID-19 crisis has created an unprecedented need for contact tracing across the country, requiring thousands of people to learn key skills quickly. The job qualifications for contact tracing positions differ throughout the country and the world, with some new positions open to individuals with a high school diploma or equivalent."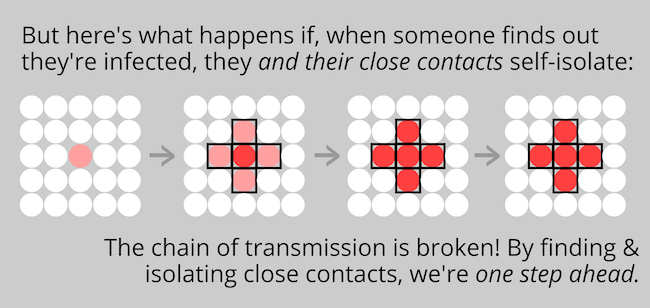 Public Health Jobs — With or Without Medical Skills
Public health agencies and organizations are hiring for roles ranging from administration or organizing to medical and science specialties, to hospital health aides supporting veterans and their families.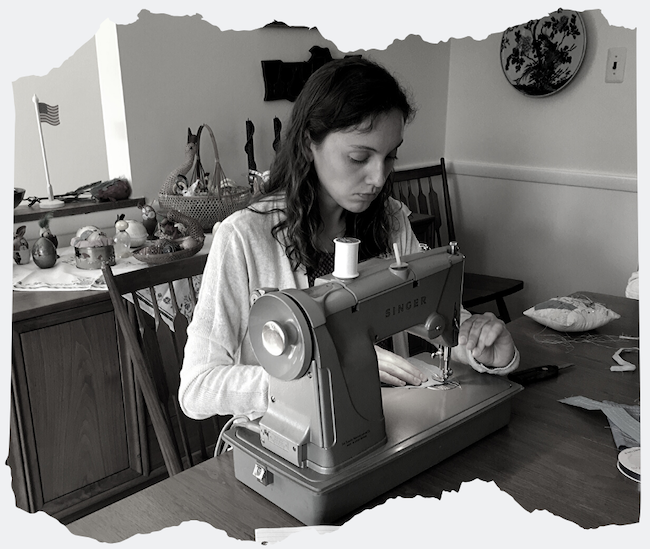 Making masks at home: Returned Peace Corps Volunteer Malin Serfis. Photo courtesy RPCVs Serving at Home
Community Support: Teaching, Organizing, Crisis Response
You can find most community support roles locally, but national directories can also help. VolunteerMatch lets you search among more than 100,000 local voluntary organizations for specific local missions — education, human rights, the environment, hunger, homelessness, women's issues, fighting the ills of COVID-19 and more. A similarly massive, searchable database is at Points of Light. Read how COVID-19 is pushing many volunteer groups more to digital operations that you could help with. Then check the in-person and digital volunteer options below.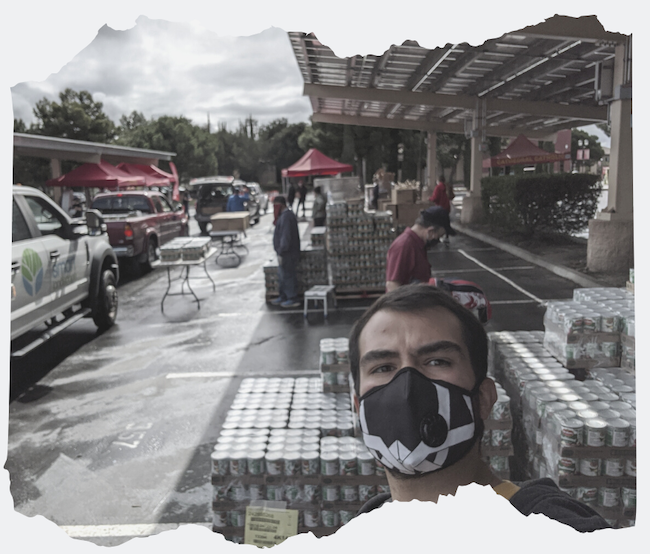 Helping at San Diego Food Bank: Returned Peace Corps Volunteer Zac Norbović. Photo courtesy RPCVs Serving at Home
Neighbors in Need: Refugees, Homeless, Prisoners, Elderly
The COVID-19 pandemic is exacerbating patterns of inequity and injustice that have pushed many people to the margins of our wealthy society. The nation's response must help those at the margins, and RPCVs have vital skills for that challenge.
Finally, share and improve this list! As you seek your own next mission, check for independent evaluations of nonprofit groups through Charity Navigator, GuideStar, or GreatNonProfits.org.

---
James Rupert is foreign affairs editor for U.S. Institute of Peace. He served as a Peace Corps Volunteer in Morocco (1980–82) and has been a correspondent and editor for the Washington Post, Newsday, and Bloomberg News.
Story updated May 17, 2020 1 p.m. to include information about registering for state agencies for work in contact tracing.
---