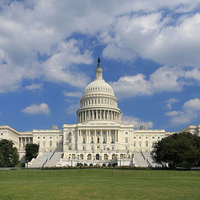 On the day in which fallen Peace Corps volunteer Nick Castle would have celebrated his 28th birthday, legislation has been introduced in the United States Senate to address a series of issues related to the health and safety of Volunteers.
The Nick Castle Peace Corps Reform Act of 2018 (S. 2286) was introduced Wednesday, January 10th by Senator Bob Corker (R-TN), Chairman of the Senate Foreign Relations Committee. Other lead sponsors include Senators Johnny Isakson (R-GA), Dianne Feinstein (D-CA) and Chris Coons (D-DE).
Nick Castle died while serving in China in 2013. A November 2014 report on the death by the Peace Corps Office of Inspector General cited poor judgement and misdiagnosis by the Peace Corps Medical Officer, as well as "cascading failures and delays in treatment."
About the Legislation
Provisions in the Corker legislation would ensure that "the Peace Corps maintains well-qualified and capable medical officers and support staff for overseas Peace Corps posts and that the Director reviews and evaluates the performance of such staff and implements outstanding recommendations by the Inspector General to improve associated systems and programs."
Another key provision would allow Peace Corps to be fully involved in the diagnosis, treatment and support of returning Volunteers with service related illness or injuries for a four-month period following their completion of service. Currently, volunteers who come home with service-related health issues are swiftly referred to the U.S. Department of Labor (DoL) for benefits provided under the Federal Employees Compensation Act (FECA).
Along with requiring public disclosure of volunteer satisfaction surveys and other reporting requirements, the legislation would also promote further reforms and extend key initiatives pertaining to sexual assault and other acts of violence against volunteers. This includes a re-authorization of the Peace Corps Office of Victim Advocacy and the agency's Sexual Assault Advisory Council.
Click here for a copy of the legislation.
Click here for Senator Corker's press release.
House Legislation
Meanwhile, Peace Corps health legislation in the House of Representatives (H.R. 2259) introduced last May by Congressman Ted Poe (R-TX) and returned Peace Corps Volunteer Joseph Kennedy III (D-MA) has a bi-partisan list of nearly 50 co-sponsors.
Along with the most provisions outlined above, the House legislation also includes an important proposal for volunteers who served their country but came home with service-related injuries or illness that rendered them temporarily or permanently disabled. The legislation proposes raising the worker's compensation payments for these individuals. This has been a priority issue of the affiliate group Health Justice for Peace Corps Volunteers, which has led efforts and worked tirelessly for years on efforts to provide relief for those in our community who struggle most in the aftermath of their service. However, questions have arisen about the ability to sustain this provision in accordance with House rules on entitlement spending.
Forward Motion
"While the content and presentation of the Senate and House Peace Corps health bills have significant differences, we are grateful that Senator Corker, Congressman Poe and other lead sponsors have introduced legislation to keep us moving forward," said NPCA President and CEO Glenn Blumhorst. "Taken together, both bills contain improvements, reforms and re-authorizations that are important to various members of our community. We look forward to continued progress with Senate and House sponsors, and urge them to work collaboratively so we can come away with the best possible legislation to support our Volunteers and respect their sacrifices in serving our country."
Take Action
Call your Senators and ask them to support and advance S. 2286, Peace Corps health legislation introduced by Senator Corker.
If your Congressman/woman has not yet co-sponsored H.R. 2259, take action here.
---