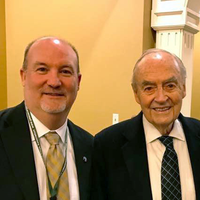 The question over the phone unsettled me. "Will Senator Wofford be joining you?" I was calling to make a reservation for a regular group of Peace Corps friends at Ristorante La Perla, our preferred lunch spot on Pennsylvania Avenue.
It was logical that Vincent, the restaurant's host, would ask. This was Harris Wofford's preferred meeting place for lunch or dinner, just a short walk from his Foggy Bottom apartment. Peace Corps people usually didn't gather there without him. But this time was different.
I hesitated and collected myself before telling Vincent that Senator Harris had passed away. With reverence Vincent thanked me for the news. "I'm so sorry" he said. "He was a dear friend to all of us and we will miss him." Vincent and the restaurant staff were among thousands who regularly spent time with Harris and considered him a dear friend. Harris would have expected it. He was just that way. He always took time to visit with La Perla's chef and all the service staff. He made them feel important. People mattered to Harris.
I won't forget the crisp sunny March day in 2013, my very first day on the job as NPCA president and CEO, when I first met the Honorable Senator Harris Wofford. He had come to help us advocate for the Peace Corps in the halls of Congress on NPCA's 9th annual National Day of Action. Everywhere we went, Harris was met with admiration and respect. Capitol Hill police called him by name. "Senator Wofford, it's good to see you again." Congressional staffers stopped us to thank him for his statesmanlike leadership. Senators gave generously of their time for our small group of citizen advocates. Senator Wofford was with us.
Whether one has known him six years or 60 years, everyone who knew Harris legitimately called him a friend. From the Washington, D.C. taxi driver from Ethiopia who shared a five-minute Amharic chat with him to President Obama, who shared a podium with him, thousands of people looked up to him and called him friend.
Losing a friend is difficult. Losing a giant like Harris leaves a tremendous void in the Peace Corps community and the voice for national service.
Michael Gerson gave this tribute to Harris Wofford. "We are a nation that talks a great deal about who should be a citizen. There is less emphasis on how to be a citizen. And that is often learned in the company of others who share a public goal. Bonds of common purpose become ties of civic friendship, reaching across political divides. In a time of bitterness, choosing to serve others offers a kind of healing grace."
My wish is that we all will become more like Harris Wofford in these challenging times. Take time for the people like Vincent along life's path. And may we find healing grace in serving others just as Harris did, for a lifetime.
With great respect.
Glenn Blumhorst, NPCA president and chief executive officer. He served in Guatemala from 1988 to 1991 and welcomes your comments at president@peacecorpsconnect.org.
This story was first published in WorldView magazine's Spring 2019 issue.
---