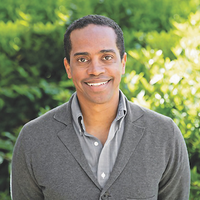 A remembrance of Harris Bostic II (1963–2022)
By Steven Boyd Saum
After studying at Morehouse College, Harris Bostic embarked on a career on Wall Street. He left that to serve with the Peace Corps in Guinea, West Africa, as a microcredit advisor 1988–91. He returned to his hometown of Atlanta to serve as a program manager for the historic 1996 Atlanta Olympics. The Peace Corps was fortunate to have him back as regional director for the western U.S., 1998–2005.
He went on to work with Prepare Bay Area, the Clinton Foundation, and others. Since 2016 he served as senior advisor at Tides in San Francisco, working with hundreds of nonprofit organizations and foundations, "bringing the community organizing and change-making skills together," as he said. He focused on supporting Black, Indigenous, and people of
color–led entities to achieve redistributions of power, growth, social capital,
access, and collaboration.
He served on the board of National Peace Corps Association and in recent years took time to speak at events on African Americans and the future of the Peace Corps, as well as philanthropy and business. He passed away on March 6, 2022, surrounded by family.
---
This remembrance appears in the Winter 2023 edition of WorldView magazine.
---