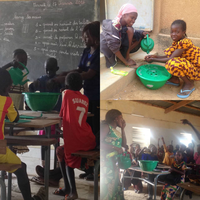 Thanks to NPCA's partnership with Water Charity and the generous support of the Peace Corps Community (this means you), school children in Senegal and Albania now have access to clean water and sanitation facilities and training. Many schools still have no such access, increasing in the risk of waterborne diseases like guinea worm. Girls in particular suffer when there's no bathroom at school, so they end up missing days or dropping out entirely.
At the conclusion of the Agnam Tonguel School Water Project in Senegal, Peace Corps Volunteer Jillian McIntosh reports:
Two bathroom stalls were built, and the existing damaged stall was fixed. Thus, the primary school now has three working bathrooms for their students and staff.

Ten primary school teachers, and the director, received WASH training by the PCV. We discussed the 5 times that are crucial for hand-washing to prevent disease: before eating, after using the toilet, after washing a child's bottom, before cooking, and after greeting an ill person.

Hand-washing stations were distributed to each classroom after the teacher recreated the hygiene lesson to their students, while observed by the PCV. Students demonstrated to the PCV and teacher that they could thoroughly wash their hands and recite the 5 crucial times.
Jillian has completed her service, but a new PCV who has continued the work by painting hand-washing murals at the school and ensuring that the facilities are maintained. Thank you, Jillian!
At the conclusion of Vehcan School Water Project in Albania, Peace Corps Volunteer Kyle Moye reports:
The plan for the project was to renovate three bathrooms and plumbing, serving 94 students.

To promote personal hygiene, a health fair was organized prior to the bathroom reconstruction. The health fair included local nurses, students, and representatives from the local Red Cross and State Health Department. The entire community was invited to attend the health fair, which consisted of hand washing and personal hygiene lessons for the children, and diabetes testing, blood pressure checks, and an information panel by the Red Cross, for the adults.

After the health fair was completed a team of local experts, students, and school staff were assembled to take on the task of planning the reconstruction of the bathrooms. With the help of a local plumber and some community members the bathroom was quickly renovated and is now fully functional.

The community is very thankful for the final result. The girls and community of Vehcan now have a clean bathroom with running water at their school
Thank you, Kyle!
These two projects were completed in the last month alone, and at least six more like them have just been approved. If you'd like to support the work of currently serving and returned Peace Corps Volunteers to increase access to clean water and sanitation for the world's most marginalized people, give today to our Community Fund campaign.

---