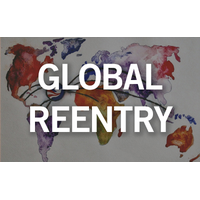 Global Reentry: A Bridge between Peace Corps Service and a Lifetime of Peace Corps Ideals
By Dan Baker
Just days after Peace Corps Volunteers began a global evacuation in March, National Peace Corps Association officially launched a program that had long been in the works — but was suddenly urgent: the Global Reentry Program to support the Returned Peace Corps Volunteer community, especially those evacuated this spring.

Global Reentry aims to connect returned Volunteers with the resources they need for personal and professional success as we also further the ideals of the Peace Corps. It's geared to help recently evacuated Volunteers and those who closed their service in the last few years — as well as those who finished service decades ago. The purpose is to welcome Volunteers home with this assurance: We're here for you.

This is part of our commitment to helping, individually and collectively, to translate the Peace Corps experience and ideals into successful careers, and to exponentially increase our social impact.

We've long understood that too few RPCVs are aware of — or able to access — either our network or the benefits available after they return. The truth is, our community has long supported fellow returned Volunteers. In March, along with unprecedented need from evacuated Volunteers, we also witnessed the global network mobilize like never before in support of returning Volunteers.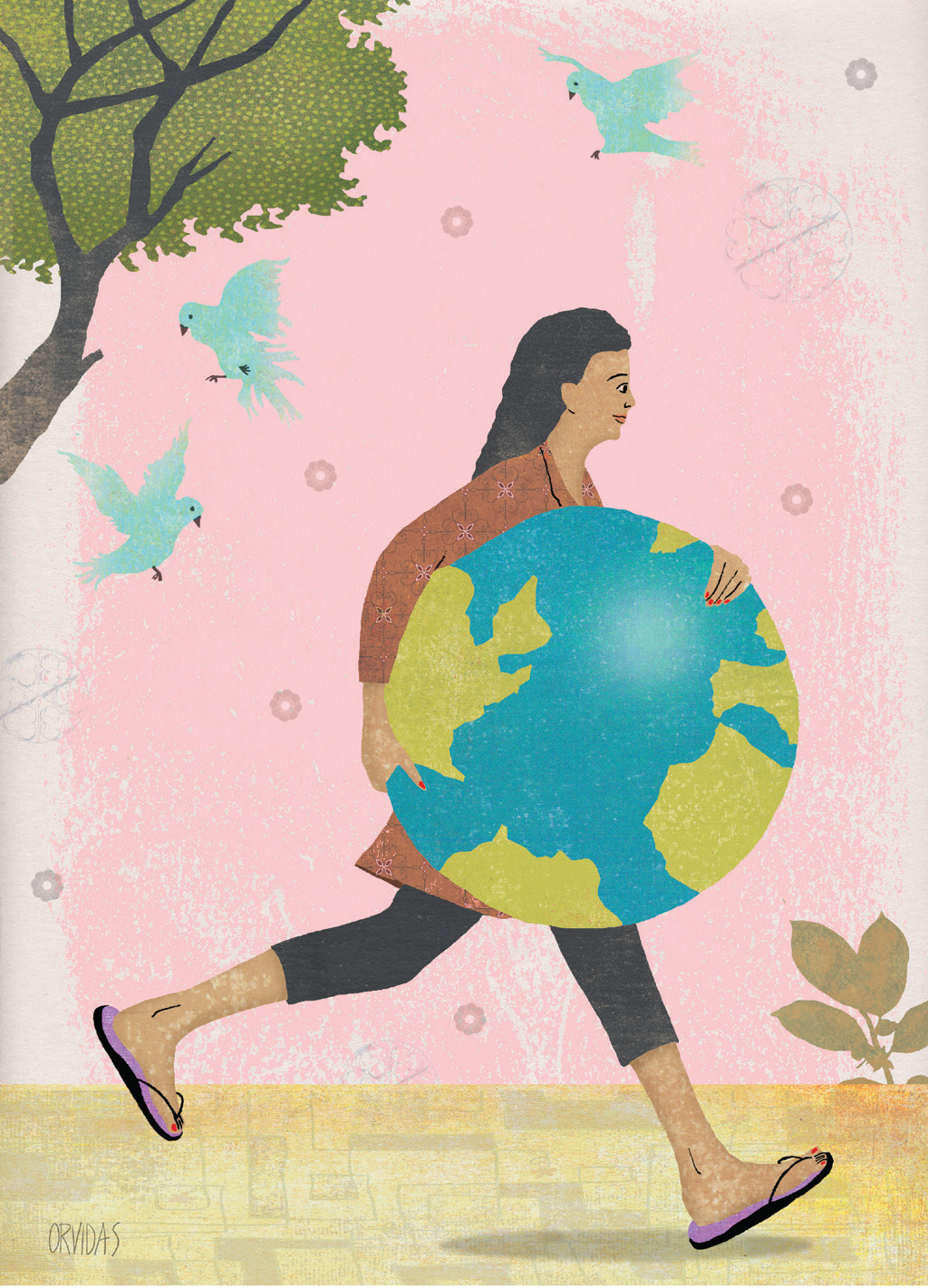 Illustration by Ken Orvidas

We have been flooded with offers of support from within our community: sharing advice through Facebook groups, signing up as career mentors, making donations, engaging in advocacy actions, and asking again and again, "How can I help?" This demonstration of solidarity is truly awe-inspiring.
Four Pillars
So what does Global Reentry do? Open doors to career counseling services, educational opportunities for degree seekers and lifelong learners, avenues for seeking and advocating for health services, and also opportunities for continued social impact. Read more about these below.

We're all part of a community of many thousands who recognize the sacrifice and accomplishments of every Peace Corps Volunteer, and the strengths and assets that you offer well beyond your host country assignments. Take a moment to join the Global Reentry program on the NPCA website. Bookmark our events calendar to join upcoming discussions.

Global Reentry marks our commitment to helping, individually and collectively, to translate the Peace Corps experience and ideals into successful careers, and to exponentially increase our social impact. While this program has tremendous potential, we look forward to hearing from you about your hopes, needs, and suggestions as we continue to build and sustained this program for the benefit of all current and future returned Volunteers.

We're a community that knows how to act. And a community that listens.
Career Services



Links RPCV career seekers to resources for conducting an effective job search: a series of webinars facilitated by experienced career counselors, podcasts, access to career mentorship programs, and job postings targeting RPCV candidates. A founding partner of the Employers of National Service program, NPCA and Global Reentry will use this new platform to continue encouraging employers to give consideration to RPCV candidates. We're fortunate to have on our team Jodi Hammer, with years of experience helping RPCVs with career transitions. Check out her Jobs with Jodi podcast for starters.
Educational and Learning 
Opportunities



A clearinghouse for opportunities promoted by our many partner universities throughout the United States and abroad. Many RPCVs are also interested in staying up to speed in on international development efforts — particularly in their countries of service — as well as learning new ways to further the Peace Corps mission, or simply staying abreast of new and noteworthy service-related professional topics. We plan to build out information on these and other learning opportunities.
Well-Being



Transitioning from Peace Corps service is difficult, even in the best of times. It often takes years or even decades for RPCVs to rediscover the sense of community and belonging that they experienced as Volunteers. Many returning Volunteers have found great value in peer support from our community, and many have reached out with particular needs for support navigating or advocating for post-
service health benefits. NPCA has long supported and championed these needs and groups of RPCVs in their efforts to improve access to such benefits, which they can continue to do through Global Reentry.
Continuation 
of Service



Our community is committed to furthering the ideals of the Peace Corps through promotion of the Third Goal — through continued service in our communities — and by helping Peace Corps be the best it can be. Global Reentry will help further individuals' efforts by providing links to groups, organizations, and advocacy efforts that will increase our immediate social impact. That's critical now, as we rally for causes that are of immediate concern to our community: as we stand up for racial justice for all, respond to the COVID-19 pandemic, and combat climate change.
---
Dan Baker is Global Reentry Program Director at NPCA. He is an RPCV, Bolivia (1999-02) and East Timor (2002-03), has served on the board of directors of NPCA, and has held various Peace Corps staff positions between 2003 and 2016, including overseas program leadership positions in Costa Rica and Ethiopia.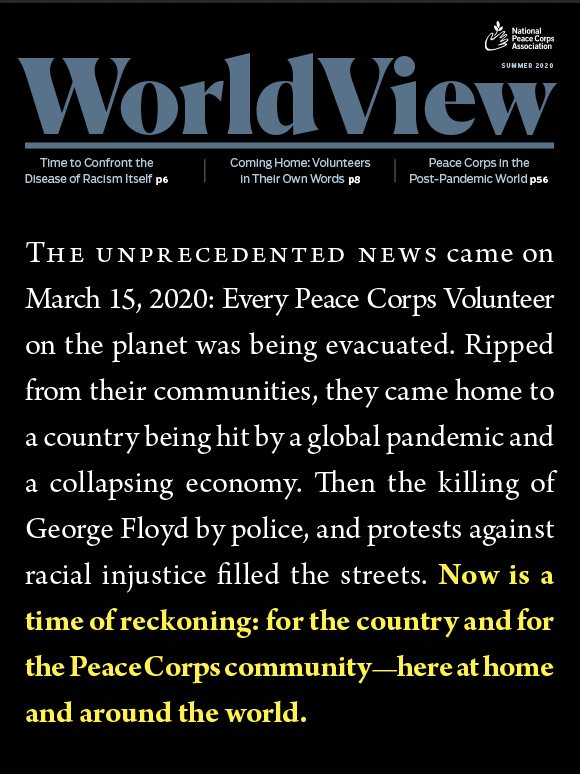 This story was first published in WorldView magazine's Summer 2020 issue. Read the entire magazine for free now in the WorldView app. Here's how:
STEP 1 - Create an account: Click here and create a login name and password. Use the code DIGITAL2020 to get it free.
STEP 2 - Get the app: For viewing the magazine on a phone or tablet, go to the App Store/Google Play and search for "WorldView magazine" and download the app. Or view the magazine on a laptop/desktop here.
Thanks for reading. And here's how you can support the work we're doing to help evacuated Peace Corps Volunteers.
---