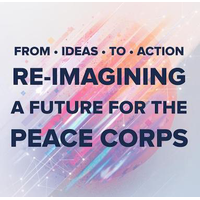 Evacuated Peace Corps Volunteers and one with half a century of leadership experience in conversation. The big question: How can we transform this moment in Peace Corps history?

On July 18, 2020, National Peace Corps Association hosted Peace Corps Connect to the Future, a global ideas summit. Four Volunteers joined NPCA President Glenn Blumhorst in conversation to discuss their experiences — and tackle some questions about how the believe Peace Corps — and the Peace Corps community — needs to change. Here's the discussion — with video highlights throughout. And a video of the full conversation.
Marieme Foote, Evacuated RPCV | Benin 2018–20
Rok Locksley, Evacuated RPCV | Philippines 2018–20
Juana Bordas | RPCV Chile 1966–68
In conversation with
Glenn Blumhorst, President & CEO, NPCA | RPCV Guatemala 1988–91


Marieme Foote: I'm a second generation Peace Corps Volunteer who was evacuated due to COVID-19 from Benin, where I served in the agricultural field from 2019-2020. First, as others have done before me today, I would like to start off by sharing condolences: Congressmen John Lewis and C.T. Vivian were giants during the Civil Rights Movement and should continue to serve as an inspiration for our current conversation. Congressman John Lewis said, "Never be afraid to make some noise and get in trouble, necessary trouble."
If you want NPCA and the Peace Corps to move into a better future, we need to push for radical shifts in order to continue to push the envelope. If not, we risk losing Peace Corps to time.
So to start off, I will also introduce some of the panelists that I've worked with. When we returned from getting evacuated, we formed a group with Women of Color Advancing Peace and Security (WCAPS) and we created a report that received over 450 responses on the experiences of evacuated Volunteers. And we've used this report to advocate to Congress on behalf of volunteers for PUA, healthcare, and other different topics.
I'm joined by Rok Locksley. Rok volunteered in the Philippines as a coral reef preservation Volunteer from 2018 to 2020. He also served in Moldova from 2005 to 2008, and was a Peace Corps recruiter from 2009 to 2016. And we're also joined by Juana Bordas.
Juana Bordas: Intergenerational leadership is a key thing in all communities of people of color. I'm Juana, and I served in the Peace Corps way back in the '60s, 1964 to '66. And I've had an illustrious career since, we might say. It's been 54 years since I was in the Peace Corps. So I do want to share all of the things that have kind of happened since then that were based on my decision, which is a decision all of us made: We made a decision to serve and to and to put our lives in the service of humanity. And I think that's what makes people powerful, has made me powerful, and Peace Corps powerful. I've spent my career building organizations for communities of color, particularly Latinos and Latina women, and also doing work in race and equity and trying to build the compassionate, good society.
Glenn Blumhorst: First I just want to say thank you so much, Marieme. This panel is something I was really looking forward to. As we kind of started talking about this, it seemed like the right way to do this was just to say: This is your panel discussion and make it what you want, and put together something to reflect on all these big ideas that we have — and your thoughts as the next generation of Peace Corps Volunteers. I'm glad you invited me to be a part of the conversation, and I'm really looking forward to hearing your reflections. The questions you put together are really important — not just for you, but for all of us. And I'm looking forward to hearing your answers. This is directed to everyone for a brief response. As we envision the reentry process for Volunteers, what do you think are the most important things to consider when supporting Volunteers in the future post service?
WATCH: Rok Locksley — Lessons from Reentry
Difficulty Upon Reentry
Rok Locksley: I'll take that one. I served in '05-'08 and then I served again in '18 to '20, so I was evacuated. But the first time that I finished my service, I came back into the 2008 economic depression. I started doing a lot of research, especially when I went to work for the agency. (Thank you, Jody Olson, for helping me get a job, back when we had an RPCV Career Center, to make all that happen!) Peace Corps has known for a very long time that returned Volunteers have had more difficulty upon reentry, rather than going into service. In fact, the Peace Corps like itself termed "reentry" in a paper in the '90s. They took it from the NASA program, because reentry is recognized as a very difficult process — as difficult as as leaving the earth.
There was a paper written in the '90s called "Psychological and Readjustment Problems Associated with Emergency Evacuation of Peace Corps Volunteers." That really nailed down what some of the problems were. This is where we started to see that Peace Corps, recognizing through its own surveys and own research, that Volunteers were having trouble with reentry to start with — but then evacuated Volunteers were seeing double the amount of difficulties.
So, 265 Volunteers were evacuated from Liberia, Philippines, and Yemen. The evacuated Peace Corps Volunteers coined the term that this was a "crisis of reentry." Fifty-one percent of all RPCVs found reentry very difficult, and that was the highest difficulty rating on the survey. All evacuees from this 1990s survey got a debriefing conference as part of Close of Service (COS), and that's how they got these surveys. Basically, the stats are: 30 percent of RPCVs experienced some sort of depression, where 60 percent of evacuated Volunteers experience depression. Then we see the stats doubling: 30 percent for a feeling of disorientation; 12 percent for periods of crying; 39 percent for a difficult transition back; 26 percent difficulty making decisions; 15 percent reported avoidance of thinking about Peace Corps as an experience; and 12 percent reported disturbing dreams. Take all those percentages and double them, and that's generally what evacuated Peace Corps Volunteers have been dealing with.
We are given three months of training to integrate into a community. At best we're given a three-day Close of Service conference to readjust to the States, but then no real support from the agency when we land.
We are given three months of training to integrate into a community. At best we're given a three-day COS conference to readjust to the States, but then no real support from the agency when we land. And especially with the discontinuation of RPCV Career Center, pretty much all we have is our RPCV groups and NPCA to help us make this transition. What we need to do is really provide a landing pad for RPCVs — because we know it's difficult. The agency knows it's difficult. And I think there are two ways to do this.
The first is that we have to flood the world with our stories. We have to talk about return on investment on Volunteers, and how do we measure that. But our greatest return on investment is the stories of Peace Corps Volunteers. So, if you don't have the fact that you are a Peace Corps Volunteer in your staff file at work, put it in there. When I was interviewing people [as a recruiter], the most common response to my question "How did you hear about Peace Corps?" was: a teacher, my parents, or I had a friend that served, my uncle or aunt served. So people were coming to us not because of our recruitment efforts, commercials, or radio spots; they were coming to us because of one-on-one connections that they'd had with people who shared these very beautiful, very intimate stories.
Our stories are really our greatest resource. We need to be sharing those at all opportunities. That's so that we can both inspire people into service, and then when they return, they know to look for RPCV groups who can help them find jobs and help them make this transition, so we can start to minimize that trauma.
WATCH: Juana Bordas — Peace Corps taught us leadership
Peace Corps Taught Us Leadership
Juana Bordas: I would take a little bit of a different perspective, I think. What I do today is I teach leadership, and I learned it in the Peace Corps. Futurists say there are two trends, two shifts, that we're going through. One is to become a global community, which we do by being in the Peace Corps. The second one is to create the inclusive, diverse, and equitable society. In other words, we're moving towards a multicultural society and world. The young millennials and the generation after them are already there. And I think we reframe the Peace Corps as something that taught us leadership, that made us global citizens, that made us inclusive and able to relate and embrace people of all cultures and ethnic groups and ages and generations, etc.
In the '90s, I worked with National Peace Corps Association to do a leadership program for Peace Corps Volunteers that were re-entering. But I've been listening some, and I think one of the things that's so important is for us to empower ourselves to understand — because when I came back from the Peace Corps, I went to get my first job, and I had this portfolio because I had been doing micro-enterprise work with women way back then. I had all this stuff, and I go to get interviewed, and the guy stops me and he says, "I'm really sorry, but we only hire people that have a master's degree in social work." This was the state of Wisconsin. Well, this was absolutely bizarre to me. I'm the first person in my family to graduate from college. My mother had a fifth-grade education. I thought this was ridiculous. And I had just come back from the Third World where I thought I had made a contribution. So I slammed my papers on the floor, and I said, "You don't understand. I was born to be a social worker. I was born to do this." And he looks at me and he says, "We can go down to the University of Wisconsin, we'll help you get a master's degree if you'll come back to work for us."
"Guess what? I'm a global citizen. I've made contributions across this globe. I'm inclusive. I love culture. I'm here to build this new world that's coming."
Now, I understand I had certain privilege there for the first time in my life, because I am Latina and I was able to speak Spanish, etc. But I had that sense of empowerment that I got through the Peace Corps. And I invite everyone just to stop for a minute to realize that, yes, it's difficult to come back, particularly under these circumstances. But I think the most important thing we can do as Peace Corps Volunteers is to have that banner that says: "Guess what? I'm a global citizen. I've made contributions across this globe. I'm inclusive. I love culture. I'm here to build this new world that's coming."
Especially today, with our problems in foreign policy, with our problems with the current administration, the work we need to do in the future is absolutely more critical. The other thing I'd like to say is that I've been at this for over 50 years. So it's not, I'm coming back from the Peace Corps and what I'm going to do. It's our lifelong commitment to building peace in the world.

Marieme Foote: I think that what we've all realized, even when we created the WCAPS report: Facebook and social media was definitely huge for us, in terms of bridging those connections. In the future, looking at ways that we can formalize those places where we can get information — a lot of RPCVs were offering help, therapy sessions, all types of help. If you're not on Facebook, you wouldn't know; or if you're not in these specific chats, you wouldn't know. So figuring out how can we get all of this information to all of these groups of Volunteers that need it — I think is definitely something that will be important when considering reentry for the future.
What does the future recruitment process look like?
Glenn Blumhorst: Thank you all. It's really great how a community comes together like that organically and helps, and that's what we saw emerge during the evacuation: when the group started forming and talking amongst themselves, and then also speaking with us and helping share with us what their needs and expectations were from the community, from NPCA, and from Peace Corps. So, thank you. Shifting a little bit to recruitment now, the question here is: How were you recruited? What does the future recruitment process need to look like? We've heard some ideas earlier today, but from your perspectives, what would it look like? There is another question that's really mostly for Juana: How can Peace Corps focus its efforts to recruit members who may be experiencing the crab syndrome? I think we'll kick it over to Rok first, if you don't mind, and then go from there.
Rok Locksley: I think, you know, it goes back to the question that was brought up earlier on one of the report outs: Where's the "peace" in Peace Corps, right? For me, peace is not like harmony and no conflict. It is absolutely a place of conflict, difficult questions, expanding our comfort zones, learning about other people and our world that we exist in — those are all peaceful things. What breaks the peace is when we have a disagreement that leads to some sort of violence. So I think that Peace Corps having healthy conversations about how they're going to recruit in the future — the question I was asked a lot as a recruiter was, "What is the Peace Corpse?" Right? So my thing is, like, let's not be the Peace Corpse, because that's not good! We're definitely the Peace Corps, right?
Let's not be the Peace Corpse, because that's not good! We're definitely the Peace Corps, right?
I remember as a recruiter 10 years ago, when we first started our big initiative with the Office of Diversity and Inclusion to recruit at Historically Black Colleges and Universities and start increasing our diversity numbers. I was sitting around in a conference room with a bunch of other recruiters; most of us were white, and there was one Black recruiter. And we were talking about strategies of: How do we recruit Black people? Or how do we recruit persons of color and Latino community members? How do we recruit these? How do we talk to these people? And then we were saying, We need to get this Black recruiter to come with us on campus to talk to the Divine Nine, or to talk to the different university groups. And he looks at us and he says, That is like — I recruit on white universities, right? You don't need to be a certain race or color to go recruit these people. But that, it was such an enlightening moment for me — and such a moment where I realized: Even in the Peace Corps, even working as a recruiter, my privileges, and my blinders are so on. Here is this guy — he was laughing at us, like, this is so ridiculous. And that was 10 years ago, when we first started doing it. So recruitment has a long way to go. And it's full of these difficult conversations and lots of apologies.
Glenn Blumhorst: Marieme, you're a child of a Peace Corps Volunteer yourself. Can you share a little bit from that perspective?

WATCH: Marieme Foote — How will Peace Corps and NPCA shift?
Marieme Foote: For me, it's like Peace Corps has always been something that I've always considered as something that I would do, because my father served in Peace Corps in Ethiopia and in Eritrea. I'm one of the few that has that connection, I think. And the fact that there were lower numbers of Volunteers that are people of color, that are Black, Latina — they don't have that kind of connection as other white Volunteers might have. So it's really important to also see how that could affect recruitment.
The other question that I have in terms of recruitment is looking overall at the mission of Peace Corps. When Peace Corps was first created, it was an exciting thing. It was something that was radical, really. And as we go forward and the population in the U.S. changes and a new generation comes about — they're dual national, they're all types of different backgrounds. They also have different expectations, and what they want to do and what they want to be a part of. They're questioning neocolonialism. They're having a lot of questions about Peace Corps overall. So how will Peace Corps and NPCA shift? I know even questions about joining NPCA; a lot of Volunteers that I know that are Black or Asian, or people of color, don't feel like NPCA or Peace Corps is for them. So, how do we expand that discussion and make them also feel like they are a part of this as well? You know, even for me, without the work with WCAPS, I'm not sure if I would have been as involved with NPCA. So I feel like that is a concern that I have, at least for recruitment and getting people involved with NPCA and Peace Corps.

Glenn Blumhorst: Thank you so much, Marieme. I really appreciate that, because I do believe that it's incumbent upon us to help create a more inclusive and welcoming community here on the part of NPCA for the Peace Corps, the greater Peace Corps community. Juana, did you have anything to add about the question specifically for you related to crab syndrome?

Juana Bordas: Yeah, but I also wanted to go back to some of the discussion I was listening to, to talk about coalition building and partnerships, particularly with communities of color. Because I think the association itself, for example, the Hispanic Association for Colleges and Universities that serves Hispanic-serving organizations, or the NAACP or some of the other organizations and in our communities that serve people of color — because it's through those organizations, not only can you learn and exchange and grow your power base and your numbers, but it also gives you an entree into into young — well, they don't have to be young, but into people of color that want to serve in this way. The other thing I would like to say about it is that servant leadership — and leadership as service and as social change — are absolutely pivotal in communities of color.
Leadership as service and as social change are absolutely pivotal in communities of color.
When I joined the Peace Corps, I actually joined the year that John F. Kennedy was killed. There was this tremendous upheaval in our communities about what we could do to support this vision that he had: about young people going and learning about the world and contributing. Today we have similar kinds of reasons for us to be able to go global and to try to help and work with communities. Of course, we all know we learn more than we get.
The crab syndrome, for people that don't know what it is: It's when when you grow up marginalized when you grow up in a society that does not validate your people, your history, your background, who you are, your incredible contributions to this country — you develop what's called the psychology of oppression. In other words, you begin to internalize the negative messages that society has put forth. And that's why identity building and learning our history — we have Black History Month and Hispanic Heritage Month, and all of that, because you have to integrate that into the American fabric if we're truly going to have a multicultural society. Where it comes in with the Peace Corps — well, first of all, I want to say that if you have that sense of ... All I wanted to do when I graduated from college was to give back, because I've been given so much. I'm an immigrant. I came here, I became educated. And so I had that sense of service, which I think is pivotal in communities of color. That's how we've gotten where we are, is to collaborate to help one another, and to serve.
This whole idea of service is a key thing for communities of color. Growing up, I didn't know I was smart; how could I know I was smart if I didn't know the language when I entered school? If I didn't understand the system? (And I do now, by the way.) So you begin to think everybody in your community is not smart — because I didn't have professors, teachers, Congresspeople. So that's the crab syndrome. What can I do? And am I good enough? Are my people not capable of doing it? Identity building becomes really important.
There are so many issues in communities of color that we're kind of caught in the crossfire. So the Peace Corps, in order to be able to really attract leaders in communities of color — for example, DACA students, which would be another political thing, but they're brilliant young people that are dealing with so many issues, and when they come to school, they are so talented. But then they've got to deal with immigration in this country. They've got to deal with homelessness. They have to deal with low-income wages, they have to deal with the cost of college education for kids. Somehow the Peace Corps has to be relevant to the many dynamic, critical issues that we face — and connect.
What I learned in Chile I was able to bring back and help start a center for Latina women that had a business center; that followed the micro-enterprise principles I worked on in Peace Corps. So it's that weaving together of the needs and challenges in communities of color. It's building those partnerships. It's making the Peace Corps relevant, and an experience that you can bring back to enrich your own community. And at the same time, for Anglos that come back from the Peace Corps, you need to join organizations and become multicultural yourself so that we can start building those bridges across communities and and fulfill our Third Goal.
What will future generations need?
Glenn Blumhorst: Absolutely, thank you so much, Juana. We've touched a lot here already on diversity and inclusion. But let's drill down on that a little bit more. For each of you, how will diversity and inclusion impact the Peace Corps in the future? And in that, what will the future generation need? How can you answer that?
WATCH: Marieme Foote — How do we not just recruit but retain Volunteers of color?
Marieme Foote: We're looking at stats for Peace Corps. You see diversity — at least the rates of Volunteers that are serving from different backgrounds — are going up and up. However, there isn't really any support in place for a lot of them. And we're also seeing that ET [early termination] rates for those volunteers of color are significantly higher than their white counterparts. So these are the questions that we really we need to be looking at and saying, Why is this the case? It's not just about recruitment. It's about how do we also retain these volunteers? How do we keep them interested? How do we get them involved with NPCA? And how do we do all of that?
Right now, there's great work that Volunteers are doing. I know that there are letters that Volunteers have written to their country offices on racism and discrimination that are going around in the community. Volunteers of color are creating group chats — WhatsApp chats, Facebook groups. They have all of these resources, but they're not compiled in one place. So it's hard for volunteers to have access to all of these things. And it's important for us as well. So I'm thinking about creating seminars, creating spaces for these Volunteers to meet each other, to meet other people who are older, other RPCVs who are working in different types of fields, so that they can get also motivated and feel like Peace Corps and NPCA are for them. So pushing for that, I think and holding NPCA and Peace Corps accountable for that, is something that we all have to do and be responsible for. Which is why it's also so important for Volunteers to get organized and actually advocate — and push these institutions.

Glenn Blumhorst: A great point, Marieme, thank you so much. Because that's what we are — a community-driven organization. And all we do, it should respond to the community and the expectations that you set for us. We're going to move on to the next question — penultimate question. What are the potential barriers you see to joining the Peace Corps or NPCA? How can that impact future Volunteers? So, Rok, do you want to start it off with that one?
WATCH: Rok Locksley — "For me to clear medical cost $6,000."
Rok Locksley: There's a lot of barriers. For me, personally coming in at 40 years old, for me to clear medical cost $6,000. At the point I had quit my job to join Peace Corps. So I was unemployed and pretty much homeless. I was one backpacking through different countries, but I had no home of record in the United States. So getting back to the States and having to rely on other services, because I had no medical insurance: It was a $6,000 that we just put on our credit cards and then paid off with our readjustment allowance. So that's a major barrier. I know I'm older, I've had some medical issues, but the costs involved with the medical application alone is is prohibitive.

Glenn Blumhorst: Thank you, Rok. I think that's something we don't think much about — the cost involved for many individuals, particularly if we're not young and as healthy as we were before. Thank you for bringing that perspective to this. Let me ask just for one another person maybe to chime in on that question, and then we'll move to the last question.

Juana Bordas: Well, if I had had to pay $6,000 for medical, I wouldn't have been in the Peace Corps. You know, I had no money. Now students are graduating with debt. So, again, going back to leadership and communities of color, we need to dedicate ourselves to public change, public policy change. This cannot be — that people have to pay. When I found out that happened, because two of my Latino friends joined, I was shocked that it — and that it took so long, because the process wasn't like that in the past. And I think some of these barriers are just ways to not expand the Peace Corps to where it should be at this time, in this multicultural age.
Financial barriers are one of the most significant things that we need to look at — to remove them so that anybody and everybody who wants to serve can, regardless of their economic situation.

Glenn Blumhorst: Thank you Juana. Financial barriers are, I think, one of the most significant things that we need to look at — to remove them so that anybody and everybody who wants to serve can, regardless of their economic situation. The question we want to ask all of you is: What do you envision the future Peace Corps Volunteer values to be?
WATCH: Marieme Foote — "If we really, really do care about Peace Corps … we also have to be open to changing Peace Corps."
Marieme Foote: If you look at the next generation, you see even the Black Lives Matter movement, you saw, at least when I went, you saw a huge amount of the next generation there present. And they're calling for change. They're calling for accountability, and all of these things. And if Peace Corps and NPCA and these organizations don't shift, they won't exist.
If Peace Corps and NPCA don't shift, they won't exist.
So, if we really, really do care about Peace Corps, we want Peace Corps to exist and to continue, and we care about the mission, we also have to be open to changing Peace Corps and making these radical changes — or also we'll not exist, because the next generation won't accept it. Even when I was joining Peace Corps, I had a lot of questions from my friends: "Why are you joining this organization? You know, there's not a lot of people of color there. It's mostly white people." There was a lot of just preconceived ideas of what my Peace Corps experience would be. And there was a lot of fear of joining it, and being a part of a neocolonialist [enterprise] — and so if Peace Corps really does want to exist, I think that it does need to shift from the foundation in terms of its mission statement and what it does — and how it does it — is my opinion.

Glenn Blumhorst: Thanks, Marieme, that's a really powerful statement. And I take that to heart, because I think you're absolutely right: If we don't shift, we will not exist. And that's food for thought, very important for us.
WATCH: Rok Locksley — "If Peace Corps wants to remain this cutting edge social justice thing, it cannot remain reactive, as it has been."
Rok Locksley: OK Peace Corps, the first groups were Kennedy's kids, right? Shriver's kids. And if Kennedy was building Camelot, then Peace Corps is his Excalibur. It was the best thing that was created, and it was on the edge of social justice and change. Now, we know like it's sort of steeped in neocolonialism, white savior complex, those sort of things. But you know, most people didn't have those terminologies back then. But if Peace Corps wants to remain this cutting edge social justice thing, it cannot remain reactive, as it has been. It can't just wait for and prepare for the worst case scenario and be quiet. And during our evacuation, that's all the EPCVs have experienced, is quietness. Our main source of our cutting edge Excalibur has been Facebook. I mean, we need the agency; we want to support you. This thing has hurt us. We gave our lives to this organization, and our hearts are in it. And we believe in social justice and change. So I just want to see Peace Corps return to its roots of being this cutting edge of social justice and change. And I think embracing that would lead to a revolutionary new wave of applicants whose hearts are full, who are young and active and ready to serve — and really, really get to the core of the agency, which is world peace and friendship.
If Kennedy was building Camelot, then Peace Corps is his Excalibur.

It was the best thing that was created, and it was on the edge of social justice and change

.


Glenn Blumhorst: Juana, I'm going to ask if you have any last words of wisdom or wisdom for us.

Juana Bordas: I just want to say is that we are the association. We are the Peace Corps. You know, I served on the board of NPCA for six years, I developed the leadership program for the association. We want to continue engaging; it's not somebody doing it for us. It's each one of us making that long-term commitment. I want to say it for everybody who's been out in the demonstrations, who's been out there trying to make this change: Keep it up. Because as an elder, I did that in the '60s. You know, I did that for women, for the Vietnam War, for civil rights, and then there weren't that many people marching.
My last thing is: We have to do this. It's a lifelong commitment. It's up to each one of us. The Peace Corps has prepared us to be leaders in this new global and international and multicultural age. So I would like to see us say, Yes, each one of us is going to step up our commitment. Yes, each one of us decides we're going to do this, we're going to reach out to other communities, we're going to join organizations that aren't white, if we're white; we're going to join different organizations from different perspectives. And we're going to keep this going. And I think it does take an advocacy commitment for all of us to do our part in creating the future.

Glenn Blumhorst: Thank you so much, Juana. That's a great way to end this conversation. I want to thank especially the evacuated Peace Corps Volunteers for organizing this panel, and inviting Juana and myself to be a part of it as well. I've really enjoyed getting to know all of you over the last several weeks and working with you and a number of other evacuated Peace Corps Volunteers. This has just really been a highlight for me. Though I am pained with the way that your service was interrupted and you had to come home, I'm just really amazed at how you have rallied around as a community and supported each other and helped drive the conversations that we're having today. So thank you all so much.
WATCH: The full panel discussion: Reimagining a Peace Corps for the Future
MORE from Peace Corps Connect to the Future here.
Story updated November 9, 2020.
---