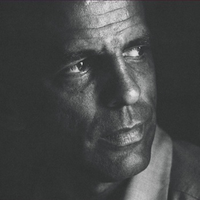 For over two decades, the Franklin H. Williams awards have annually recognized ethnically diverse Returned Peace Corps Volunteers dedicated to civic engagement, service, diversity, inclusion, world peace, and friendship. The six 2023 awardees were honored in Washington, D.C., on March 1 — as part of Peace Corps Week.

By Priyasha Chakravarti

Photo: Franklin H. Williams was an American lawyer and civil rights activist who served as Peace Corps' regional director for Africa. He was the first Black person appointed to the UN Council and the first Black person ever to serve as an ambassador to an African country.
On March 1, the Peace Corps presented the 2023 Franklin H. Williams Awards at a ceremony held at the Planet Word Museum in Washington, D.C., as part of Peace Corps Week. Established in 1999 to honor the memory of Franklin H. Williams' contributions to the Peace Corps, the awards recognize ethnically diverse Returned Peace Corps Volunteers (RPCV) who demonstrated a steadfast commitment to civic engagement, friendship, and world peace. Congratulations to this year's awardees: Terrell J. Starr (Georgia 2003–05), Rob Watson Jr. (Paraguay 2010–13), Judith Oki (Liberia 1971–73), Lavar Thomas (Rwanda 2014–16), Nicole Banister (South Africa 2013–16), and award-winning journalist and keynote speaker Charlayne Hunter-Gault.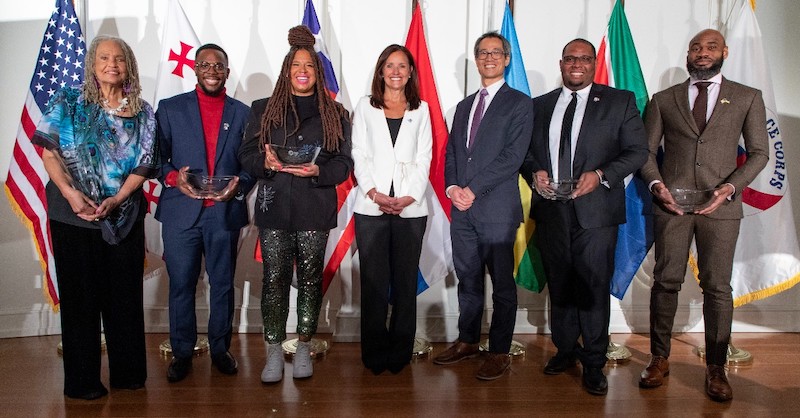 The 2023 Franklin H. Williams Awardees with Peace Corps Director Carol Spahn and Deputy Director Thomas Peng. Photo courtesy of the Peace Corps

Emceed by RPCV Byron L. Williams (Lesotho 2003–05, Ukraine 2011–15), — a U.S. Department of Agriculture Animal and Plant Health Inspection Service (APHIS) training specialist — he kicked off the event by touching on Franklin H. Williams' contributions including the work he completed alongside former Peace Corps Director Sargent Shriver during the Peace Corps' early years. Afterwards, Peace Corps Director Carol Spahn gave her greetings and acknowledgements to the in-person and virtual crowd of RPCVs, Peace Corps staff, friends and family of the Peace Corps community, and notable ambassadors.
"The theme of Peace Corps week is Connect with the World," Director Spahn said. "Connection is at the core of what we are and what we do at the Peace Corps. We connect with people who are different from who we are and we grow and learn because of that connection. It gives me chills to think about the power of connection, especially at this moment in time and history. I cannot imagine a more important word as we celebrate the Peace Corps' 62nd birthday."
The 2023 Franklin H. Williams Award Honorees:



Charlayne Hunter-Gault | Keynote Speaker (Director's Award)

Charlayne Hunter-Gault, who served as the keynote speaker, is an award-winning journalist with more than 50 years of experience in the industry. In April 1999, she joined CNN from National Public Radio, where she worked as the network's chief correspondent in Africa and was awarded a Peabody in 1998 for her coverage of the continent.

"You've heard from our recipients that these are challenging times," Hunter-Gault said. "But I remain optimistic that we shall overcome, thanks in part to my religious upbringing, as well as my time with people like Franklin Williams — a man who understood the importance of Black history and the armor it created."
---
Nicole Banister | South Africa 2013–16 (Emerging Leader Award)

Nicole Banister is a United Nations Alliance of Civilizations Fellow and a StartingBloc Social Innovation Fellow. As the host of her newest TV show Start it Up, she guides student entrepreneurs from 40 different countries to pitch social impact businesses to a panel of judges to win a $40,000 cash prize. Banister hosts a weekly interview show called NIKKI BANZ LIVE, where she interviews artists, entrepreneurs, content creators, and more.

"I am here today because I will not let the voices of people of color be silenced," Bannister said. "I am here today because the U.S. Peace Corps recognizes that diverse voices matter."

Lavar Thomas | Rwanda 2014–16

(Emerging Leader Award)

Lavar Thomas is an Environmental Justice Coordinator with the U.S. Environmental Protection Agency and the co-founder of Leaders of the Free World, a non-profit organization that provides leadership development to young Black men. He is a Duke University Ralph Bunche Scholar, a TEDx speaker, and a teaching faculty member with the Global Citizenship Alliance in Salzburg, Austria.

"My service taught me two valuable lessons. First, my service was not about me. Secondly, representation matters. Representation of diverse experiences, perspectives, and voices are all important," Thomas said.
---
Terrell J. Starr | Georgia 2003–05

Terrell J. Starr lived in Ukraine as a Fullbright Fellow and journalist from 2009–10. During that time, he produced a photojournalism project on the lives of Black Ukranians. While in Kyiv during the Russian invasion of Ukraine in 2022, his reporting of the war aired on television networks such as CNN, MSNBC, and Al Jazeera. He hosts a Black Diplomats podcast, amplifying the voices of people of color who are experts in foreign policy.

"We live in a world where it is so easy to pit people against each other, but my work does the opposite," Starr said. "It helps us figure out how we can live on this plane together. That is not my dream, that is a reality I believe can happen. It is institutions like the Peace Corps that empower me and the other awardees to see that into fruition."

Rob Watson Jr. | Paraguay 2010–13

With a passion for global civic service and educational equity, Rob Watson Jr. works as the Director for Partnerships and Community Impact at the EdRedesign Lab and a Secondary Lecturer on education at Harvard Graduate School of Education. He co-founded five civil society organizations in Paraguay, including Teach For Paraguay and the government's first youth service program, Arovia Paraguay. In his hometown, Watson co-founded the Poughkeepsie Children's Cabinet — which advances cradle-to-career solutions for children, youth, and families — and Lead of Poughkeepsie, an AmeriCorps affiliate program that helps individuals pursue social impact careers. He is a former World Economic Forum Global Shaper and Bill and Melinda Gates Foundation Millennium Scholar.

"My family taught me very early on the importance of doing work that is forever work," Watson said. "I can only hope to open up the doors for those who come behind me, and we're only just getting started."

Judith Oki | Liberia 1971–73

Judith Oki worked for the Peace Corps twice, providing program development, management, and executive leadership in Swaziland, Washington, D.C., South Africa, and Namibia. She helped open the Peace Corps South Africa program and has spent her career conducting leadership, diversity, and education programs for nonprofit organizations and education sectors.

Unavailable to attend in person, Oki addressed the audience virtually: "We are going to need the perspectives of many different kinds of people to solve global problems," Oki said. "Diversity is one of the key characteristics of a resilient society."
---
READ MORE about the 2023 Franklin H. Williams Awards here.
---