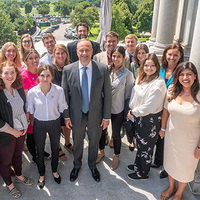 Two dozen countries have welcomed them back. And some fifty countries have issued invitations for Volunteers to return.
By Steven Boyd Saum
Two years after all Peace Corps Volunteers were brought home because of the COVID-19 pandemic, they began returning to service overseas in March 2022. We shared the exciting news in the previous edition of WorldView that the first Volunteers had returned to Zambia and the Dominican Republic.
In the months since, posts around the world have been busy welcoming back Peace Corps Volunteers and Response Volunteers to work alongside communities. As of August 2022, Volunteers have returned to some two dozen countries — more than a third of the posts where Volunteers were serving in 2020. That includes nations in Africa, Latin America, the Caribbean, Asia, and Europe. There will be more Volunteers beginning service overseas in the months ahead, in those countries and dozens more. By our counting, invitations are out for Volunteers to return to 51 countries — more than three quarters of the posts where Peace Corps Volunteers had been serving in 2020.
In order for the agency to issue invitations for Volunteers to return, each post must meet robust reentry criteria which involve health, safety, and other logistical factors. Living with COVID-19, a horrific war in Europe and consequent economic mayhem, as well as other regional turmoil, it's crucial to ensure safety of Volunteers and communities alike. Indeed, despite global tumult, this is a hopeful time for the agency, with this return also representing a rededication to the mission of the Peace Corps.
Despite global tumult, this is a hopeful time for the agency, with this return also representing a rededication to the mission of the Peace Corps.
Earlier this year, a group of departing Volunteers met with First Lady of the United States Jill Biden. On July 19, the first cohort of Volunteers to return to Panamá met with Second Gentleman of the United States Doug Emhoff at the White House. Emhoff also hosted the soon-to-be Volunteers and Peace Corps CEO Carol Spahn for a roundtable. "It's always incredible to meet with young people dedicated to changing the world," Emhoff posted on Twitter afterward. And, to the Volunteers, he wrote: "I know you'll bring great passion and energy to your projects."
Based on conversations and leadership that has shaped the return of Volunteers to service overseas, humility and a spirit of cooperation in a changed world are a crucial part of the mix, too.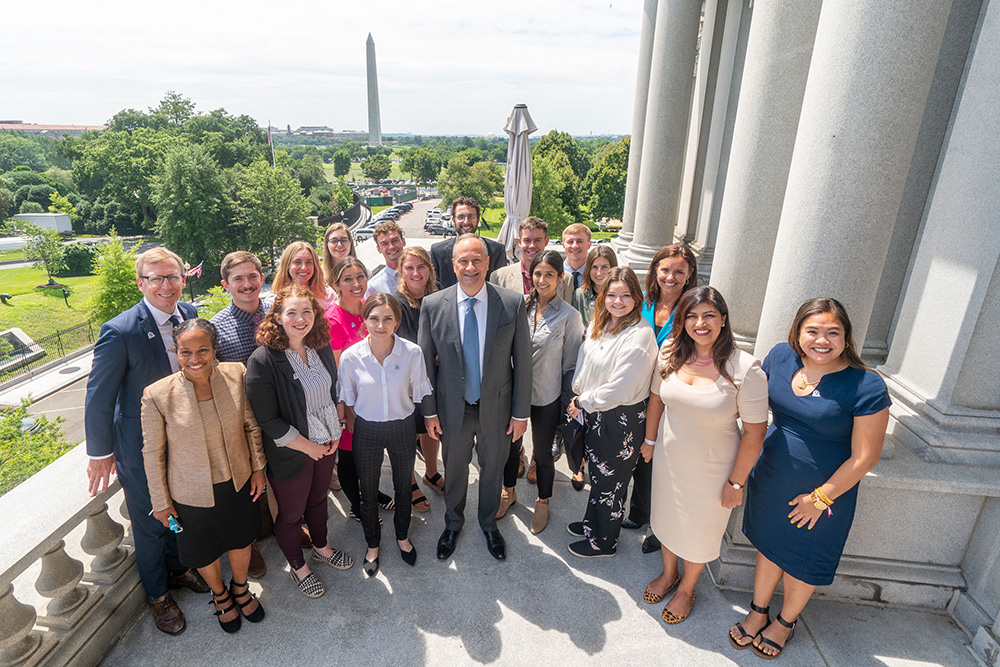 Sendoff from the Second Gentleman: Doug Emhoff, center, with the first Volunteers returning to Panamá, as well as agency leaders. Photo by Lawrence Jackson / The White House
Where Volunteers Have Returned
These include 23 posts and 26 countries — since the Peace Corps post in the Eastern Caribbean includes four countries.

Zambia | March 2022
Dominican Republic | March 2022
Colombia | April 2022
Namibia | May 2022
Uganda | May 2022
Mexico | May 2022
Ecuador | May 2022
Eastern Caribbean | May 2022 (Includes four countries: Dominica, St. Vincent and the Grenadines, St. Lucia, and Grenada)
Belize | May 2022
Peru | May 2022
Paraguay | May 2022
Togo | June 2022
Senegal | June 2022
The Gambia | June 2022
Benin | June 2022
Rwanda | June 2022
Kyrgyz Republic | June 2022
Ghana | June 2022
Sierra Leone | June 2022
Costa Rica | July 2022
Kosovo | July 2022
Madagascar | July 2022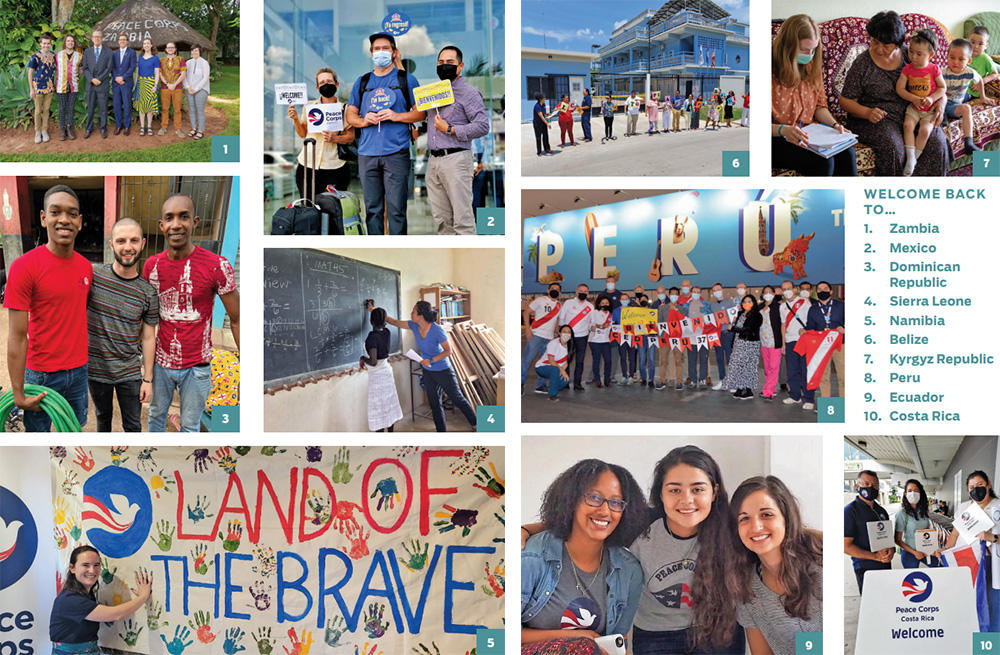 Photos courtesy Peace Corps posts
Invitations Are Out
Here are the additional posts that have met safety criteria and for which there are invitations for Volunteers to begin serving in 2022 and beyond. Including the countries to which Volunteers have already returned, invitations are out to 47 posts and 51 countries. Take note of the last post on this list: Viet Nam. In summer 2020, the Peace Corps formally signed an agreement to launch that new program. It is one that, needless to say, is loaded with tremendous historical significance and a long-term sense of what it means to build peace and friendship.
These posts are listed in alphabetical order, not necessarily in order to which Volunteers will be returning in 2022. As the past two years have taught — with lessons sometimes repeated again and again, to the frustration of would-be Volunteers and host communities alike — there may be contingencies that push back planned dates for Volunteers to return.
Albania and Montenegro (Includes two countries: Albania and Montenegro)
Botswana
Cambodia
Cameroon
eSwatini
Fiji
Georgia
Guatemala
Guinea
Guyana
Indonesia
Kenya
Lesotho
Malawi
Mongolia
Morocco
North Macedonia
The Philippines
South Africa
Tanzania
Thailand
Timor-Leste
Viet Nam
By October 2023, Volunteers are expected to be back in most of the 60 countries where they were serving in 2020. In addition, programs will be reopened in Sri Lanka and Kenya.
This story appears in the Spring-Summer 2022 edition of WorldView Magazine
---
Steven Boyd Saum is the editor of WorldView.
---