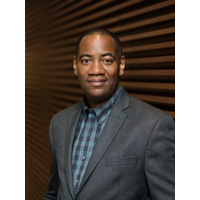 The Gilbert Collins story, continues today as he participates in a 6th quiz session on Jeopardy.
Jeopardy, "America's Favorite Quiz Show," draws on contestant's comprehensive knowledge in all fields. The show has been the appropriate venue for Gilbert Collins, Princeton University's Director of Global Health Programs, to apply his academic skills and experience. Employing his considerable experience in international service – including eight years as the Peace Corps Namibia Country Director and Associate Director in Botswana – he has become Jeopardy's first "streaker" of 2018. Gilbert is also the first 5-time "streaker" to be placed on the list.
Gilbert Collins previously served as Princeton's Director of Graduate Student Life at the Woodrow Wilson School. Before his Peace Corps employment, he served as the Evaluation and Planning Team Leader for the Office of Foreign Disaster Assistance at the U.S. Agency for International Development, providing guiding relief and development activities in health, water & sanitation, nutrition, psycho-social support, shelter, and other areas.
NPCA is extremely proud of one of our own showing the general population the amount of knowledge and experience that can be gained through international service. Good luck Gilbert!
---