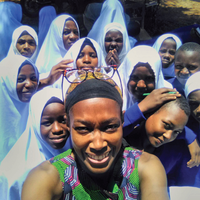 Volunteers had projects and grants to fund them. They had to leave and the money was frozen. But that's not the end of the story.
By NPCA Staff
Photo: Katherine Patterson and students of Bumbuta Secondary School in Tanzania. Patterson started the Save the Rain project to provide clean water for the school community.
When Peace Corps Volunteers were evacuated from around the world, we heard from thousands asking for advice and help. They were not only worried about their own well-being, but time and again they wanted to know: What about the communities they left? the work they were doing? the projects developed together — already approved for Peace Corps grants that would now be frozen?
Our answer: the Community Fund. We set up an application process for Volunteers and reached out to the Peace Corps community for crowdfunding support. Regulations for the Peace Corps grant programs require a Volunteer to be in a community to oversee a project. As a nonprofit organization, National Peace Corps Association ramped up a more flexible solution. That especially makes sense when many Volunteers are in regular contact with their host communities. Thanks to your support, some projects are already fully funded. Some are seeking contributors. We get new applications from evacuated Volunteers each week — and we welcome more. peacecorpsconnect.org/give
Vanuatu | Chelsea Bajek
Home: Rochester, New York / Arlington, Virginia
For close to two years I served as a Community Health and Water, Sanitation, and Hygiene Education (WASH) Volunteer. I lived and worked in a small rural community on Paama Island, where I was given the name Lumi. I helped facilitate water and sanitation projects and programs to improve awareness on health, nutrition, and hygiene. I had been accepted to extend my service for a third year to work with the Ministry of Health in the capital on public health initiatives. When we were evacuated, I left behind not only my belongings, my house, my work, but also my community and my family and friends. I left behind people I called Mama and Papa, auntie and uncle, brother and sister, and countless abus (grandparents).
One of the projects I was working on was with the local women's group, helping them to raise funds to purchase sewing machines and related materials to be used in skill-building workshops. We had an open Peace Corps Partnership Program grant, but we lost funding when Volunteers were evacuated. There are limited resources on this small remote island, and supporting the Paama Women's Handicraft Center will help increase opportunities for women's economic development and empowerment; the clothing and baskets they make will be sold to pay school fees and support families. Though I am back in the United States, I continue to work with the women's group on this project, believing it can provide real change for these women.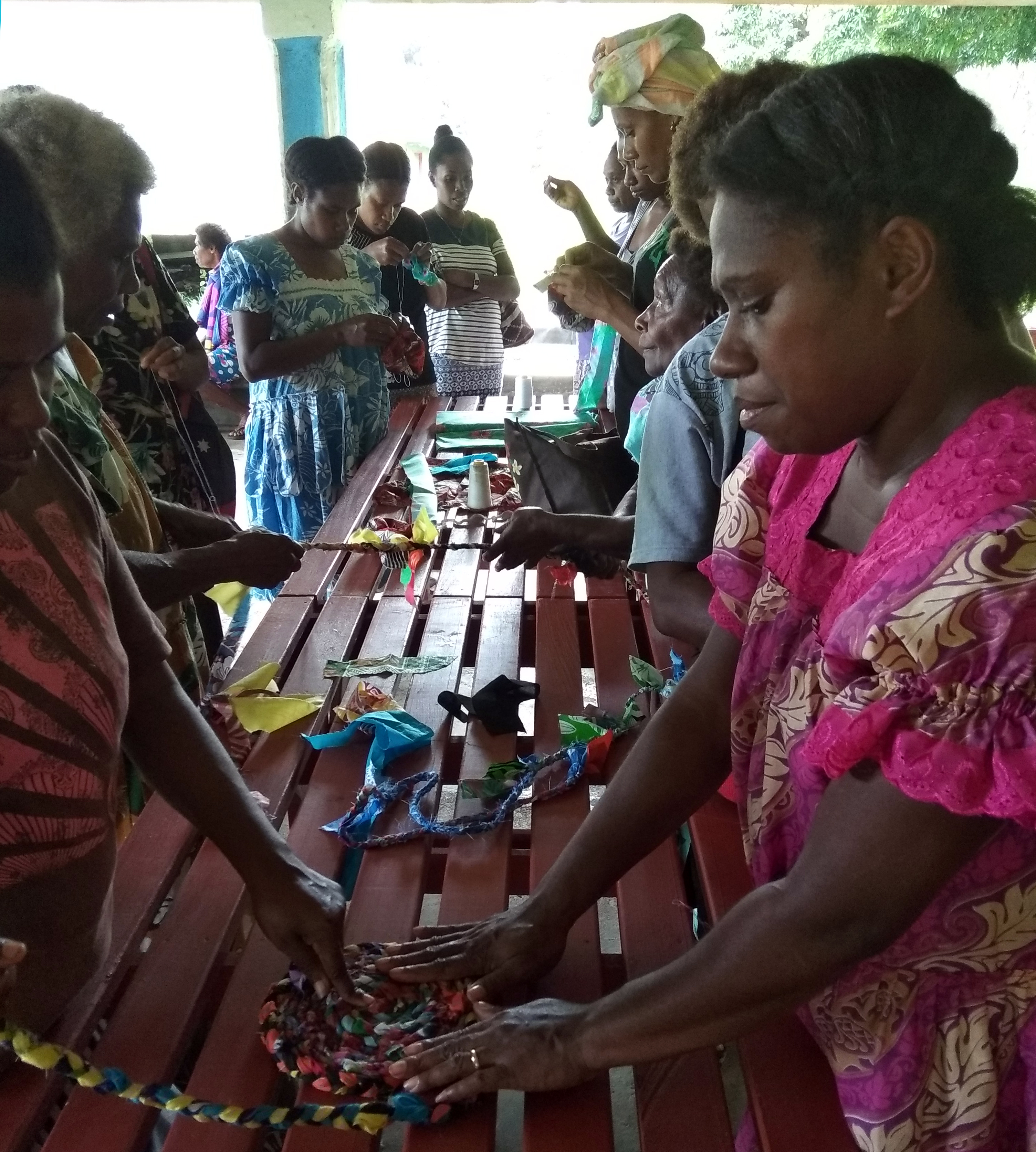 Benin | Cristal Ouedraogo | FUNDED!
Home: Montgomery County, Maryland
In Benin, women and girls face more barriers to education than men and boys. As an education volunteer, I heard people in my community express a desire to bridge that gap. So we put together a plan for a literacy and research center to create a safe space for girls to pursue academic excellence and increase gender equity in school — and give them the tools needed to be independent, lifelong learners outside the classroom. The project will benefit some 500 secondary school students — boys as well as girls — and provide technology training for teachers and community members as well.
The project was approved for a Peace Corps Partnership Program grant that was suspended when I was evacuated. But with support the Peace Corps community has given through NPCA, we'll still help these students — and inspire boys and girls to thrive academically, socially, and creatively.
Speak and Spell: Cristal Ouedraogo was working with these students in Benin when she had to evacuate. A grant from the Community Fund will ensure the project she started becomes reality.

Moldova | Alyssa Gurkas
Home: Westfield, New Jersey
To combat violence against women and empower the female population in Hînceşti, Moldova, I worked with colleagues at the Mihai Viteazul Middle School to develop a plan for a tech-equipped community room. It would also host seminars on domestic violence, financial literacy, and online safety. It will benefit teachers and parents and scores of students. The funds will be used to purchase a smartboard, a computer, speakers, printer, paper, markers, flip-chart, notebooks, and lunches for seminars.
Originally this project was going to be funded through Peace Corps' Small Project Assistance Program, but due to the COVID-19 evacuation the project was canceled before it even began. The school actually had installed internet and already purchased chairs and desks fulfilling their community contribution — 25 percent of the grant that was required — only to find out that the project was then canceled. That hit my colleagues hard.
But when I let them know that the Community Fund might still make it possible, English teacher Aliona Goroholschi wrote me: "I felt happiness without edges … Anything is possible when you have people who care and support you."
Colombia | Elyse Magen | FUNDED!
Home: San Francisco, California
As a Peace Corps Volunteer I was working with a women's group in Santa Marta who harvest cacao and make artisanal chocolate desserts. These women are all cacao farmers themselves and have had little economic opportunity. They have not had a formal education; at a young age, they were displaced due to violence in their region. But with the business they have started, Transformación, they will be building disposable income in a culture where women have little opportunity to work.
The grant provided by the NPCA Community Fund will allow them to carve out a workspace that complies with health sanitation codes. It will allow them to purchase machinery to make an edible chocolate bar, which will expand their market and increase profits. This, in turn, will allow them to provide for their families and invest not only in themselves but also in their children. Transformación hopes that other women can get involved in their business and that it can symbolize a wave of social change.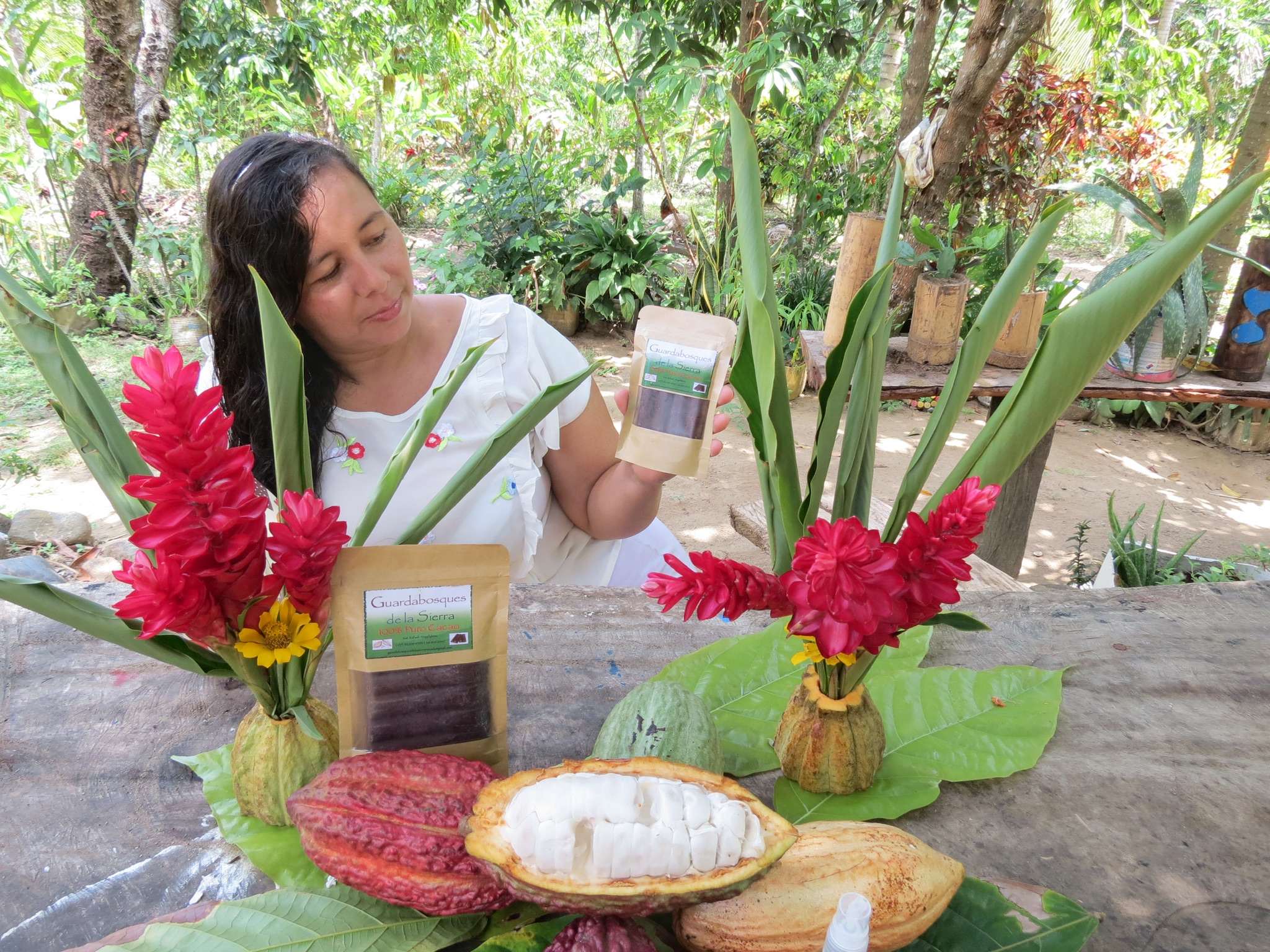 Tanzania | Katherine Patterson | FUNDED!
Home: Washington, D.C.
With the secondary school in my community of Bumbuta, I was working on a rainwater catchment system and handwashing stations to increase access to clean water. Right now, students must carry large buckets containing drinking and cleaning water to school every morning; the water that many bring comes from unsanitary sources. With a rainwater catchment system, the school community will gain access to clean water — and improve education on water, sanitation, and hygiene practices.
The project was approved but funding was halted as a result of the COVID-19 evacuation. I was over the moon when I found out there's another option for funding. My ward executive officer messaged: "We wanna thank you so much tusaidie ... we love you so much!"
Ralph Waldo Emerson said, "To leave the world a bit better ... to know that even one life has breathed easier because you have lived — that is to have succeeded." I'll be able to keep a promise to myself to leave my village in a better place than when I arrived. More important, this will enable students to live healthier lives!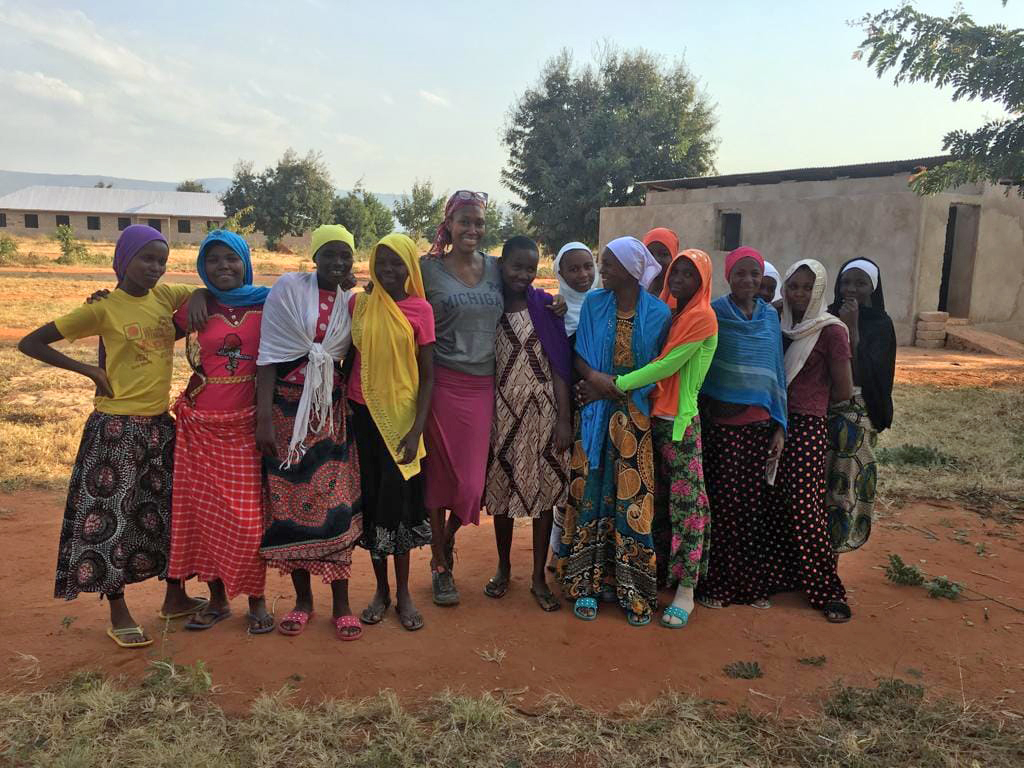 Colombia | Joshua Concannon
Home: Kansas City, Missouri
I was working on an effort to train dozens of women in clothing design and production by providing them with technical workshops and entrepreneurship classes from professionals. Their community is heavily reliant on agriculture for its source of jobs, so this project will diversify the economy — and provide jobs and sources of income for women. We worked together on a grant application and were approved through the Peace Corps Partnership Program. The women were overjoyed — and justifiably proud.
One week later, all Volunteers were evacuated and Peace Corps rescinded the funds. But the opportunity with NPCA has revived my hope. Edilsa Mascote, the leader behind the project, was very emotional when I told her that there is still a chance we can get the funding. She started tearing up because she thought all hope was lost. She told me it was the perfect light they needed in their lives during this very dark time.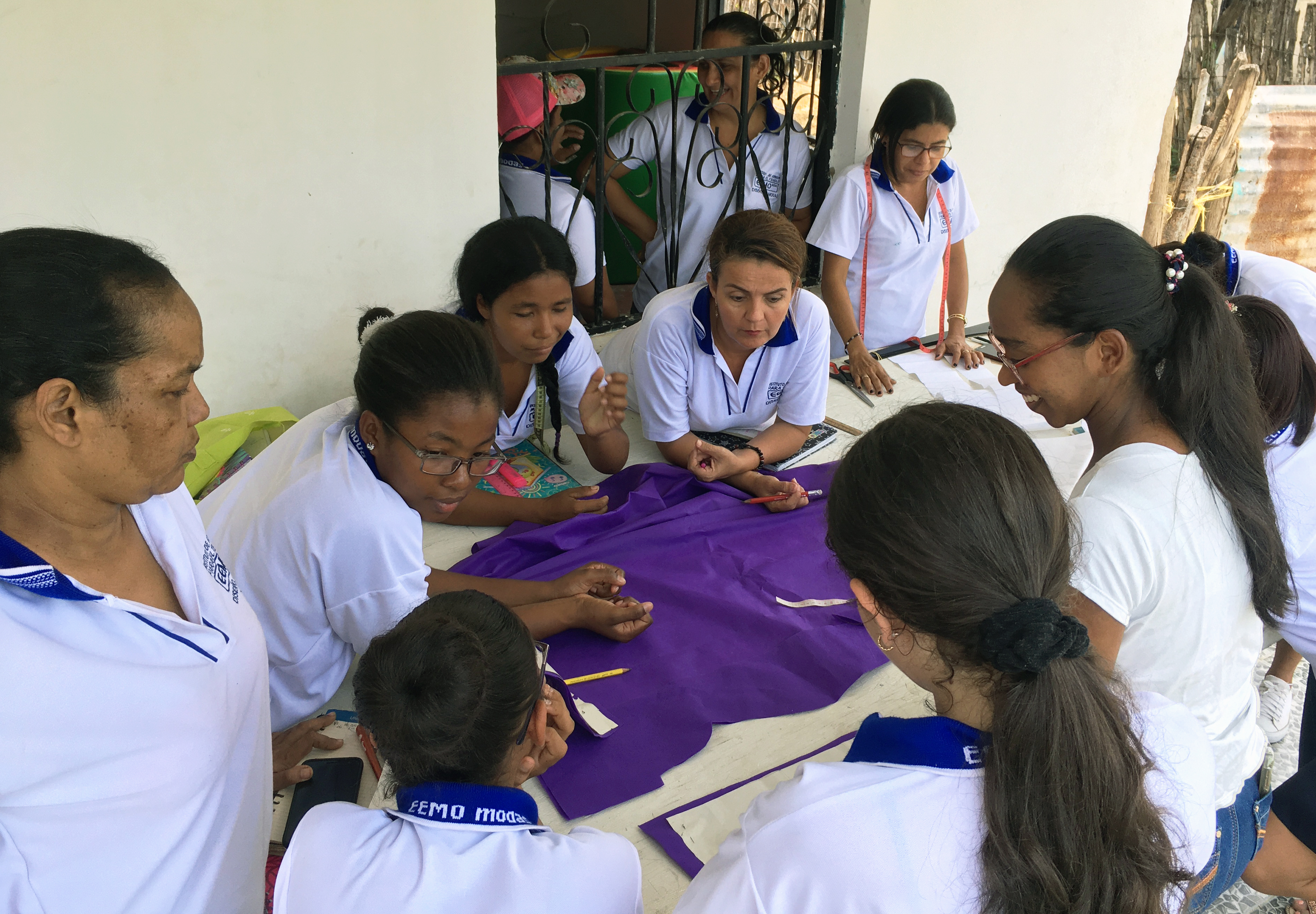 Learn more about these and other projects supported by the Community Fund — and make a gift to help Volunteers complete them.
---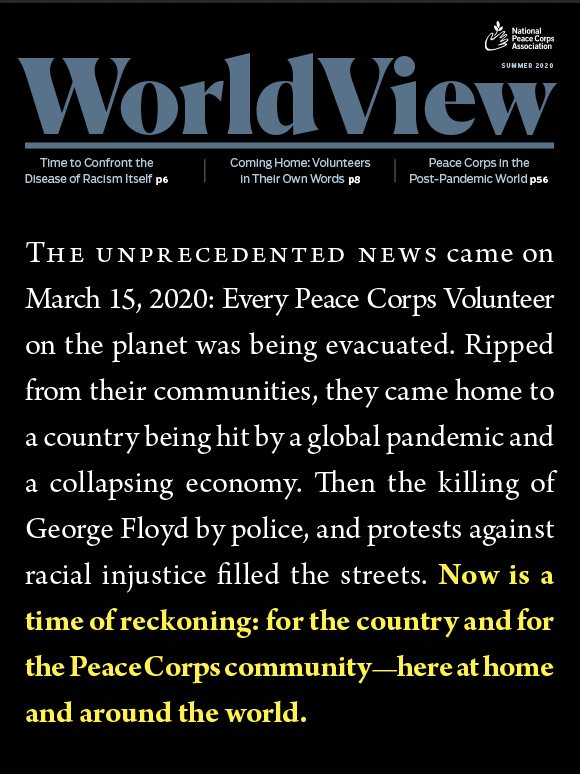 This story was first published in WorldView magazine's Summer 2020 issue. Read the entire magazine for free now in the WorldView app. Here's how:
STEP 1 - Create an account: Click here and create a login name and password. Use the code DIGITAL2020 to get it free.
STEP 2 - Get the app: For viewing the magazine on a phone or tablet, go to the App Store/Google Play and search for "WorldView magazine" and download the app. Or view the magazine on a laptop/desktop here.
Thanks for reading. And here's how you can support the work we're doing to help evacuated Peace Corps Volunteers.
---